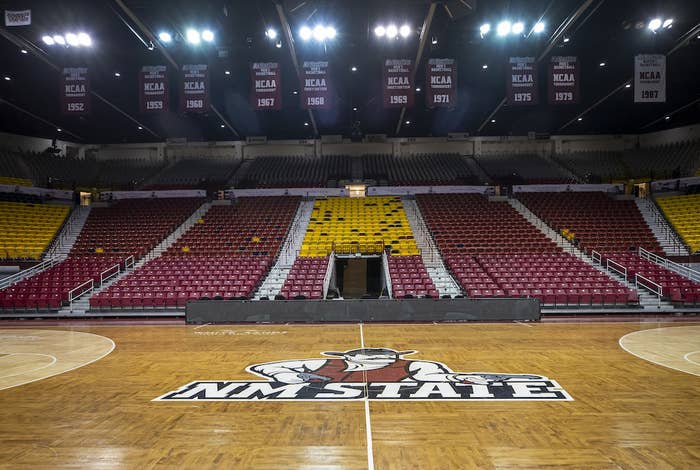 Two former New Mexico State University basketball players filed a lawsuit on Wednesday, saying their teammates sexually assaulted them and accusing their coaches of doing nothing to stop it.
When the alleged hazing was first reported to police in February, it prompted investigations at the university. The men's basketball season was shut down, and head coach Greg Heiar was fired. Now, former players Shakiru Odunewu and Deuce Benjamin, as well as Benjamin's father, William Benjamin, are seeking money to "reasonably compensate" them for the alleged assaults, the lack of action by coaches, and the university's failures to prevent the behavior, the lawsuit's complaint said.
The suit names New Mexico State's board of regents, Heiar, associate head coach Dominique Taylor, and players DeShawndre Washington, Doctor Bradley, and Kim Aiken Jr.
"When the behavior goes too far, and crosses the line into nonconsensual touching, it is not mere hazing; it is battery and sexual assault," the lawsuit reads. "When the behavior continues for months, it cannot be viewed as an initiation rite; instead, it is harassment and abuse. And when coaches and universities do not take adequate action to prevent or stop such behavior, they have failed their student athletes and are complicit in the abuse."
One incident occurred while Odunewu was taking a shower. Bradley and Aiken allegedly ripped the shower curtain open and made Odunewu spin around and do squats while Bradley and Aiken slapped Odunewu's butt. Bradley filmed the entire thing, according to the lawsuit.
During a November bus ride to an away game, Washington, Bradley, and Aiken allegedly pinned down Odunewu in the back of the bus and pulled his pants and underwear down. The three men slapped Odunewu's butt and one of them put their fingers in Odunewu's anus and squeezed his scrotum, according to the lawsuit. Heiar, who was seated toward the front of the bus, yelled at the players, "Stop playing around." Odunewu reported the incident to Heiar and Taylor a few days later, but nothing happened, the lawsuit states.
Washington, Bradley, and Aiken allegedly did similar things to Deuce Benjamin, like pulling his pants down and squeezing his scrotum. While staying at a hotel for an away game, Washington, Bradley, and Aiken pulled Benjamin into one of their hotel rooms, where some young women were also in there. Washington allegedly told Benjamin to "pull" his "ass out." Washington "forcefully" exposed Benjamin's butt and grabbed his scrotum in front of everyone in the hotel room, causing "pain and humiliation," according to the lawsuit.
Benjamin's father, William Benjamin, saw a change in his son and confronted him about it. After his son told him about the alleged attacks, he called Heiar, but Heiar did not return his calls, according to the lawsuit. William Benjamin then reported the assaults to police on Feb. 10. On Feb. 12, New Mexico State University canceled the remainder of the men's basketball season, and Heiar was fired Feb. 14.
Justin Bannister, associate vice president of marketing and communications at the school, said in a statement to BuzzFeed News that the university does not comment on pending litigation, but that the issue is being taken "seriously."
"As we announced earlier this year, the university is working with Greenberg Traurig to look into these allegations," Bannister said in the statement. "Their work is underway and running in parallel to our own internal investigation into this matter."
In March, the university's chancellor said in a letter that the firm Greenberg Traurig would investigate the hazing allegations. On March 1, the basketball program started to have voluntary workouts, but Benjamin and Odunewu were not invited, according to the lawsuit. In late March, the university hired a new basketball coach, but Benjamin and Odunewu remained off the team.
On Wednesday, Benjamin tweeted that because of the "actions of others," his dream to play for New Mexico State University turned into a "nightmare."