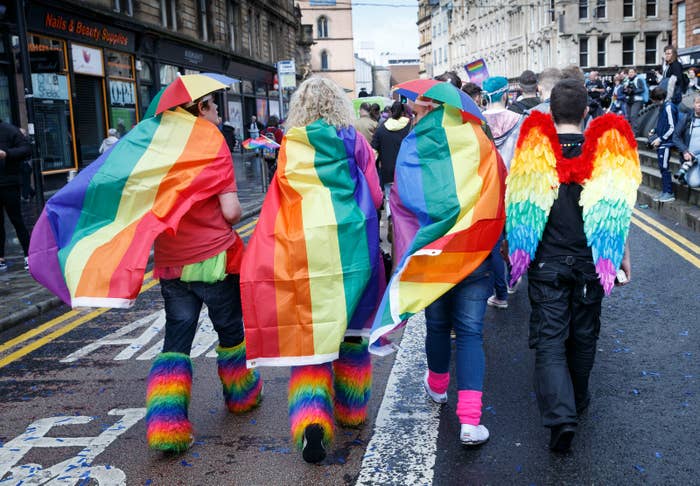 Scotland will be the first country in the world to include education on lesbian, gay, bisexual, transgender, and intersex issues in school curricula, after adopting recommendations that will make LGBTI education mandatory in all public schools by 2021.
"Our education system must support everyone to reach their full potential," Deputy First Minister John Swinney said in a statement. "That is why it is vital the curriculum is as diverse as the young people who learn in our schools."
The Scottish Parliament adopted all 33 recommendations put forth by the LGBTI Inclusive Education Working Group, which are intended to address bullying, discrimination, and prejudice in schools.
Ninety percent of LGBT people in Scotland have experienced "homophobia, biphobia or transphobia at school," and 27% of LGBT people have attempted suicide as a result of bullying according to a 2016 study from the Time for Inclusive Education Campaign, which worked closely with the government on the initiative.
The curriculum will include material on different identities and terminology, history of the LGBTI movement, and how to recognize and address homophobia, biphobia, and transphobia. It will also cover issues like respect, privacy, and consent.
The TIE Campaign tweeted about the victory Thursday, saying, "WE DID IT!"
Fergus McMillan, chief executive of LGBT Youth Scotland "warmly welcomed" the news, saying in a statement, "The recommendations and their implementation is an excellent opportunity for Scotland to build on emerging good practice, to ensure that Scotland is the best place for LGBTI young people to grow up and reach their full potential."
LGBT Youth Scotland was also a member of the LGBTI Inclusive Education Working Group.
The victory comes after a 2016 petition from the TIE Campaign was rejected by Parliament, which said at the time that it could not "force" local authorities to include LGBTI issues in classrooms.
Scotland has become known in recent years for strong LGBTI legal protections and was described in 2016 as having "the gayest Parliament in the world" by former Labour Party leader Kezia Dugdale.

The adoption of the new recommendations comes 17 years after a law that made it illegal for public authorities to "promote homosexuality" was overturned. Section 28 of the Local Authorities Act was passed in response to the AIDS crisis in the 1980s and led many teachers to fear discussing homosexuality in classrooms.
"Quite a significant amount of teachers were trained under section 28 and haven't been retrained since," TIE Campaign cofounder Jordan Daly told qmunicate magazine, back in 2016. "They wouldn't feel comfortable talking about homosexuality never mind asexuality or transgenderism. That's something the government forgets, sometimes teachers can be as much of a problem as pupils."