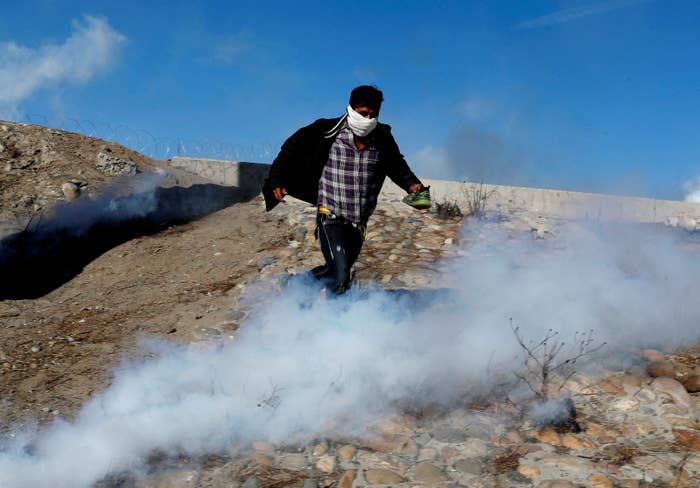 A former deputy chief for the US Border Patrol — talking about the agency firing pepper spray at migrants trying to cross the southern border — falsely claimed on Fox News on Monday that the gas was edible.
"It's natural. You could actually put it on your nachos and eat it," said Ronald Colburn, the current president of the Border Patrol Foundation.

Colburn said the substance used was OC pepper spray, and that its contents were "literally water, pepper, with a small amount of alcohol for evaporation purposes." He added that pepper spray was "a good way of deterring people without long-term harm."

Dr. Rohini Haar, a medical expert with Physicians for Human Rights and visiting fellow at Berkeley Law, told BuzzFeed News that consuming pepper spray "would make you very very sick."

"Technically, pepper spray is made out of capsaicin" — a chili pepper extract — "but it's hyper concentrated versions." She said it would be "like eating a hundred habañeros."
The active ingredient in pepper spray is the oily extract from the pepper plant, which is in food, and it is also used in some medicines, Dr. Theodore Chan, the chair of emergency medicine at the University of California at San Diego, told BuzzFeed News.
But in pepper spray, there are also other chemicals, like propellants, which are used to aerosolize the capsaicin. Much less is known about those chemicals.
"I haven't tested it when people have eaten it, but I wouldn't recommend it. It's not meant to be eaten," Chan said.
A spokesperson for Mace, which manufactures pepper spray, told BuzzFeed News that oleoresin of capsicum, the active ingredient in OC pepper spray, can be purchased from FDA-approved sources and is not necessarily intended for consumption.
Colburn's comments come after a confrontation between migrants and US Customs and Border Protection agents in Tijuana on Sunday.

Central Americans waiting to make asylum claims in the US had attempted to stage a peaceful protest Sunday morning, but their march to a border crossing devolved when the group found themselves blocked by police.
CBP told BuzzFeed News that agents had fired tear gas and pepper balls toward the Mexican side of the border after some migrants threw rocks and bottles. It's unclear whether pepper spray was actually involved in the incident.
Tear gas is also dangerous to consume, Haar said. "The few situations in which people have actually ingested it have caused a lot of gastro-intentestinal distress," she said.
Border Patrol Foundation Executive Director Shannon Staples backed away from Colburn's comments, saying, "The comments made this morning reflect the opinion of Ron Coburn as former Deputy Chief of the Border Patrol and do not reflect the opinions or the position of the foundation."

A spokesperson for CBP said that Colburn "had a long and highly respected career with Border Patrol and CBP," and added, "I am certain that he will be able to address any question you have about 'pepper spray.'"
This is not the first time a commenter on Fox News has sought to minimize the impact of pepper spray by portraying it as an edible product.
In a 2011 conversation with Bill O'Reilly, Megyn Kelly questioned whether spray used by UC Davis police had been diluted, saying, "It's a food product, essentially."
Fox News did not respond to a request for comment.