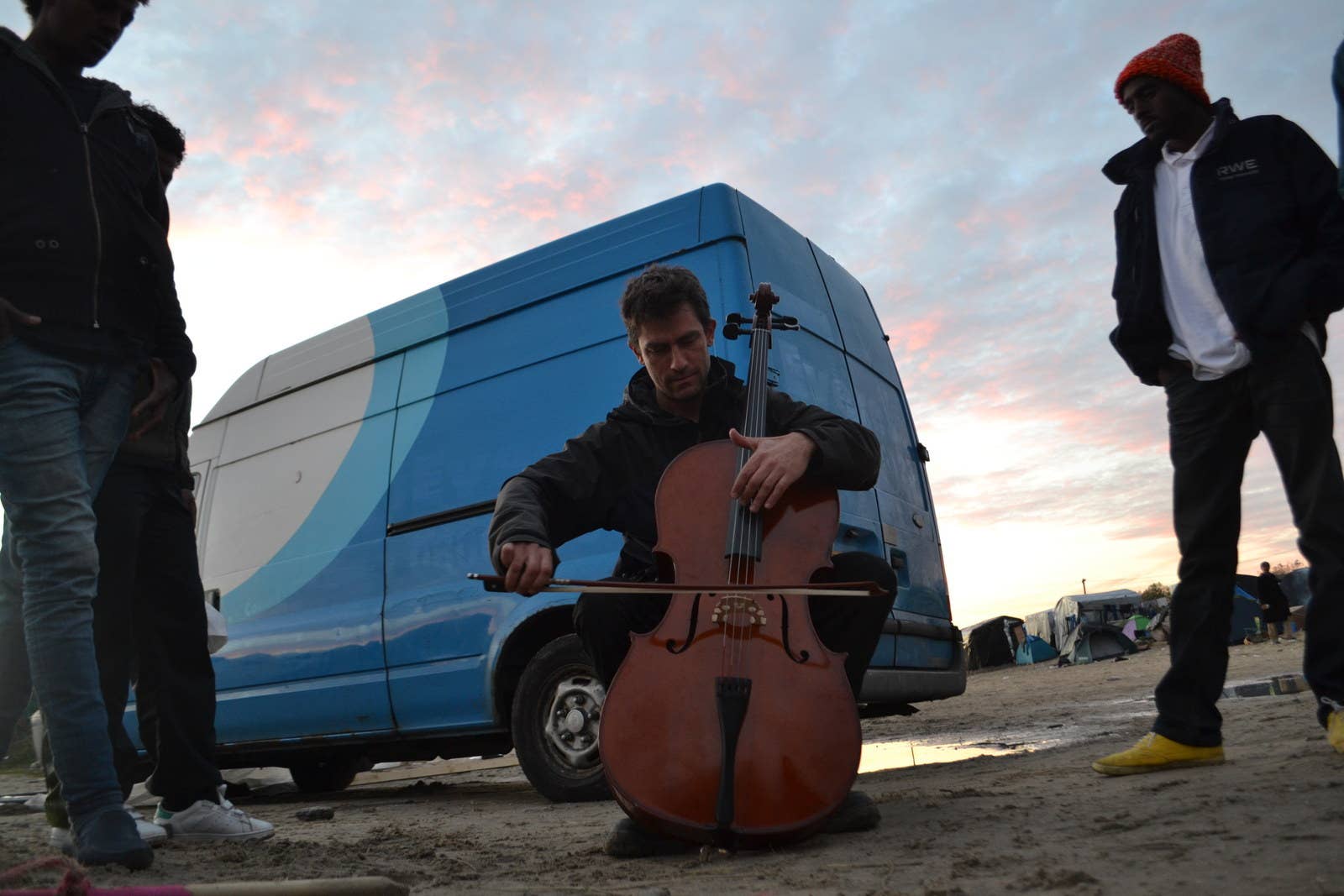 CALAIS, France — "I was an actor in Iraq," Alan said. "I did the voices for Tom and Jerry in Kurdish."
Alan Ahmad, 23, was in the middle of the sprawling refugee camp known as the "New Jungle" on the outskirts of Calais in northern France. Back home, he had worked in film and TV and had also been a photographer. But as the rapid advance of the Islamic State threw northern Iraq into chaos, Alan was forced to flee.
"I'm happy I found this place," he told BuzzFeed News.
He wasn't talking about the camp though, which is a muddy, squalid, and difficult place. He was talking about the huge, white, space-age dome that was standing behind us, which houses the Jungle's resident theatre: Good Chance Calais.
Founded three months ago by two British playwrights, Joe Robertson, 25, and Joe Murphy, 24, Good Chance offers theatre workshops, poetry readings, concerts, and, above all, a sense of dignity to the thousands of people stuck in refugee limbo.
"As artists, we felt like this was our responsibility," Murphy said. "To tell people's stories. To give people a chance at happiness."
Happiness is in short supply in the Jungle. A recent Birmingham University report called Calais a "humanitarian emergency." It's so bad that aid groups like Doctors Without Borders, which normally only work in war-ravaged, developing countries, had to step in a few weeks ago because, as mission chief Pauline Busson said, "the French government was doing almost nothing."
In the middle of this dirty, muddy camp, the pure white dome sticks out like a sore thumb. But for people like Alan, Good Chance is a sanctuary. Like most in Calais, Alan fled a country torn apart by war and traveled thousands of difficult miles only to reach an even more difficult place. Later that day standing in the middle of the dome, watching Alan spinning in circles and singing at the top of his lungs, Good Chance didn't seem out of place at all.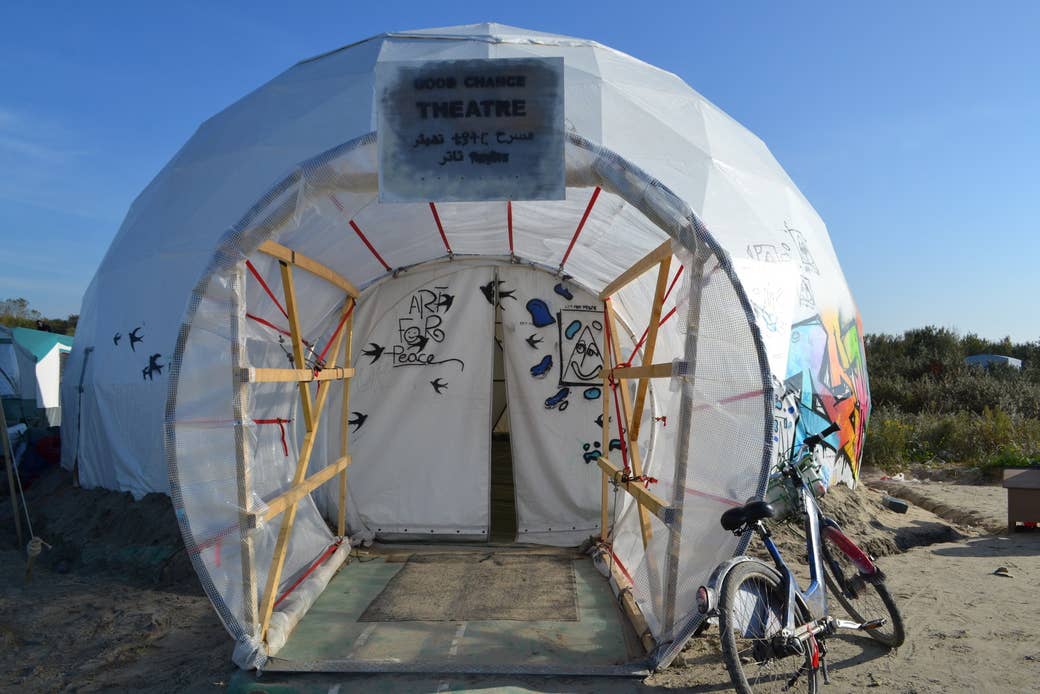 Joe Murphy is tall and frazzled and can often be found walking around the Jungle with a cigarette in his hand and a big smile on his face. But when told he was speaking to a journalist, his smile faded away.
Coverage of the theatre so far in the British tabloid press has characterized Good Chance as a "nightclub" where refugees "dance the night away," a representation that's far off the mark of a space that more often acts as a kind of town hall where people come to paint, play music, and just escape the squalor of the camp.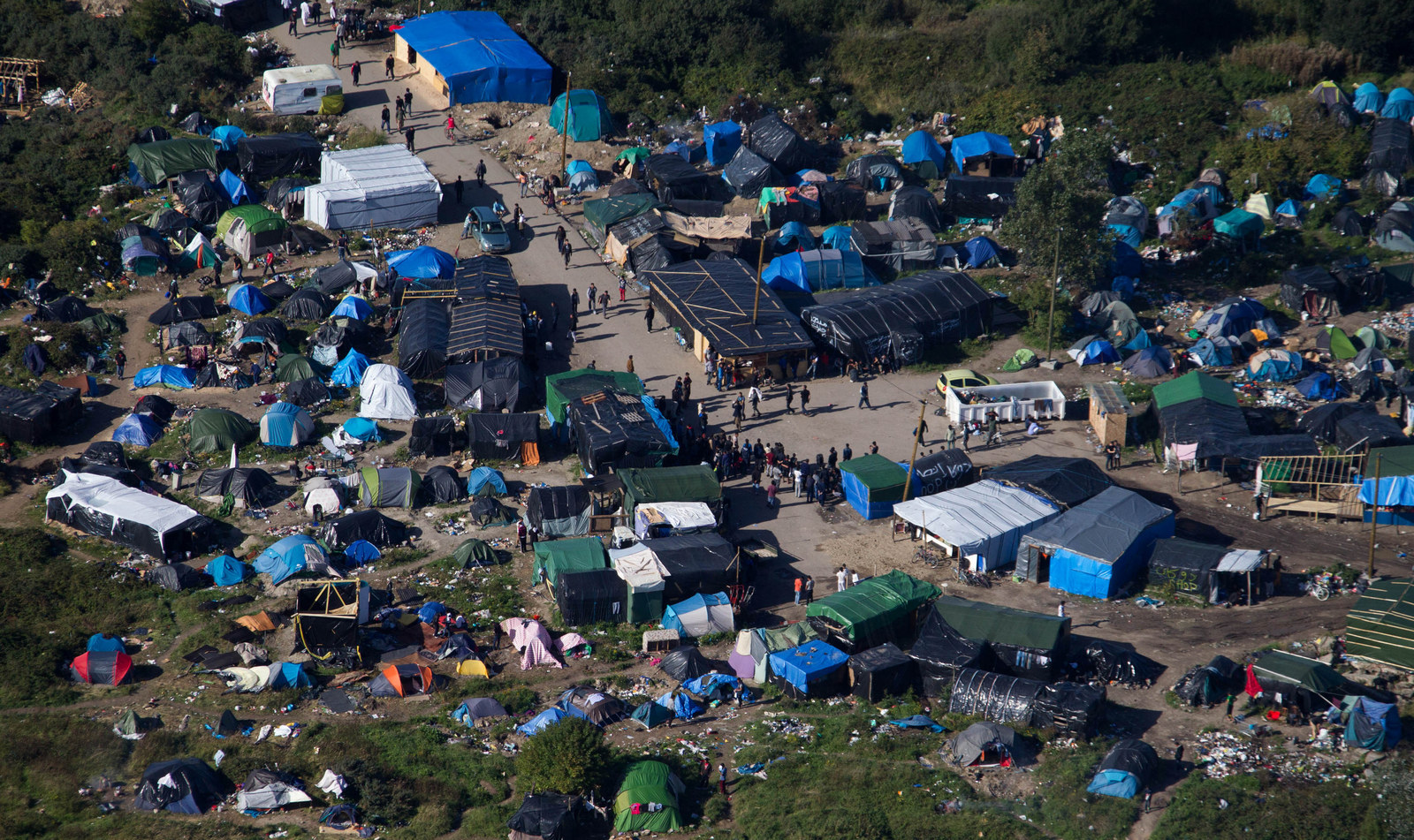 There is some truth in the tabloid reports though: There is definitely dancing. Two weeks ago, the dome had to be taken down and moved to a different part of the camp. To celebrate the end of the dome's first incarnation, Good Chance threw a party.
There were about 200 young men present — most of the women and children stay at the Jules Ferry Centre, which is separate from the rest of the camp. For three hours, these young men from Syria, Sudan, Eritrea, and Egypt danced. They danced furiously, ecstatically, at last given the chance to have fun in a place that most of the time is anything but.
Murphy acted as DJ, trying his best to fulfill everyone's requests, ensuring that each nation represented inside the dome got a couple of songs. But as the night progressed, he handed responsibility over to Mohammed, a young Sudanese guy, who Murphy hopes will eventually take over leading the parties because, he says, "the dome isn't ours. It's theirs."
Later that night BuzzFeed News spoke to Manaf, 27, from Raqqa in Syria as he smoked a cigarette. He didn't give his last name, but as the cigarette dwindled, he explained that he'd been forced to escape Syria and leave his wife and daughter behind. When asked why, he gestured a long beard and ran his finger along his throat. When the Islamic State first captured the city that would become their headquarters, he said they'd started recruiting young men: anyone who refused, like Manaf's brother, was killed. So Manaf fled, hoping to reach the UK and one day bring his wife and daughter to meet him.
"Music," he said, when asked why he enjoyed coming to the dome. "Music is beautiful." Do you like to dance? "Yes," he said, but then pointed to a chubby Syrian guy in his forties standing next to us. "But Rami is the number one dancer." Rami laughed and shook his hips.
"Why me not go England? So much people go and not me? But here I see people, I hear is music, I play drum and after, I smile."
The importance of Good Chance extends beyond entertainment. Surindar Dhesi, Ph.D., is a lecturer in Occupational Health, Safety, and Environment at the University of Birmingham, and was one of the researchers who compiled the report which shed some light on the horrific conditions of the camp, including incredibly unsanitary conditions and psychological trauma among the residents.

"Everyone I spoke to in any depth was feeling extremely low," she said via phone interview from the UK. "There was evidence of self-harm in many cases, and at least two people I spoke to were suicidal."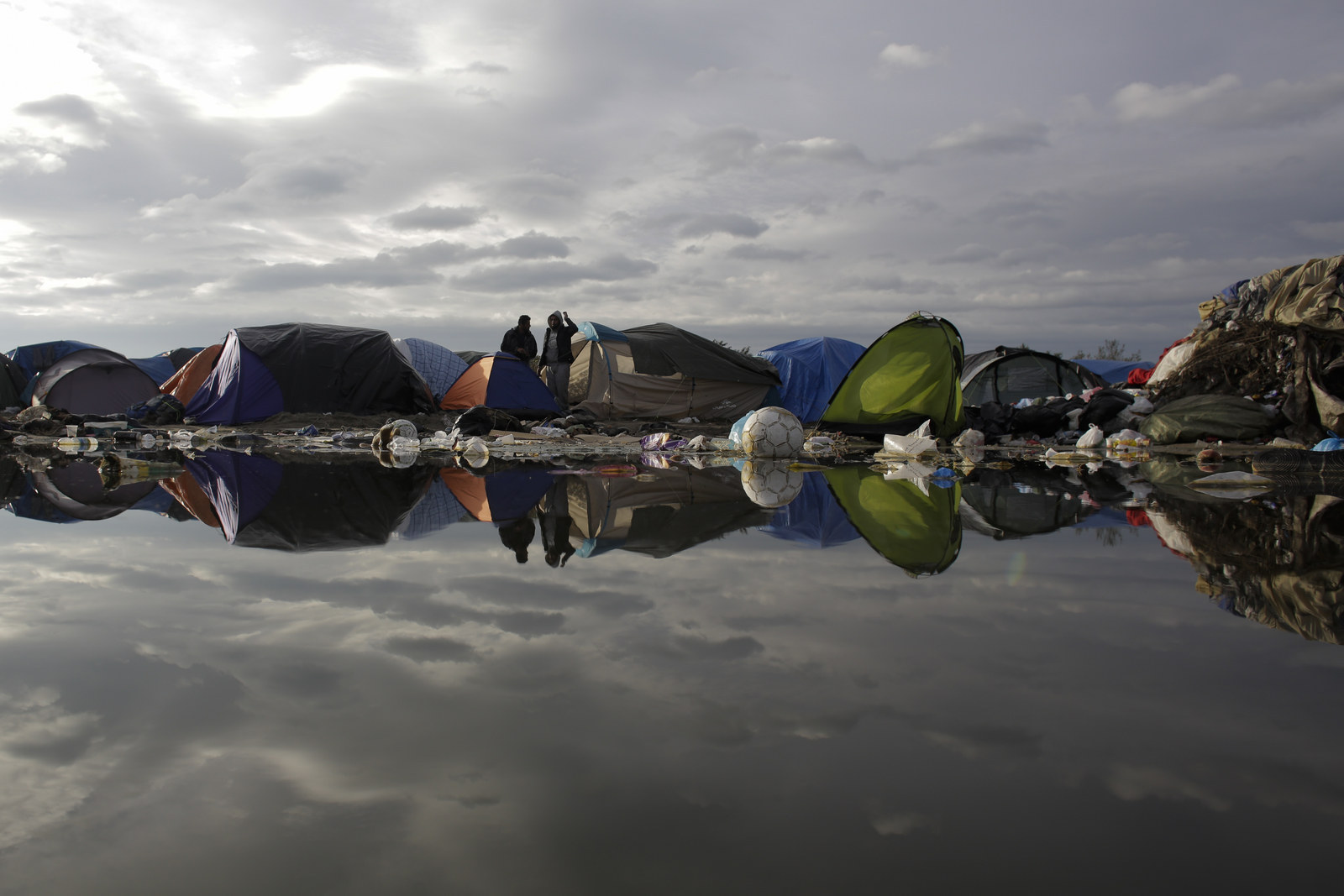 Good Chance offers the chance to escape. "In the theatre," Murphy explained, "you can become a different character. You can put on a different voice and suddenly you don't have to be Syrian or Sudanese. You don't even have to be a refugee anymore."
Not everyone in the Jungle is fleeing ISIS or Syria, the interwoven crises that have most spurred the massive surge in refugees at Europe's gates. One day, I spoke to Mustafa Motez, 25, from Sudan. When I asked him why he came to the dome, he told me that back in Sudan, he'd been an actor.
"I love Shakespeare, Sophocles, Peter Brook," he said. He told me how he'd fled war in Sudan, crossed through Libya, and paid a smuggler £2000 to take him across the perilous waters of the Mediterranean on a rickety boat packed with people. Then through Europe and now here, to the cold, muddy, squalor of the Jungle.
"Hamlet is my favorite," he said.
The day before the dome was taken down, Murphy organized a concert. He asked around the many volunteers to see if anyone played music. He found Joey Clarkson, 26, a Canadian musician who had driven over with her cousin Lizzy from the UK to deliver the medical supplies Lizzy had collected at the Bridport Unitarian Church. Joey made a mic stand out of a broomstick, a chair, and some paper and sang in front of a cheering crowd from Sudan and Syria.

Emily Palmer-Giles, 22, and Beth Carr, 21, both from Newcastle, were roped in too. They sang covers of songs by Sia and Beyoncé. It's doubtful many people understood the lyrics to Elastic Heart, but in the middle of one of Europe's biggest refugee camps, they took on new meaning: "You did not break me," they sang. "I'm still fighting for peace."

Most of the time, though, the music comes from the young men who live in the camp. In the afternoons, they sit inside the dome in a circle, drumming furiously. The best drummer by far is Bassim, 26, from Palestine. Small and wiry, he would often lead the drumming circles with his furious beats.
"My country is ash," he said, by way of explanation of why he left Palestine. "What can I do there?"
Asking BuzzFeed News not to use his last name, he said he'd been in the Jungle for three months and, like most people, tried every night to go to the UK. He walks for about three hours to reach the entrance to the tunnel, but the razor wire fences and the French police with their German shepherds and pepper spray make the cross nearly impossible.
"I come back and I feel bad," he said. "Why me not go England? So much people go and not me? But here I see people, I hear is music, I play drum, and after, I smile."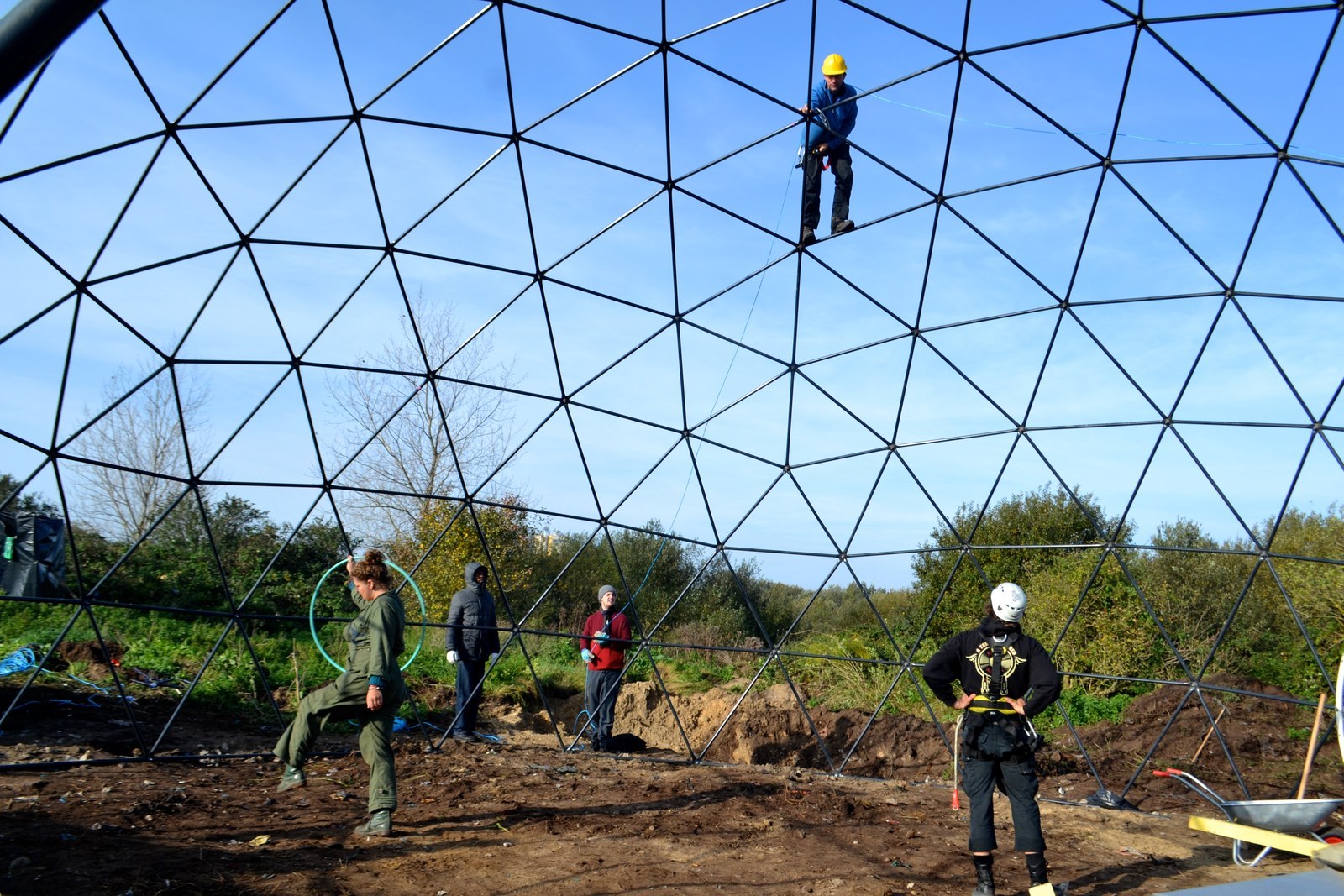 The next day, the theatre was dismantled. The great white canvas cover was thrown off, and the metal frame was taken down, layer by layer. Many of the people who lived in tents around the dome came to help. For each layer that was removed, the dome had to be lifted into the air. Standing in a circle and holding up the dome were English volunteers next to young men from Syria and Sudan, Egypt and Ethiopia, everyone working together.
This too is an important part of Good Chance. Rowan Thompson, 24, is an English volunteer at Good Chance. She explained that "there can be a lot of conflict between the different nationalities. The best way to solve that conflict is to create a sense of community. And I think that's what this place does."
Rowan also explained that, although most of the events in Good Chance are geared toward the young men who make up the majority of the Jungle's population, the theatre also offers workshops for women and children. "We had a clowning workshop last week for the kids, and of course they all loved it," she said. "But the best part was the audience full of grown men, all of them smiling and happy."
There's a more serious, political side to Good Chance as well. "So many English people disagree with the politics in the UK right now," Rowan's sister Hazel, 21, said. "So they feel a responsibility to actually do something to help the thousands of people that are on our doorstep."
David Cameron and his Conservative government have provided no direct assistance to the thousands of refugees who every night risk their lives for the dream of Britain. Instead, Cameron has offered only "more fences" and "more dogs," making the desperate crossing more difficult and indeed, more deadly: 24 refugees have lost their lives in the last 12 months trying to make it to the UK, compared to just 3 in 2013.
Three days after being taken down, the dome was moved and rebuilt. The structure was put back together, and the white canvas was stretched across the top.
And a famous friend had come to help out. Stephen Daldry, the Oscar-nominated director of movies like Billy Elliot, The Hours, and The Reader had come over to "support the Joes." In between the sweaty work of leveling the new site and digging a fence around the dome, BuzzFeed News asked Daldry why he thought the theatre was important.
"It's a way to bring people together to tell stories," he said. "One of the few things people have here are stories, incredible human stories. This crisis shouldn't just be told through the news. We need to really tell people's narratives."
Murphy and Robertson are planning on putting on a larger production toward the end of the year. "It's going to be an amalgamation of all those stories," Robertson said. "Whatever they want it to be."
When asked how they would deal with the fact that most of the people in the camp were trying to leave, Murphy explained that "some of our actors have made it to London already. I can't wait to announce on opening night that the whole cast is made up of understudies," he continued emphatically. "I love theatre like that: last minute, alive."
Once the dome was back up, the ground leveled, the lights hung back up and the guitars back in their stands, Joe Robertson gave a speech to the refugees, Syrian, Afghani, Sudanese, and others, who had helped to rebuild the theatre. "This is your masrah," he said. "This is your theatre. And we're going to be here all winter for you. This is a safe space, a warm space. And we're going to fill it with music, with theatre, with poetry and dance."
Alan, the actor from Iraq, stood quietly in the corner, looking up at the dome's white expanse. When asked if, like almost everyone else there, he would try to go across to London that night, he replied, "No, I don't want to go England anymore. I want to stay with the theatre. This is my dream."