Seen On Flickr: Obama & Napolitano Study A Map Of Transport Connections Between Yemen And The US
Were they talking about the cargo terror plot in this meeting on January 31st?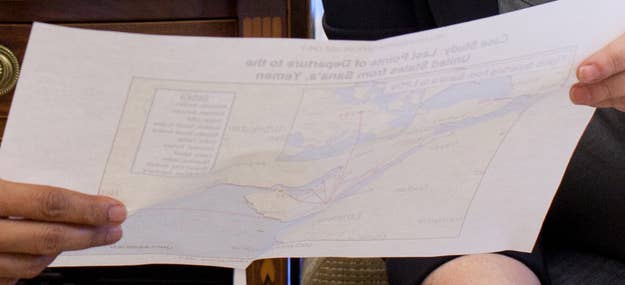 President Obama and Homeland Security Secretary Janet Napolitano are studying a map entitled "Case Study: Last Points of Departure to the United States from Sana'a, Yemen: Flights Departing from Sana'a to LPDs" in this image posted to the White House flickr feed.
The map, which is printed on paper thin enough to make the bleed-through image clearly legible (click here for the large version), is marked "unclassified" in several places. Napolitano holds another map, captioned "Middle East Overview," in her right hand.
There are no direct flights from Sana'a airport (SAH) to destinations in the U.S. The map Obama and Napolitano are looking at presumably shows the intermediate stops that passengers or cargo originating in Sana'a would likely make to reach the US from Sana'a.
In October of 2010, authorities in London and Dubai discovered bombs disguised as printer cartridges in cargo originally from Yemen. The explosives had passed through screenings at several airports and had been carried on passenger jets. Al Qaeda's Yemeni branch claimed responsibility for the thwarted plot.