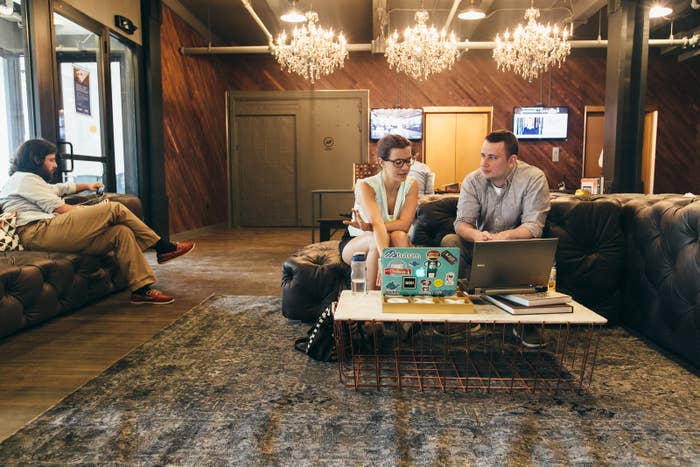 WeWork, a co-working startup recently valued at $15 billion, is being sued by an ex-employee in California for unpaid overtime, wrongful termination, and retaliation. The suit was filed by Tara Zoumer, an associate community manager who supported some of WeWork's Bay Area locations, including its 91,000-square-foot space in downtown San Francisco. Zoumer alleges that WeWork fired her because she spoke to other employees about alleged violations of California's Labor Code and because she refused to sign a new arbitration agreement passed out to all WeWork employees last fall.
In the complaint, Zoumer claims signing the agreement would have "waived her jury trial rights to her pending disputes with WeWork."

Zoumer worked for WeWork from March 2015 to November 2015 for an annual salary of $42,000, plus benefits and some stock options. Salaried employees, especially those making a decent wage, sometimes assume that they are not eligible for overtime. But Zoumer, whose previous job was as a public relations coordinator with the human resources company TriNet, believed she was misclassified and entitled to overtime, meal breaks, and rest breaks because she worked 50 to 60 hours per week. The complaint says that Zoumer's West Coast manager told her to stop talking to other employees about alleged labor violations three weeks before she was fired. According to the complaint, Zoumer is seeking more than $25,000 in damages.
Zoumer's lawyer, Ramsey Hanafi, told BuzzFeed News that community managers and other nontechnical startup employees are particularly vulnerable to being misclassified as exempt from overtime and other protections. "Since so many tech jobs are 'office jobs' or have higher salaries, or fancy meaningless titles, a lot of employees get misclassified," Hanafi explained in an email. As an associate community manager, for example, Zoumer replaced kegs of free beer in the communal lounge, threw parties, worked the front desk, and gave office tours. "These companies are making a lot of money on the backs of misclassified workers who are often underpaid for their long hours, and that isn't fair," said Hanafi.
This week, WeWork filed for a new stock offering, which could put its estimated value to closer $17 billion. To defend itself against Zoumer, WeWork hired Boies, Schiller & Flexner, a law firm founded by famed and feared litigator David Boies. WeWork has more than 50 shared office space locations around the world and a swiftly growing presence in the Bay Area.
Zoumer filed her lawsuit in San Francisco Superior Court just before Christmas, but WeWork successfully moved the case to California federal court. Zoumer's offer letter from WeWork included a clause saying that employees have to arbitrate disputes rather than go to court. WeWork used that clause to file a petition in New York court related to the California lawsuit. The petition asks for the judge to compel Zoumer to go to private arbitration in New York rather than a jury trial in California. (Although Zoumer was fired over not signing WeWork's new arbitration agreement, the clause in her contract may have been enough.) The New York judge is expected to rule in the next week or so.
A source close to the company told BuzzFeed News that WeWork has not yet filed to dismiss Zoumer's claims because WeWork wants all employee disputes to go to arbitration and be decided out of court.
Zoumer's complaint alleges that in early October 2015, she began speaking with other members of WeWork's community team about the possibility that they were wrongly classified and entitled to overtime wages, as well as reimbursement for cell phone expenses. In early November, all WeWork employees were asked to sign a new employment agreement that included a more detailed arbitration agreement, waiving a right to jury trial. Zoumer claims she refused to sign, telling WeWork "she had pending potential claims" against the company and "did not want to waive her rights" to resolve those disputes in court. In mid-November, Zoumer was told she was terminated for not signing the new agreement.
This isn't the first time WeWork has dealt with blowback for its labor practices: Last summer, CEO Adam Neumann came face to face with protesters for paying janitors $10 an hour with no benefits or paid time off. However, those were contract workers in New York, and Zoumer was a full-time employee.
In response to questions from BuzzFeed News, a spokesperson for WeWork offered the following statement: "Our employees are our lifeblood. Their commitment to our members and to each other is what helps make WeWork unique. This lawsuit is an unfortunate reaction by an employee who was terminated for failing to comply with company policies and procedures. We will contest this meritless lawsuit vigorously."
California has different exemptions for overtime requirements depending on the category of employee. In January 2016, for example, California increased the threshold for exemptions of computer software workers. Employers now have to pay computer software staffers an hourly rate of $41.85 or an annual salary not less than $87,185.14 in order to exempt them from overtime requirements.
Hanafi, Zoumer's lawyer, told BuzzFeed News that it will be "WeWork's burden to prove" that his client is exempt from overtime. "The 'default' rule is no employee is exempt, and all are entitled to the benefits and protections," Hanafi said. The source close to WeWork said that the defense will be arguing that Zoumer fell under the administrative exemption. In that category, one of the stipulations for exemption is that an employee "customarily and regularly exercises discretion and independent judgment."
Regardless of the merits of Zoumer's claims, her case touches on a number of issues that the tech industry has been forced to address recently. The treatment of nontechnical employees at large tech corporations, for instance, received a lot of attention last month after a former Yelp employee named Talia Jane wrote an open letter to Yelp's CEO about struggling to get by as a customer service representative. The downside of arbitration has also come up repeatedly in recent widely covered lawsuits against tech companies, such as the ongoing class-action cases against Uber, Lyft, and Handy. A multipart New York Times investigation last fall said arbitration clauses were at the center of "a far-reaching power play orchestrated by American corporations."

Although this was not included in her complaint, Zoumer sent BuzzFeed News a copy of an email that she claimed to have sent to a number of members on WeWork's community team on Friday, Nov. 13, under the subject "Your Rights at WeWork." According to her complaint, she was terminated the following Monday.