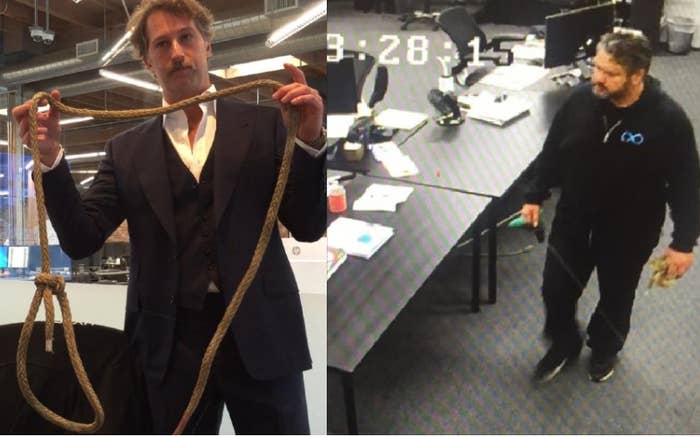 A judge in Los Angeles County Superior Court swiftly denied a request for a restraining order filed by Brogan BamBrogan, cofounder and former chief technology officer of the Hyperloop One. The restraining order, first reported by BuzzFeed News, was quietly filed last month against Afshin Pishevar, Hyperloop One's former chief legal officer, who is also the brother of Hyperloop cofounder Shervin Pishevar.
Both Afshin Pishevar and BamBrogan abruptly departed the transportation startup, which is developing high-speed shuttles, a few weeks ago. Then, earlier this week, BamBrogan filed a blockbuster lawsuit against Hyperloop One alleging assault, defamation, misuse of funds, wrongful termination, and much more.

Judge Carol Boas Goodson denied the restraining order request based on the fact that the two no longer work together." Upon leaving the court, opposing counsel David K. Willingham from Caldwell, Leslie & Proctor said "these were baseless allegations that had no merit." A request for a temporary restraining order was also denied earlier.
This week's lawsuit alleging assault and defamation is independent of the restraining order. The lawsuit claims, among other things, that Afshin Pishevar left a noose on BamBrogan's desk at the company's headquarters. The filing included a still image from a security camera (shown above) that allegedly depicts Pishevar placing the noose on BamBrogan's desk. A photograph of BamBrogan with the rope was also included in the suit. According to the complaint, the noose was left after BamBrogan alerted Russian investors to problems that he and other employees were facing at the company. (Hyperloop One has a deal with Vladimir Putin to build a transportation system in Moscow.)
Defendants named in the lawsuit include both of the Pishevar brothers, as well as board member Joe Lonsdale. Shervin Pishevar is a high-profile Silicon Valley venture capitalist. Lonsdale cofounded Palantir, the secretive data analysis company. Afshin Pishevar left a law practice in Maryland to join the company.

BuzzFeed News obtained a copy of the restraining order request that prompted today's hearing. In it BamBrogan wrote that Afshin Pishevar used to live with him and his wife:
"My life was threatened by person listed in (2/Asfin Pishevar). He used to live with us in our house along with my wife. I believe his is unstable. He knows where we live and he is capable of harming myself or my wife."

The petition for a restraining order also says that more than 10 people witnessed the harassment. BamBrogan described the rope as "a noose by which to hang" and alleged that Afshin Pishevar "is unstable and capable of violent action."
At a press conference outside the courthouse this morning, BamBrogan's attorney, Justin T. Berger of Cotchett Pitre & McCarthy LLP, dismissed the notion put forth by people close to the company that the rope was a lasso. Said Berger:
"It's a length of rope with a slip knot at one end and an opening about the size of a man's head that is a noose. That is not a lasso. This wasn't a cattle ranch. This wasn't a dude ranch. This was a technology company and the message was clear. They didn't use ropes to propel ... This was a threat."
Berger recounted the narrative about the noose from the lawsuit. He characterized it as a retaliatory response to a letter sent on May 26th by 11 top Hyperloop employees asking for help to put the company back on track.
"In response, the management threatened them, forced them out of the company and over the series of the following weeks, there were continued threats and meetings between the employees and the defendants. On June 15 there was a meeting scheduled where they were supposed to discuss the issues, the night before defendant Afshin Pishevar left this noose on plaintiff BamBrogan's chair at the Hyperloop office. He came to the office at 11:30at night before to place this noose on the chair. So when my client gets to the office on the 15th this noose is there waiting for him and it set the stage for this meeting between the employees."
Outside the courthouse this morning, BamBrogan's lawyer also said that he respected the judge's decision to deny the order based on the fact that the two men were no longer working together. Berger emphasized that the allegations were larger than this one incident. "It's not just about the noose," he said. It was about a pattern of not mismanagement and mistreatment of employees and not fulfilling fiduciary duties. "The company needs to be taking this more seriously."
Hyperloop One has raised $92 million in funding to build high-speed transportation shuttles based on a futuristic concept initially conceived by billionaire SpaceX CEO Elon Musk. BamBrogan was an early employee at SpaceX.
Orin Synder, a lawyer for Gibson Dunn serving as Hyperloop One's outside counsel, sent BuzzFeed News a statement about the judge's decision.
"The court's denial of this harassing motion after less than a minute of deliberation speaks for itself. There is no threat to Mr. BamBrogan. Today's defeat is also the starting gun for exposing the lies behind the sham lawsuit filed yesterday by these ex-employees. The next step in that process will be a countersuit that we will file in court next week. Our lawsuit will expose this cynical use of the legal system for what it is: a smokescreen designed to cover up a botched attempt to take over the company. We look forward to telling the real story next week."
This is breaking news, we will update the post as we learn more.