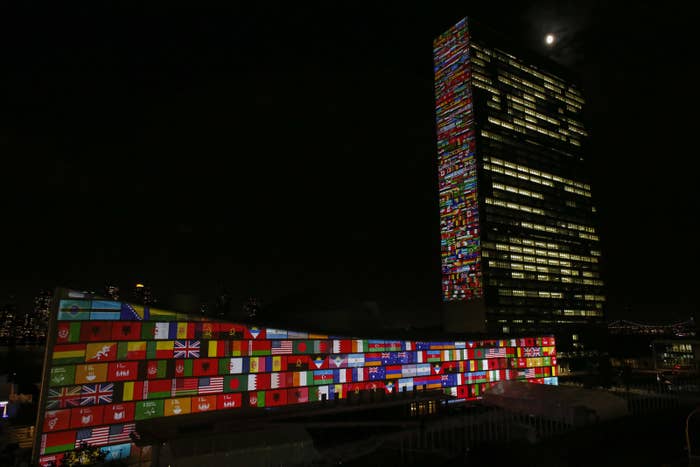 NEW DELHI — Dozens of women have been denied visas to attend a major United Nations women's conference in New York.
According to campaigners, women from African and Middle Eastern countries that fell under Donald Trump's travel ban were disproportionately affected.
The US is obliged under a 70-year-old treaty to not restrict people or NGOs from attending the UN headquarters.
In protest, women's rights campaigners are petitioning the US Mission to the UN to streamline visa procedures for those traveling to the UN.

The Commission on the Status of Women is an annual conference, running this year from March 11–22, where representatives from member states, NGO workers, and women's rights activists gather to evaluate the global progress on gender and equality.

According to the petition, an "unprecedented" number of visa denials for women hoping to attend CSW has been witnessed.
The International Service for Human Rights, a UN-affiliated organization, said it was aware of at least 41 women who have been denied visas to attend the conference this year — but this figure is said to be only "the tip of the iceberg" and likely to increase.
According to the data gathered by ISHR, more than 50 visas were rejected for CSW in 2018 — but this final number was tallied after the event, as individuals came to know later that ISHR was gathering data on visa denials.
"One has to be connected to our groups through networks to even hear about the fact that we are collecting the data and then one has to submit it voluntarily to us," said Madeleine Sinclair, the director for ISHR's New York office. "We can only assume there are more unreported cases of denial."
BuzzFeed News is yet to receive a response from the US Mission to the UN regarding the total number of visas that have been denied this year.
Women who wanted to attend CSW this year from countries like Iran, Sudan, Zimbabwe, and Syria were asked to provide supporting documents like marriage certificates, proof of property ownership, letters stating employment status, proof of finances, and even proof of birth certificates or proof showing that they have children, according to the petition.
The issue of visas and travel bans came up repeatedly during conversations at the conference. At a town hall meeting, Farirai Gumbonzvanda, a delegate from Zimbabwe, asked UN Secretary-General António Guterres why women from rural backgrounds — who were represented at the UN "on banners, as footnotes, and as case studies" — weren't permitted to attend and speak for themselves.
It was also brought up in an address by CSW's Woman of Distinction this year, Gharsanay IbnulAmeen, the cofounder of the Afghan Girls Sustainable Education Project.
Lyndal Rowlands, who supports civil society participation at CSW through her role as advocacy officer with the UN-accredited organization CIVICUS, told BuzzFeed News that among all the people that were denied visas, women from countries that fell under the Trump administration's travel ban were disproportionately affected.
"Last year and this year we have also heard of women from Pakistan and Nepal who were denied visas," she said. Rowlands said there were also other women who were unable to attend because they or their families feared that they would be punished by their home countries for attending a women's rights conference, or because they were under travel bans at home due to their work as women human rights defenders.

Most of the women applying for visas, Rowlands said, had not traveled to the US before — a deliberate decision by organizers who wanted a diverse range of women present at the United Nations, not just pundits and experts who travel all the time but women who work at the grassroots.

"It's essential that women who are at the front lines working on women's rights are present when their rights and the rights of the women they serve are being discussed," she said. "Governments and UN officials that attend the conference can make better policies when they are informed by the experiences of women who face some of the biggest uphill battles when it comes to fighting for gender equality — for example, delegates who were unable to attend include lawyers and advocates who represent women who have been imprisoned for their activism, [and] women who deliver reproductive health care services."
Last year, when the theme of CSW focused on women from rural communities, Rowlands said that visas were denied even if women applied well ahead of time. "What was worrying from the data we collected last year was to see how often women were asked about their marital status or how many children they had. This doesn't seem like an appropriate or relevant question, especially when someone has an official invitation letter asking them to attend the annual UN conference on the status of women."
Rasha Jarhum, an Ottawa-based activist from South Yemen and founder of Peace Track, told BuzzFeed News that she and a few other women from Yemen and Syria were able to attend the conference because of assistance provided by the European Union and the US ambassador to Yemen. "They asked us to apply for a diplomatic visa and also wrote supporting diplomatic notes for us. We were treated as part of the EU delegation, had access to the delegates areas at the UNHQ. The application was smooth, no line in front of me, no questions, no interview. I didn't even pay any fees," she said. "The time to process (documents) took a long time and my friend coming from Egypt received her visa one day before she traveled. They only gave us a visa until the end of March. So you need to leverage on your contacts and get a powerful state to support your application."