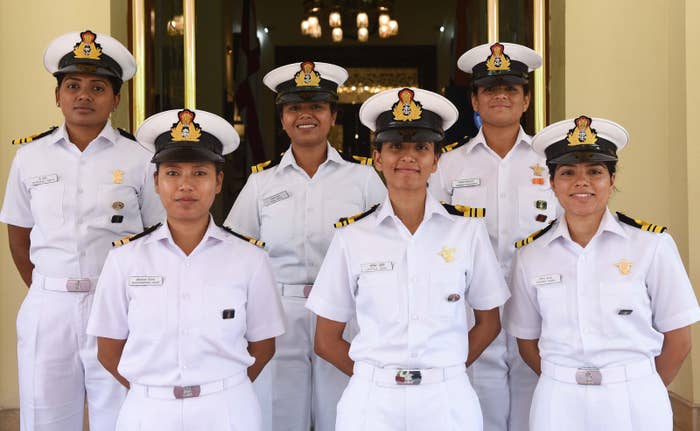 "You are India's daughters now, real-life bravehearts," said the news anchor, turning to 29-year-old Captain Vartika Joshi. "How does it feel?"

Joshi, skipper of the first all-women military crew to circumnavigate the Earth, smiled at the sea of cameras and reporters, and their platitudes. In the last eight months, Joshi and her crew — young women from the Indian Navy who had never sailed before, working instead as naval architects, as air traffic controllers, and in the education department — had steered a sailboat across every longitude and ocean on Earth, through cyclones, hail, sub-zero temperatures, and scorching heat.
"We've already proven what we had to, as daughters," she told the anchor. "It's up to India's parents now — will they trust their girls enough to let them be free?"
It is a telling question. India has an appalling women's rights record, described earlier this year as the biggest human rights violation on Earth, and has been rocked by several high-profile rape cases. The Indian Navy's record on gender equality has not been particularly great either. Women were allowed to join the navy in 1992, but could only serve for a shorter duration than men, which meant they were not entitled to the significant benefits that their male colleagues enjoyed post-retirement.
One of the only women to have served on an Indian Navy warship in 1994, Sandhya Suri, told the Better India website that the posting was one of the most challenging periods of her life. Her colleagues would constantly refer to her as a "lady officer."
"You have to understand one thing — women on the ship means precious space being sacrificed for them; at least in India. In the foreign navies, there are no such accommodations made," Suri said. "You joined, you serve, and you don't crib. I think the navy is still deliberating on this one. Women are not posted on warships right now, [let] alone in active combat divisions."

In 2016, the navy began to allow women to serve for longer terms and expanded the scope of roles they could perform. But this was not a sign that the navy was finally becoming woke, or even fair. In 2017, a transgender woman was removed from active duty after the navy tried to "fix" her gender dysmorphia by confining her to a psychiatric ward under the care of male officers.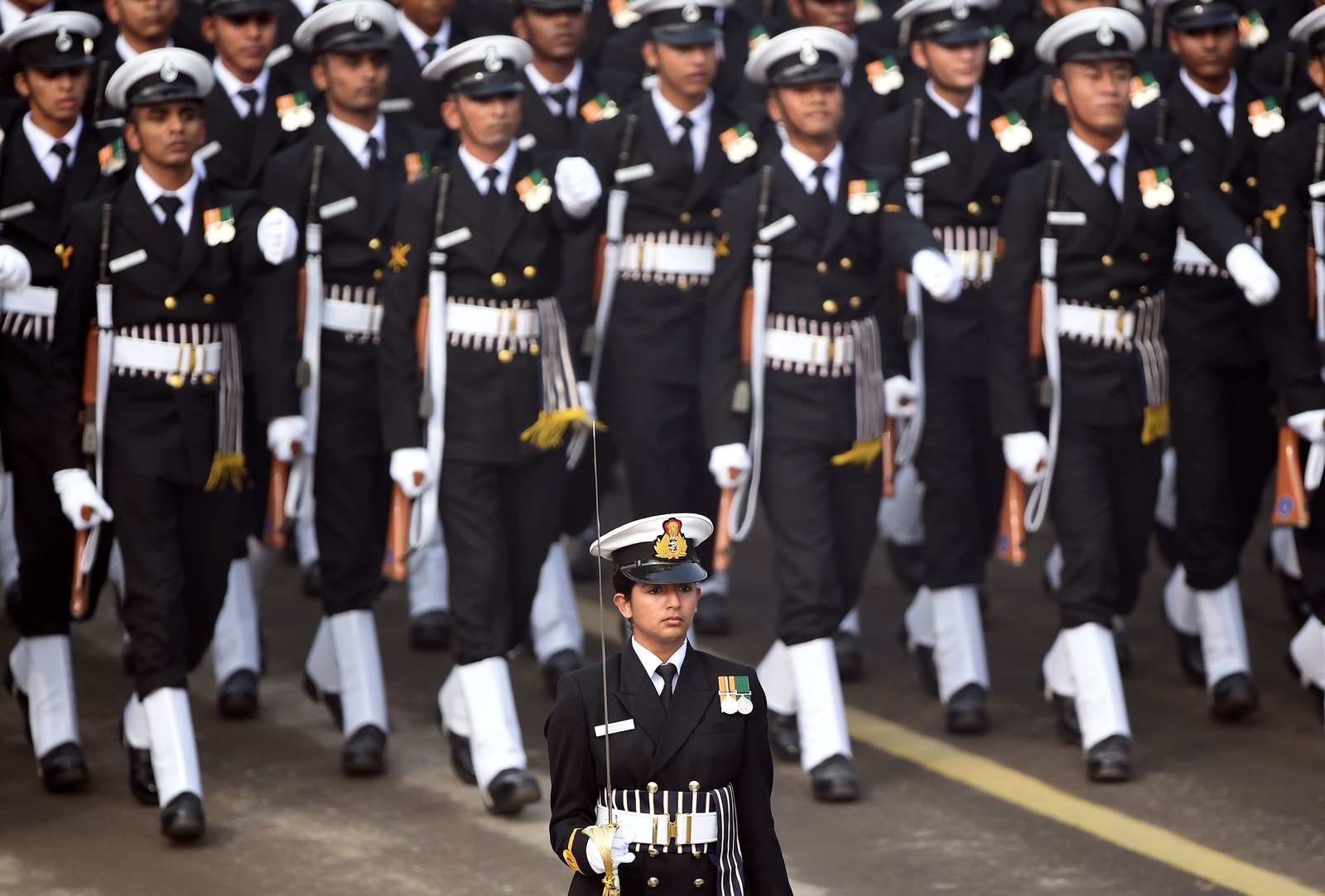 Capt. Joshi and the naval officers on board the INSV Tarini had been pulled together for a campaign that would improve the navy's reputation and boost India's image as a military superpower committed to women's progress. As part of the naval media strategy, the team aboard the boat were instructed to share photographs, videos, and blogs throughout their journey, so that fans could track their progress in real time on the Indian Navy's Twitter and Facebook pages.
The Tarini's crew comprised Capt. Joshi, Lt. Cmdr. Pratibha Jamwal, Lt. Cmdr. P. Swathi, and Lts. S. Vijaya Devi, B. Aishwarya, and Payal Gupta — better known by their naval nicknames, Skipper, Croc, SwatCat, Shou, Gator, and Puko.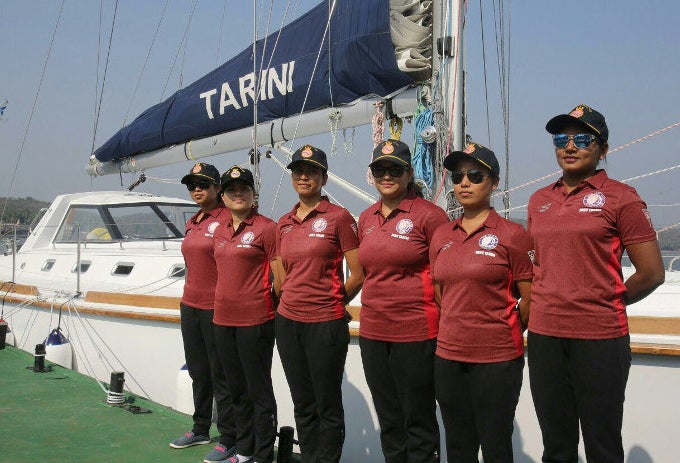 They were trained extensively by a group of men, including Capt. Dilip Donde — the first Indian to circumnavigate the world solo — and Capt. Atool Sinha, who took them on missions through extreme conditions and bad weather for two years to prepare them for the solo voyage. Team Tarini sailed for nearly 20,000 nautical miles as part of their training. The sailors watched every part of the boat as she was built in a shipyard in Goa — if anything went wrong, the crew had to know how to take it apart and put it back together again.
The crew were aware that their movements would be monitored by their superiors constantly via satellite and GPRS. (As Croc remarked drily, "Success has many fathers.") The crew was also required to check in with headquarters every half an hour, along with receiving occasional video calls from the prime minister, the minister of defence, and the president. But the one thought every officer drew comfort from was that at sea, the final decision would always be theirs.
On Sept. 10, 2017, the INSV Tarini headed east to begin what would become a 254-day journey around the world. The thrill of finally leaving home was subdued when the crew encountered windless seas immediately off the Indian coast, but the slow phase soon passed, as they began to encounter squall after squall.
The women found their rhythm and worked in shifts — two members would adjust the sails and steer the ship. The others would read (Sense and Sensibility, the Bhagwad Gita, The Laws of Attraction, and Journey to the Center of the Earth), watch TV ("Don't ask! I think we've watched every show and film made in the last 10 years!" Croc said), cook, draw, knit, and clean the boat. In order to deal with the scorching heat of the day, the sailors on night duty would wake up their sleeping crewmates so everyone could take freshwater showers when it rained.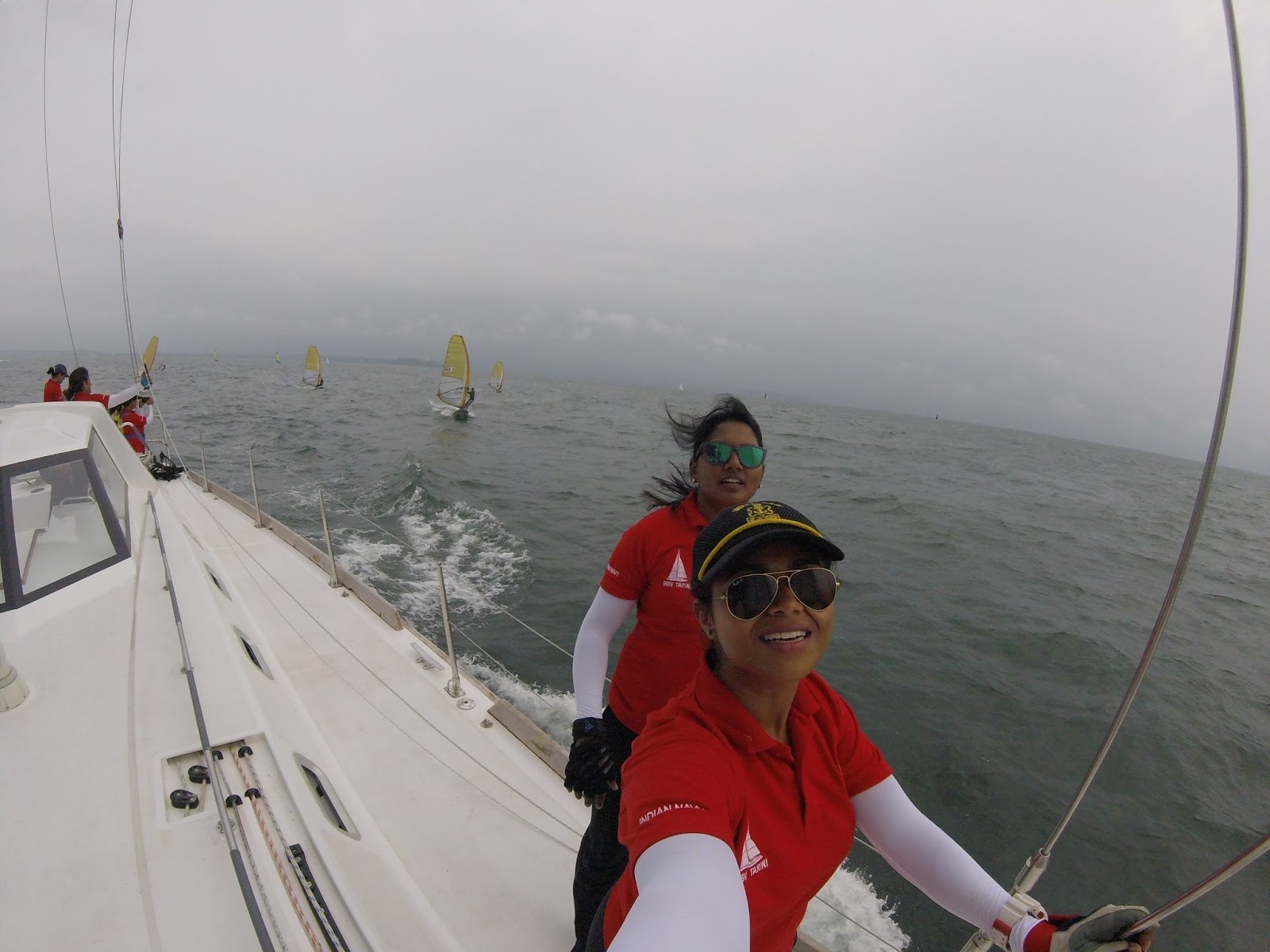 The sailors also devised their own rituals to celebrate birthdays, festivals, and other important days. On Sept. 26, when the Tarini first crossed the equator, SwatCat baked a cake in homage to the navy's hallowed tradition of appeasing Neptune, lord of the seas. (Seafarers who have crossed the equator are called Shellbacks, and those who have not are called Pollywogs. The crew onboard Tarini were, as Croc described it, "hardened, fiberglass Shellbacks.")
As the Tarini encountered the famous trade winds, used by sailing ships to cross the world's oceans for centuries, they ran into winds in excess of 60 knots (around 70mph) and 7-meter-high sea swells. The crew closed every porthole and hatch hoping to protect the boat, tethering themselves to whichever part of the vessel they were on. One day, when a wave washed a shoal of squid onboard, the crew thanked Neptune once more and ate a seafood curry.
"When there's a crisis, your mind and body react immediately; there's not a moment to spare," said Shou. "It's much easier to do something than to feel restless and stuck."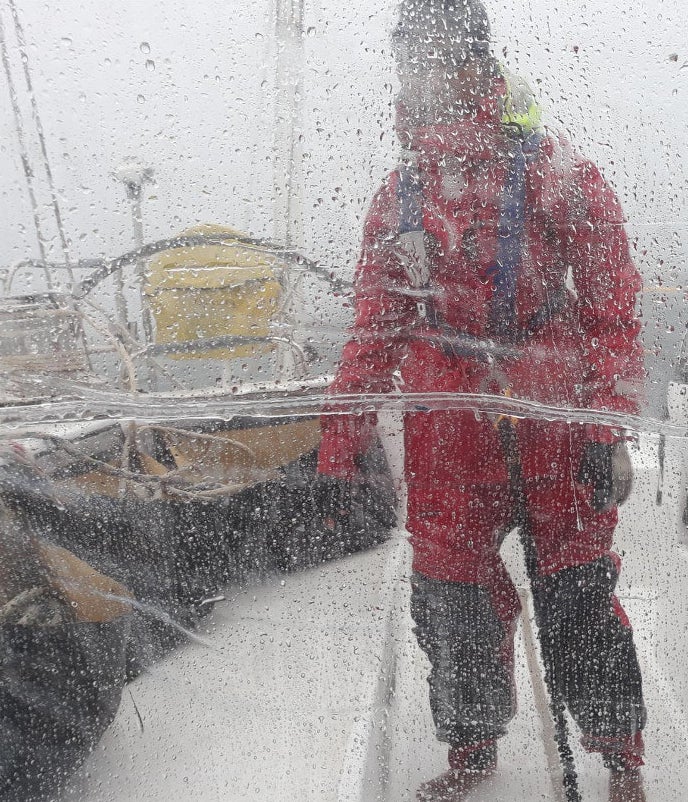 Over eight months, as the Tarini had made its way around the world with short stopovers at Australia, New Zealand, the Falklands, and South Africa, Shou and Croc agreed that everyone onboard seemed transformed. By the time the crew on the Tarini had left Cape Town in South Africa, very little fazed them — not even the two back-to-back cyclones they encountered on the final leg of their journey.
"The sky went totally black, not once but twice," Croc said. "But I think the people back home at navy headquarters were more worried about it than we ever were."
"There's a confidence that comes with knowing 'I did this. I can sail a boat across the world,'" she added. "It's difficult to explain, but it affects every part of our lives."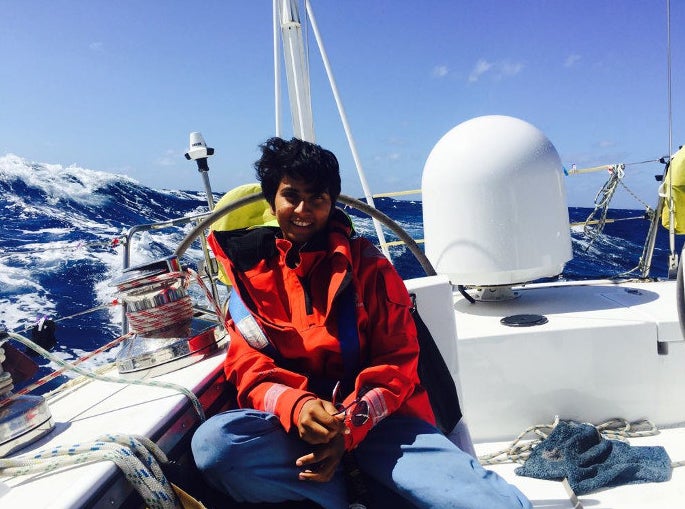 Short bouts of ill health, water shortage, fatigue, and homesickness had become par for the course as the women readjusted to solitude and their new neighbors —albatrosses, whale sharks, dolphins, and slow-moving streaks of bioluminescence. As the crew's blog revealed, they missed home when they were at sea, but longed for the ocean as soon as they were on land.
The Tarini's voyage showed what empowered women really need to thrive: space, teamwork, and an unquestioned faith in their abilities. Back home, their male colleagues were less convinced that this was a sign of any real change.
"Our ships are ready for women, but not our heads," a senior naval officer accompanying the all-women crew to New Delhi told BuzzFeed News, choosing to speak freely only on the condition of anonymity. "Having a woman on board will mean locked doors, separate bathrooms — it's hard for sailors not to resent that. But already, we've trained men to take orders from women — progress is slow, but we're getting there."
Now that they are back on land, the crew might have to get used to a life with far less adventure and wide-open spaces: The Indian Navy is considering allowing women on ships, but officers are concerned this will require too many physical adjustments to the boat. Additionally, the senior officer said that women sailors do not feel safe alone on a boat full of men — they need a group of women in order to thrive.
"For now, the girls will return to their regular jobs," Capt. DK Sharma, spokesperson for the Indian Navy, told BuzzFeed News. "Eventually, we will use them to train others — you see, they have already made history. The objective has been achieved."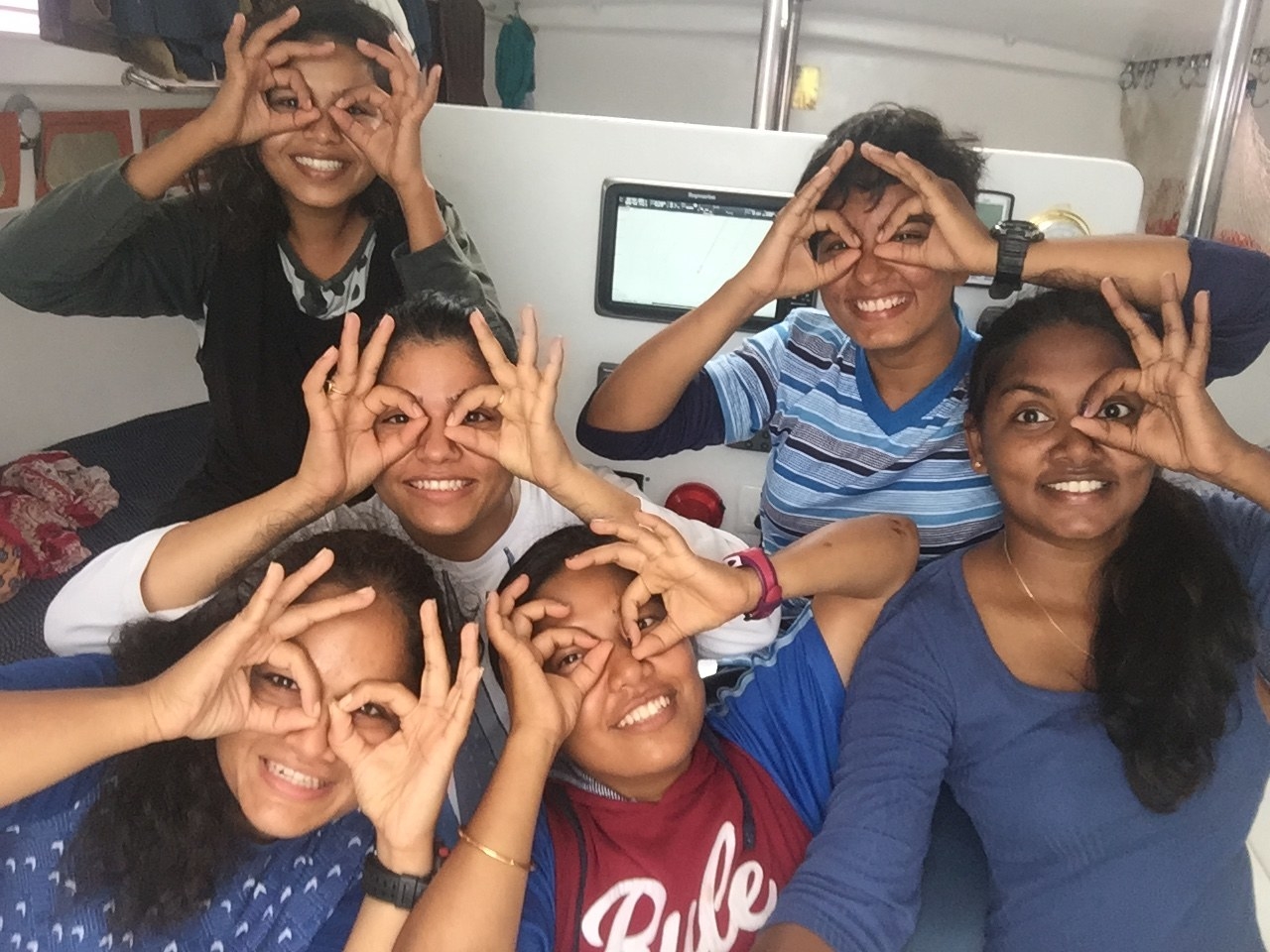 "Have you ever wondered what you would do when left all by yourself?" the crew wrote on their blog at sea, one day in December last year. "There must be something you do when nobody is watching, what is it? Do you yearn to be left alone to your own spirits? At some point of the day, you will see each member of the crew gazing out at the distance, lost in their own thoughts — what do they see...Sometimes I wonder what we are going to do when we culminate this voyage but that's a far ask. I might just turn to the Skipper and say 'Where to next Captain?'"