NEW DELHI — Minutes before Donald Trump Jr. arrived on the stage for the Global Business Summit in New Delhi, the CEO of Uber, Dara Khosrowshahi, spoke of the American dream.
"It's the biggest brand in the world," he said. "Immigrants from every part of the world know its power — if you work hard, you can earn money and respect in America."
As the applause died down, Khosrowshahi, who came to America from Iran in his teens, added, "But with the anti-immigrant stance in America right now, I fear that dream is being ruined."
But for the businessmen, billionaires, and Bollywood stars gathered at the summit, it was Trump Jr., not Khosrowshahi, who represented the American dream: Capitalize on the privilege bestowed on you from birth to amass ever greater fortunes, while claiming to be self-made, hardworking multimillionaires.
"The American dream is alive," Trump Jr. said to a journalist onstage, referring to Khosrowshahi's barb. "It's just that a lot of Americans felt like it was being exported out of America for a very long time."
It was a rare moment of substance in Trump Jr.'s otherwise banal "fireside chat" at the Global Business Summit, an event that was the subject of much scrutiny when the subject of his speech was first revealed a week ago. According to the summit's agenda, Trump Jr. was supposed to be speaking about "Reshaping Indo-Pacific Ties: The New Era of Cooperation," which sounded remarkably like the kind of US foreign policy that's outside the remit of a property developer.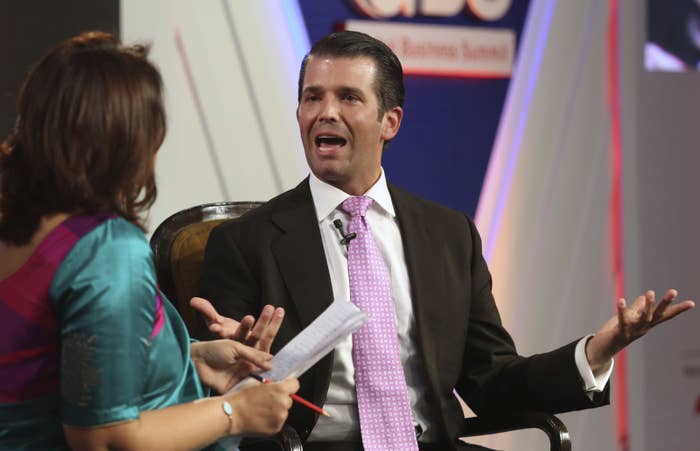 By the time the event drew close, any anxieties about the ethics of the speech had been dealt with in the most gracious way possible: His session was simply renamed by his hosts.
Trump Jr. was no longer speaking about controversial things like "Indo-Pacific ties." Instead he was now enjoying a cozy fireside chat with Supriya Shrinate, a journalist from the Times Group, India's biggest media organization. She introduced him, perhaps surprisingly, as one of the "businessmen who has shaped Indo-Pacific ties."
Against a backdrop projection of gently flickering flames, Shrinate asked Trump Jr. questions that would make a daytime chat show host seem like a dogged reporter.
"What made you think your father would become president? What was it like being part of the campaign?" Shrinate asked, followed by a real curveball: "When did you first realize he was really the president? What are your phone conversations like?"
As the gentle lobs kept coming, Trump Jr. visibly relaxed and tried out a few jokes. To an almost apologetic question about India's corruption when it comes to land deals, Trump Jr. responded that he'd never seen the kind of "entrepreneurial spirit" Indians have, eliciting cheers and applause from the audience.
"You can't do business the American way here, it simply won't work." He added, "You have to become Indian."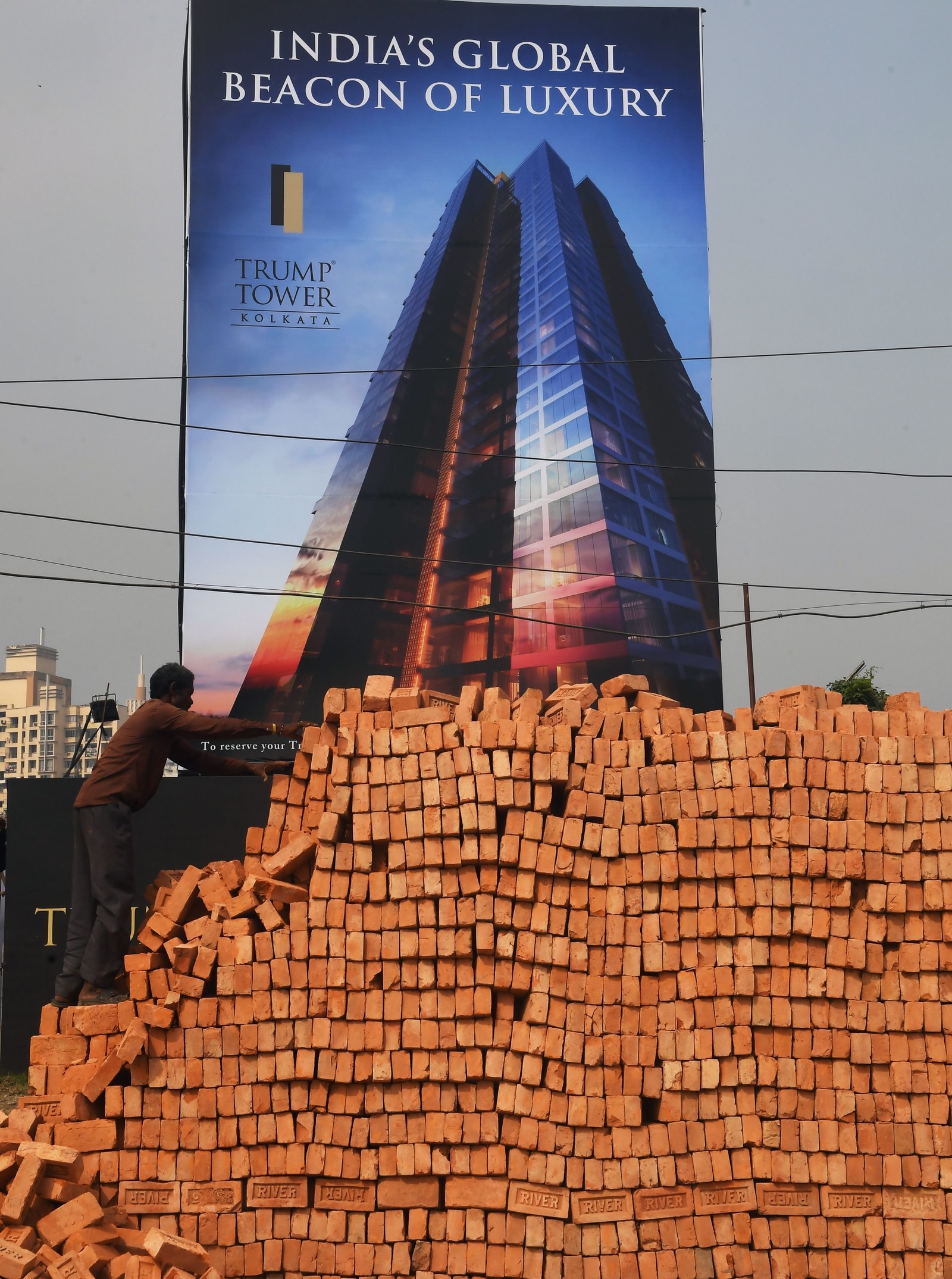 While ethics watchdogs had been getting worked up about the implications of Trump Jr.'s visit, many Indians were bemused by the kerfuffle.
Speaking ahead of the event, a prominent Indian property developer said he couldn't understand the fuss about the president's son making a business trip to India. "The family has been in property for decades — just because Trump became president, why should they give that up?" he asked, seeking anonymity to speak freely. "What is more natural than a son traveling the world to look after his family business?"
India has the most construction projects with Trump licensing deals outside of the US. Unlike past Presidents, Trump has refused to put his business in a blind trust, but has instead handed control to his sons, Eric and Donald Jr.
Apart from attending the business summit, Donald Jr., the eldest of Trump's children, was coming to India to inaugurate the fourth and final Trump Tower in India at Gurgaon, a suburb in the National Capital Region, and wine and dine homeowners.
Trump Towers, the luxury homes that Trump Jr. was in India to promote, are a perfect version of the Trump American dream: a gold-plated, high-rise ziggurat of opulent apartments in a polluted, dystopian Delhi suburb where private security stands guard over gated enclaves; a financial, industrial, and now residential hub bereft of basic amenities like public transport, community spaces, and even sewerage systems.
Trump Jr. was here to show India's elites how to take privilege to a whole new level.
"In India, every second thing is sold as deluxe, premium, luxury, but they don't really know what real luxury is," he said. "The people who buy homes in Trump Towers have experienced that luxury in New York, Paris, London, and they want it here but they haven't been able to have it so far. That's what we're bringing them."

But the Trump vision of extending the American dream to the rest of the world is only really for the hyper-rich. On Thursday, the US government tightened even further the rules for Indians traveling to the US on an H-1B work visa. In the past two years, there has been a 50% dip in the number of Indian visa applicants from IT firms.

One of the men tasked with executing Trump Jr.'s vision in India sat in a dark suit in the last row of the auditorium at the Taj Diplomatic Enclave. Atul Chordia, the chair of Panchshil Realty, is one of India's richest men and built the first Trump Towers in India in Pune in 2014 — two 23-story buildings in the upscale, green neighborhood of Kalyani Nagar.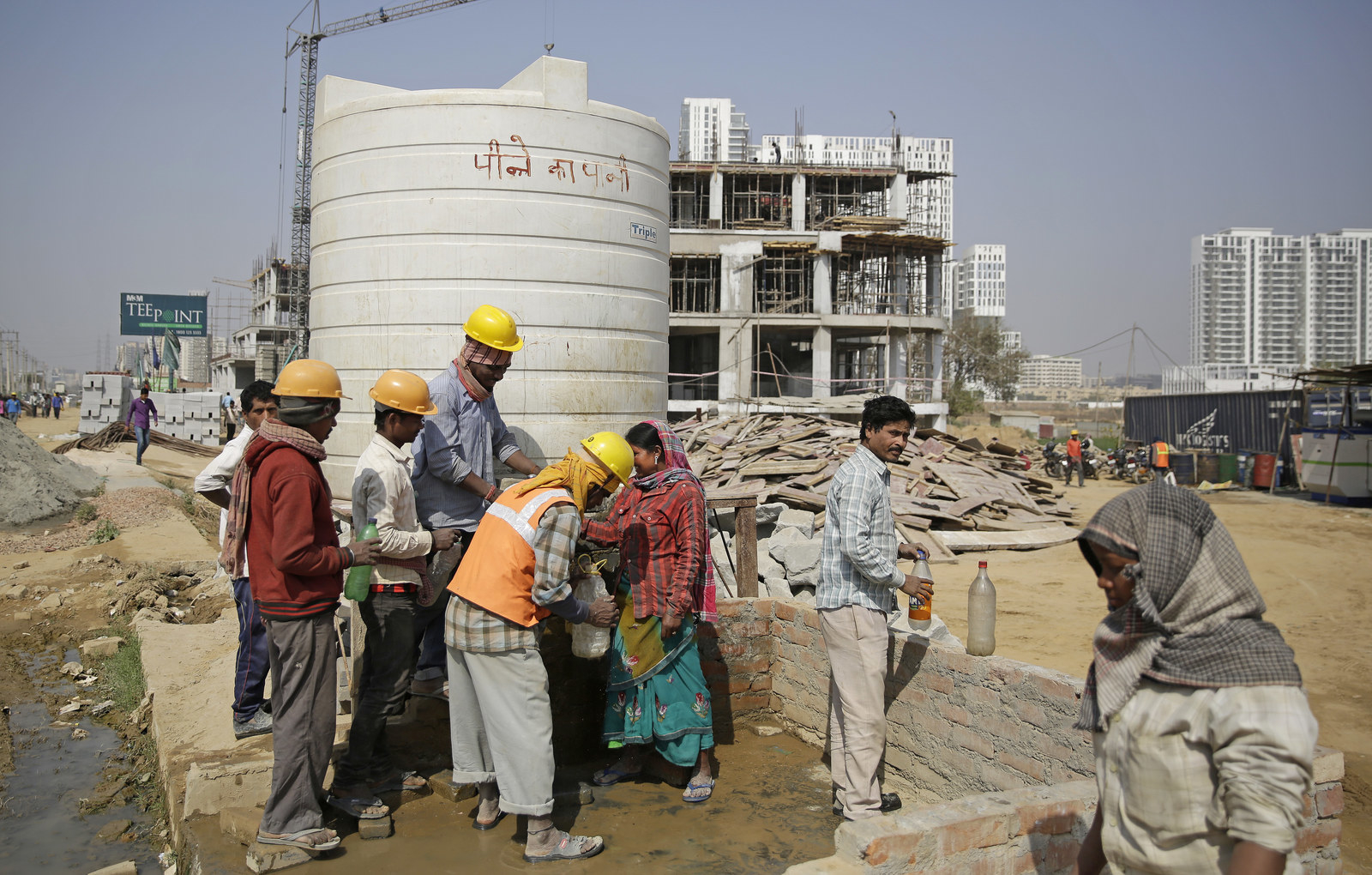 Chordia was also part of the delegation of Indian businessmen who met the elder Trump days after he was elected president. The only person who got there before them was Shinzo Abe — and he's the president of Japan.
On Friday, as Trump Jr., spoke about how the family would not do fresh business in India as long as his father was president, Chordia seemed contemplative.
Being associated with the Trump name was helpful, he told BuzzFeed News, because the name comes with a sense of power (for instance, the Washington Post reported that the developers of the 600-foot high-rises unveiled a sleek sales office in Gurgaon last week, claiming they racked up $23 million in sales — for more than 20 units — in the first day). Apart from the brand, the Trumps brought in Italian architect Matteo Nunziati, and laid down specifics about the fine details, like the way the marble must fit, the way the kitchens, living spaces, and bathrooms are designed, and the specifications for the gold façade that gives every Trump Tower its signature bling.
In the past, reports in the foreign and business press have spoken of the legal entanglements that Trump's Indian developers are embroiled in, but Chordia claimed that the Trump brand didn't elicit any favors from the government.
"It's not as if the rules are relaxed for us at all," he said with a sigh. "This is the problem with the Indian government — there are random environmental clauses, there are rules for floor-space index. Why should it be so expensive to build a home?"
But he cheered up as he listed the many privileges that accrued with buying an exclusive Trump home. Homeowners, who are referred to as the "Trump family," can avail themselves of endless attention from a 24/7 doorman and "lifestyle concierge," an on-call chef, fitness trainer, nurse, and someone to care for their pets and plants.
"The experience of Trump Towers is what sets it apart from every other high-luxury property," he said. "We have staff attending to their every need." It was an experience that Chordia confirmed at least two Bollywood stars, a doctor, and several businessmen had signed up for — the first tower in Pune was fully booked soon after it's launch, the second one was filling up, and the properties in Mumbai, Kolkata, and now Gurgaon were doing well too, he said.
Chordia laughed, however, when he heard that recent reports had claimed the Trump Towers in Mumbai would offer a private jet service. "I don't think that's true. I'd love to be a member of such a club, though."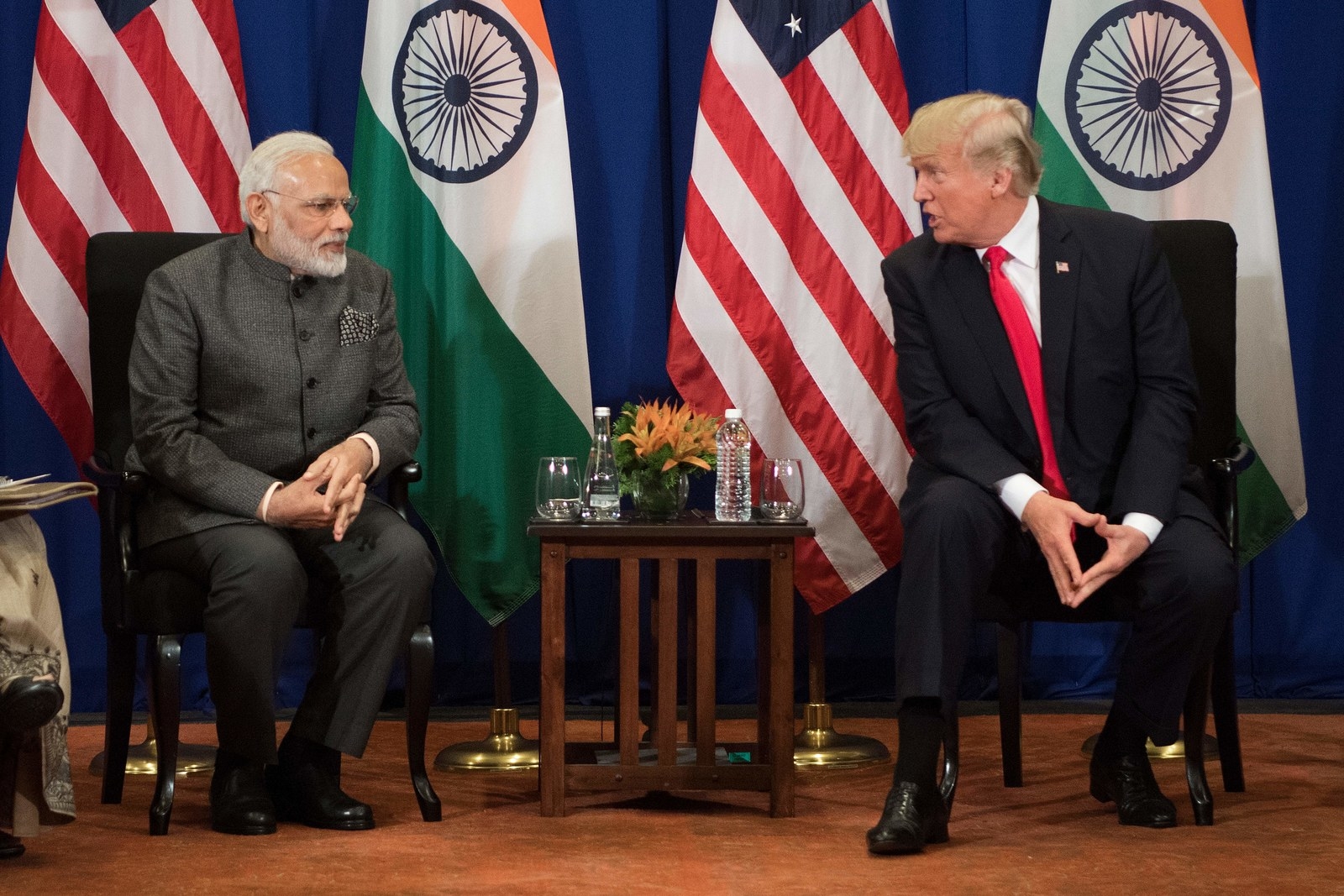 There are cultural parallels between Prime Minister Narendra Modi and President Trump — each won a mandate in a divisive political atmosphere by playing to a hard-right base, and each refers to himself as an outsider to politics in New Delhi and Washington.
But Trump, and by extension his family, is dogged by the American press in a way that Modi rarely is in India, where the press frequently turns a blind eye when it comes to nepotism.
Chasing stories of corruption within the political ranks comes at a price. A few months ago, the Wire, an Indian news site, published a report that the turnover of a company owned by Jay Amit Shah, son of Bharatiya Janata Party leader Amit Shah, increased 16,000 times over in the year following the election of Modi as prime minister and the elevation of his father to the post of party president. The story found little mention in the mainstream press and the Wire was immediately served a defamation notice by Jay Amit Shah, which they are now fighting in court.
As his session drew to a close, Trump Jr.'s obliging interviewer asked him to name his most difficult moments as the son of the president.
"Every time I turned on the television," he said. "It still happens — just recently I told a reporter who asked me my favorite things about India that I loved the fact that people smile so much here —"
"We're a happy bunch!" the interviewer chirped.
"Yes, a happy bunch — I gave every disclaimer, I explained that I wasn't trying to be glib, but the next day, the Washington Post ran a piece with the headline 'Trump says he loves poor people because they're always smiling.' Can you believe that?"
As the audience tsked on cue, Trump Jr. displayed rare candor. "That's why I always say I love the Indian press, because they're so nice and mild, nothing like America."
Trump Jr. hastened to add, "Even when they're brutal and oppressive, Indian journalists are always fair."
The session ended; the audience clapped some more.