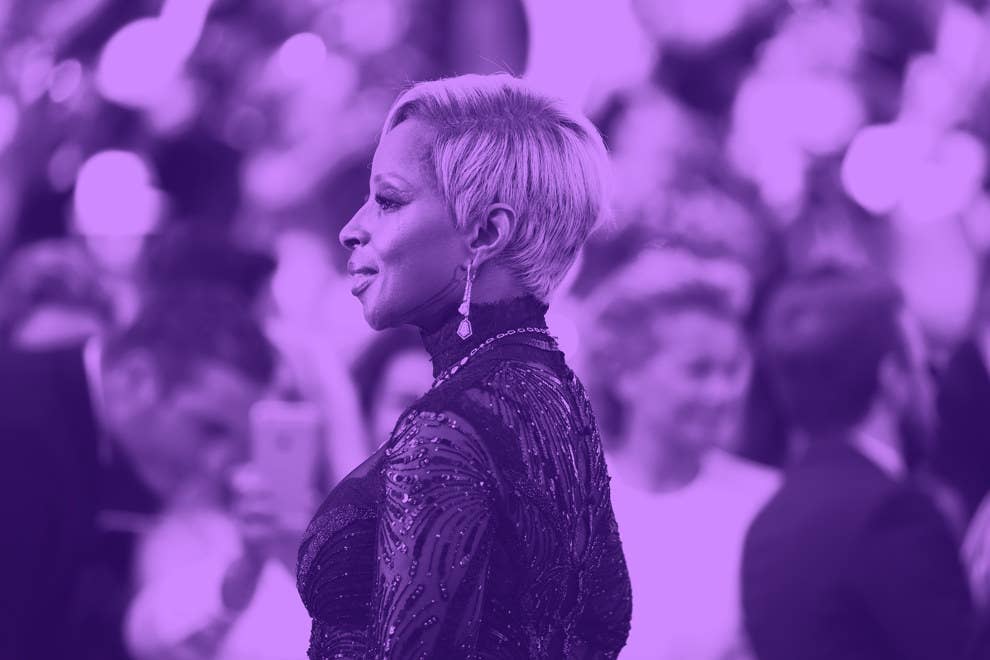 Just as Fleetwood Mac's Rumours radically changed notions about the porous layer between popular art and the personal lives of its makers, Mary J. Blige's music did so for R&B in the '90s. In their raw honesty, Blige's albums anticipated the direct-to-fan, semi-mediated mode of celebrity access later normalized by MTV shows like Unplugged and Diary and, ultimately, social media. The immersion of her personal life into her music fed the sense that fans were getting a "real" experience. The crossover between the music and her biography made it hard to separate Blige the artist from Blige the person. It's out of this dynamic that Blige developed a symbiotic relationship with her audience.
In interviews, Blige has admitted that her concerts are cathartic experiences for both her and fans, who channel their heartbreak through her. In If You Can't Be Free, Be a Mystery: In Search of Billie Holiday, Farah Jasmine Griffin quotes one of her students, a Mary J. Blige superfan: "She captures all those moments in your life, like when you break up with someone. You feel her pain. You think, 'Thank God; my pain isn't as bad as hers.'" Blige's gift for turning sorrow into powerful music is a common compliment heaped onto the singer. But that benign thought, a matter of taste, has given way to a darker one: There's a faction of Blige's fans who prefer "Sad Mary," on and off the track.
"Sad Mary" is shorthand for the side of Blige's singing persona that expresses downhearted themes. And Blige's 13th studio album might be Sad Mary's apex. Strength of a Woman, released on April 28, could be seen as a public redress of the saga engulfing her personal life. Blige and her husband/former manager Kendu Isaacs — long identified by Blige as her savior, the figure that delivered her to happiness after periods of pain and personal turmoil — are divorcing after 13 years of marriage. Along with the shock of the relationship's demise, the outrageous terms of the divorce made news (Isaacs, who, according to Blige, was both emotionally abusive and unfaithful to her, has reportedly asked for more than $100,000 per month; Blige called him a "con artist").
Sad Mary is deeply embedded in Blige's discography, making her hard to leave behind. Her second album, My Life (1994), is a bildungsroman of a woman processing childhood abuse and heartbreak. That album, full of narcotic thump and lovelorn lyrics, set the table for Blige's image as a master of R&B dirges and sorrowful songs. With songs like the bluesy title track, My Life represented the zenith of her artistic achievement and a nadir of her personal life. Then the lyrics said she was "so blue, down and out, crying every day, don't know what to do or to say." The album's trademark line, "If you looked in my life and see what I've seen," was an invitation that many fans took to heart. And there was much to see: her doomed romance with singer K-Ci Hailey and, according to an episode of VH1's Behind the Music, an addiction to drugs and alcohol. Later singles like "Not Gon Cry" cemented Blige as a down-to-earth narrator of bad romance and hard knocks. "I was just a girl from the streets," she told Behind the Music, "and everything about me was not Whitney...was not Mariah. The way I spoke was just hip-hop and slang and street." The way she spoke came through in her singing, where she became a genius at edgy phrasing, at rendering lines with an offbeat craft that was easy to overlook if you thought it took only a tortured bio, not great talent, to do what she did.

Blige's catalogue is probably just as sad as any other singer's, devoted as it is to romance and heartbreak. It's just that the blurring of her life with the music, her convincing delivery, and the fans' obsession with Sad Mary has made the melancholy stick to her image. In an era obsessed with artists' personal brands, Blige's has been sorrow from nearly the beginning of her career. While many fans want to see her happy, those who prefer Sad Mary want her to remain the vessel of their deepest torment, forever channeling their own angst into sad bangers. So when the recent shift in her personal life signaled that maybe the worst was not yet over, "Sad Mary" stans rejoiced. But at what cost does this fandom come? This burden of being a perpetual medium of despair? How much does she owe these fans? For Blige there was a physical, emotional, and psychological toll from Sad Mary's success, one she almost paid for with her life.
Composed of hits "Thick of It," "Love Yourself," and "U + Me (Love Lesson)," Strength is the first Blige album in maybe 15 years which was recorded while she was still undergoing some kind of public trauma. "It's how I survived, writing my songs, singing my songs. Making this album is definitely a therapy session," she told The Breakfast Club in March. In the same interview, Charlamagne tha God noted, "Expectations are very high for this album, 'cause everybody feels like Mary J. Blige makes her best music when she's hurt." In many ways, the album is much of the same from Blige; Strength is full of the torch songs that make up her catalogue. Yet its release marked the admission, by fans and journalists alike, that the "Sad Mary" moniker, which waned in her happier days, is back in full force.
There's a faction of Blige's fans who prefer "Sad Mary," on and off the track.
After the release of Strength, musician Ahmir "Questlove" Thompson posted on Instagram about the "Sad Mary" idea, captioning a post: "I feel horrible that I'm in the 'sad Mary'= classic Mary club....but man...I feel her on this jawn." A March conversation between Blige and close friend/radio personality Angie Martinez also touched on the conflicted feelings surrounding this idea. "I hate when people say this too. It pisses me off. Some people are like, 'Yo, when Mary's sad, we get the best music!'" Martinez said. Blige shook her head and replied, "That's unfortunate." Martinez continued, "As your friend, that pisses me the fuck off. But at the same time, you do have that gift, to share hardships, to share vulnerabilities. And this might be one of those times, man." Blige took a second to think about it, but you can tell she'd heard this theory before. "That sucks," she said. "It is what it is." The singer's "it is what it is" resignation makes clear that, on some level, she's accepted this long-held belief.
In a 1988 review of Jean Stafford's biography, Joyce Carol Oates used the term "pathography" to describe a trend of sad-sack literary biographies emerging at the time. "Its motifs," she wrote, "are dysfunction and disaster, illnesses and pratfalls, failed marriages and failed careers, alcoholism and breakdowns and outrageous conduct. Its scenes are sensational, wallowing in squalor and foolishness; its dominant images are physical and deflating; its shrill theme is 'failed promise' if not outright 'tragedy.'" Although Oates was describing a pattern in literature, "pathography" has meaning in music criticism and fandom, especially because it relates to the way Mary J. Blige and her music are talked about. The pathography has merged with a "strong black woman" stereotype which keeps "Sad Mary" foremost in so many minds.
Take, for example, comments made by poet Nikki Giovanni in a 2001 Vibe magazine retrospective of Blige's career:
I know she's had difficulty in her life […] But there's something about the way she wears her triumph and her pain that is so very much in tune to those black women that walked off the Dutch man-of-war at Jamestown in 1619. Do you see what I mean? 'Cause, you know, if it was 1619, and Mary J. Blige was on this ship, and they were saying, well, we're gonna trade this black woman for some food — which is what happened — you know that she would survive. And in surviving, she wouldn't hang her head. She would go, like, "Yes, I'm alive."
That's a nice sentiment, sure. But the spirit of enslaved women is hard to live up to, and for the most part unfathomable — we can't know what all of them were actually like, how they bore their trauma. It's quite likely they hung their heads, and more. So it is with Blige. It's that penchant people have for praising the singer for her indomitable spirit that's deeply troubling, however well-intentioned.
There is, of course, a general impulse by music fans and critics alike to say that artists make their best music when they're going through something. Blige is not the only artist whose sad music is deemed more resonant than their optimistic fare. The "Sad Mary" trope has other precursors in popular music: Joni Mitchell told VH1 in 1991 that fans wanted her "single and suffering." But for black women in particular, that impulse feeds into a kind of pathological belief that they are superhumanly strong and impervious to major pain. In the same way that stock angry/strong/emasculating stereotypes deny black women their humanity, the extreme takes on Blige's personality don't allow us to imagine her real self. Like creepy cardboard standups made by rabid fans, Unbreakable Mary obscures her fallibility, and Sad Mary eclipses the Mary who is capable of experiencing joy.
Blige, whose career arc is so synonymous with consistent pain and heartbreak, might be the "saddest" A-list singer we have at the moment. The careers of other current recording artists are not so closely aligned with misery. It's not their image. It was only after Lemonade that people focused on Beyoncé's sadness, but since her husband Jay-Z released his 4:44 album and the couple welcomed their twins, the public has moved on from their low point. (Lemonade's narrative arc ended with redemption and forgiveness, so maybe everybody took cues from Bey.) After The Emancipation of Mimi, Mariah Carey's Glitter breakdown was largely minimized, and even in the midst of that publicized turmoil, she was perceived as emotionally unstable, not necessarily sad. And while Drake has a rep for being emo, instead of dooming him, that characterization has given him more social media currency, and a sensitive-guy persona that makes him stand out from other rappers. Amy Winehouse, whose brief career was shrouded in gloom and chaos, has since died. It should be noted that when looking at legends who die young (the "27 club"), we search their music for clues about their demise. But Blige, alive, understands the dark specter of the "sad" label. Hip to this legacy, she once used a single word when asked what comes to mind when she hears the names of late black singers like Phyllis Hyman: dead.
Blige's musical motifs were established by blues singers like Billie Holiday, who, according to Atlantic writer Francis Davis, has become "an all-purpose Our Lady of Sorrows — embraced by many of her black listeners (and by many women and gay men) not just as a favorite performer but as a kind of patron saint. She touches such fans where they hurt, soothing their rage even while delivering a reminder of past humiliations and the potential for more." If you buy into the "Sad Mary" fandom, Blige is "Our Lady of Sorrows" for her generation and the one that came after it. But maybe Blige's most direct foremother is her role model Aretha Franklin, with whom she has collaborated and performed over the years. In Sweet Soul Music: Rhythm and Blues and the Southern Dream of Freedom, critic Peter Guralnick explains that Franklin was subjected to gossip for her "much-publicized unhappiness." In a response that presaged Blige's reply to Angie Martinez, Franklin reportedly said, "People like to conjecture about the sadness within me."
Blige has inherited this tradition, of having her sorrow suspended in the public imagination. But where sustained success, time, and a rebirth in American pop culture as a "shade queen" have overshadowed speculation of Franklin's sadness, Blige has not yet been able to get out from under this anguished reputation. People like to not only conjecture about the sadness within her, but also connect with it to an unhealthy degree. Blige herself noted this in a 2008 Vibe feature, saying, "My fans love me. They get a little pissed when I make a happy record." In a 2007 profile, also in Vibe, writer Keith Murphy explained the latest backlash fomenting after Blige's marriage to her estranged husband: "Since the release of Love & Life, some longtime fans have shied away from the Mary who has found love with record producer Kendu Isaacs, her husband of three years. There are fans who'd rather hear the Mary who poured out almost nothing but pain and sorrow." In turn, Blige told Murphy, "What those fans don't know is that I suffered the most. When I was miserable, dying, and damn near wanted to kill myself, I had access to money and fame, but it didn't make me happy. I had to risk losing those fans in order to save myself."

Blige also looked back on a comment she made in a 1999 Vibe profile and noted the warped expectations of this portion of her fanbase. "The fans gave me everything...They saved my life. Whatever they need, I have to give it to them. But people get so deep into you that it turns into a cult. So right now, the whole 'my man left me and I'm so sad' thing may not be what they need. I'm still going to give them the old Mary, but I'm trying to wean them off of the pain and suffering."
People like to not only conjecture about the sadness within her, but also connect with it to an unhealthy degree.
The drug metaphor was telling for someone like Blige, who in the past has struggled with addiction. In a 2008 Vibe feature, the singer again discussed the fans that wanted her to stay depressed, saying, "When I took the chance to show people I can be happy, I lost a million of my fans. I was like, 'I'm gonna have to lose y'all in order for us to live, because if I keep going down this dark hole, we're all gonna die together. I'm gonna slit my wrists or take some pills, and it's gonna be over.'" And during a talk with Ebony magazine, Blige doubled over in physical pain from the weight of the "Sad Mary" stigma. The thought of it was so disturbing she almost cut the interview short.
In this light, Blige's relationship with her fanbase makes her reminiscent of those tragic blues heroines from Gayl Jones novels, trapped in a cycle of trauma and disenchantment, at least in the public eye. There's a sonic precursor to the "My Life" lyric "If you look in my life and see what I've seen," and you can find it in the spiritual "Nobody Knows the Trouble I've Seen." "Nobody knows the trouble I've seen / Nobody knows my sorrow," the song goes. Both "Nobody Knows" and "My Life" register sorrow and land on the power of God. "He'll give you peace in yourself / You won't really need no one else / Except for the man up above," went "My Life."
"Nobody Knows" was sampled in 1971 for Nikki Giovanni's "Poem for Aretha (Nobody Knows the Trouble I've Seen)," a rapturous gospel spoken-word meditation on fame, stress, and Aretha Franklin's association with both. "We eat up artists, as if there's going to be a famine at the end of those three minutes," Giovanni raps. "Aretha doesn't have to relive Billie Holiday's life / Doesn't have to relive Dinah Washington's death / But who's going to stop the pattern? / She's more important than her music, if they must be separated / And they should be separated when she has to pass out before anyone recognizes she needs a rest." Within this paean and warning, there's also a duality. A few lines later, Giovanni says, "And I say I need Aretha's music." This "I say I need Aretha's music," contrasted with the knowledge that the work must tax her, perfectly sums up the compulsory push-and-pull of guilt and indulgence that informs Blige's Sad Mary fandom. Mary doesn't have to relive Billie Holiday's life, doesn't have to relive Aretha Franklin's stress, and she's clearly aware of that.
According to Griffin, Blige told Diddy's Notorious magazine that although she and Holiday have similar styles and "sadness in our music," she refused to be linked with Lady Day and the tortured stamp that comes with her. "Please compare me to the living," she wrote. "Don't compare me to the dead."
In keeping with the extremes of Blige criticism, a March 2007 profile in Vibe magazine deemed the singer "indestructible," and in a recent review of Strength of a Woman, the New York Times' Jon Caramanica called her a "virtuoso of suffering." Perhaps it's best for us to think about what Aretha Franklin allegedly told Hubert Humphrey, who asked her to stump for his 1968 presidential campaign, as recounted by Giovanni in "Poem for Aretha." Overworked and stressed, Franklin denied Humphrey, saying, "A woman's only human." That's probably not a verbatim quote, but Giovanni's poetic translation gets to the essence of the expectations that black women entertainers are saddled with (even if she would go on to support the idea later). Mary J. Blige is only human. Some fans' thirst for tragic music without regard for her well-being jibes with this idea of an unbreakable black woman, not human, an ubermensch emboldened by unhappiness.
Four months after Strength of a Woman's release, it's unclear if the album will be regarded with the same esteem and commercial success as some of Blige's most heralded works, even though it's a return to Sad Mary, what's inarguably her most reliable fount of acclaim. Although it debuted at No. 3 on the Billboard 200 chart, its sales (both streaming and traditional) measure only a fraction of her previous releases, including A Mary Christmas, her 2013 holiday album, and The London Sessions (2014), a somewhat experimental record composed of house and electronic songs. Which leads one to wonder: Could there be hope that Sad Mary's appeal is waning? If so, I'm sure she'd welcome its withering away. As early as 2001, she told Vibe, "I don't want people to feel pain no more when they hear my voice. I know the truth now, and it's not just about me and my pain. That's not where I'm at. I gotta keep it moving. It's about me wanting you to dance now."
One of the best things about Blige's recent public profile is indeed the videos of her dancing. I watched her headlining appearance at WaWa's Welcome America concert on July 4, and along with taking time to obliquely address the drama in her personal life, it seemed like she spent most of her time onstage dancing. The abundance of fan-shot footage showing her goofy and giddy is a surprising reversal of the Sad Mary obsession. It's showing a side rarely embraced by some fans: Happy Mary. Back in March, Angie Martinez showed Blige a selection of fan footage and homages to her trademark moves. The video of them laughing and rating all of the dancing memes is a joy to watch. It's like she's saying again, with her movement, Don't compare me to the dead, compare me to the living.