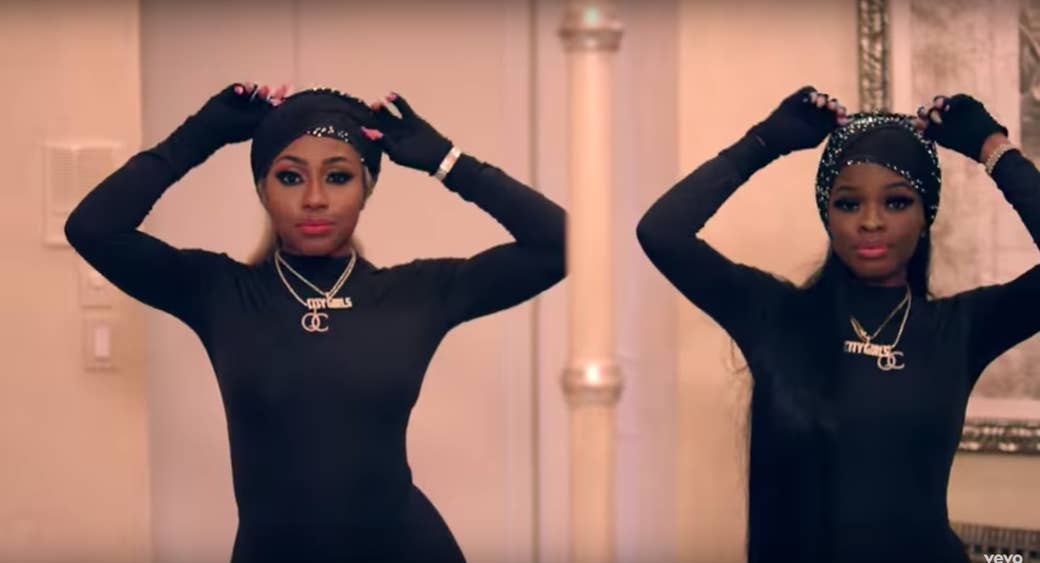 Three minutes into Drake's "In My Feelings" music video, the rapper sings, "Resha, do you love me?" and the camera fixes on Caresha "Yung Miami" Brownlee, one half of the Miami rap duo City Girls. (The group's other member, Jatavia "JT" Johnson, is currently serving a two-year prison sentence for credit card fraud and could not appear in the Karena Evans–directed music video, though Yung Miami sports a jacket with JT's face airbrushed on it in homage). Yung Miami lip-synchs both their parts in the song:
Two bad bitches and we kissin' in the Wraith

I need that black card and the code to the safe

I'll show him how to network

Fuck that Netflix and chill, what's your net worth?
Those lines, City Girls' entire lyrical contribution to "In My Feelings," function like the duo's thesis statement. Yung Miami and JT specialize in a raunchy style of rap popularized by Uncle Luke, Lil' Kim, Too Short, Foxy Brown, and Trina — which fell out of fashion for a while, but has recently come back into style (or maybe never left, depending on who you ask) with Nicki Minaj's ascent and Cardi B's subsequent pop culture takeover. Their music is almost exclusively about using sex as a weapon to exploit men, about women making a way for themselves by attaining money and power — even if it is only in the bedroom. In this way they tap into a prevailing energy in the zeitgeist, one of comeuppance and redress, and an intention to level the playing field, in their case, making sure the city of Miami is represented well in the rap industry.
And now they are on the come up. Last week, a video premiered for "Period (We Live)," the standout track from their debut mixtape Period, which came out in May. On Monday, a trailer for a documentary that focuses on the group's quick rise and current turmoil, Point Blank Period, dropped from culture marketing firm Mass Appeal. And last night, they released their remix of "In My Feelings."
"For us, this is big because I feel like we're opening up the doors for Miami again and we're kind of putting it back on the map," Yung Miami told Billboard earlier this week. Ocean's 8 got a lot of attention for being a women-driven caper that channels #MeToo and Time's Up energy, but City Girls' Period is another femme heist story of our moment. And City Girls' ascent is perfectly timed in this season of the scammer, sitting comfortably alongside last year's Fyre Festival, the social media rise of character Joanne the Scammer, the recent exposures of New York It girl Anna Delvey and then literary grifter Anna March, and the upcoming release of a Jennifer Lopez vehicle based on a true story of strippers who conned their Wall Street clients out of thousands of dollars. Period might be the quintessential score to this flim-flam moment. It's the soundtrack to this new American Gilded Age, and City Girls are grifters with hearts of gold (and minds for it, too).
Although they come from recognizable rap traditions, and a noteworthy musical capital, City Girls have only been rapping for less than a year. In her Billboard interview, Yung Miami explained that just 11 months ago she was looking for a way to support her family when a rap career fell into her and JT's laps. Somehow (the origin story is still hard to parse, if you watch this interview) Kevin "Coach K" Lee, cofounder of Atlanta-based Quality Control Music, heard a freestyle they did and requested a meeting with them.

From there, things moved fast. Last August, the group released their first song, "Fuck Dat Nigga," which samples fellow Floridian Khia's hit "My Neck, My Back." The song appeared on the Quality Control compilation Control the Streets, Vol. 1. Soon after, they were signed to the label, home to Migos, Cardi B (in a management-only deal), Lil Yachty, and Lil Baby. Since then, they contributed to Drake's Scorpion album, released their mixtape, and performed at one of Spotify's prestigious RapCaviar concerts.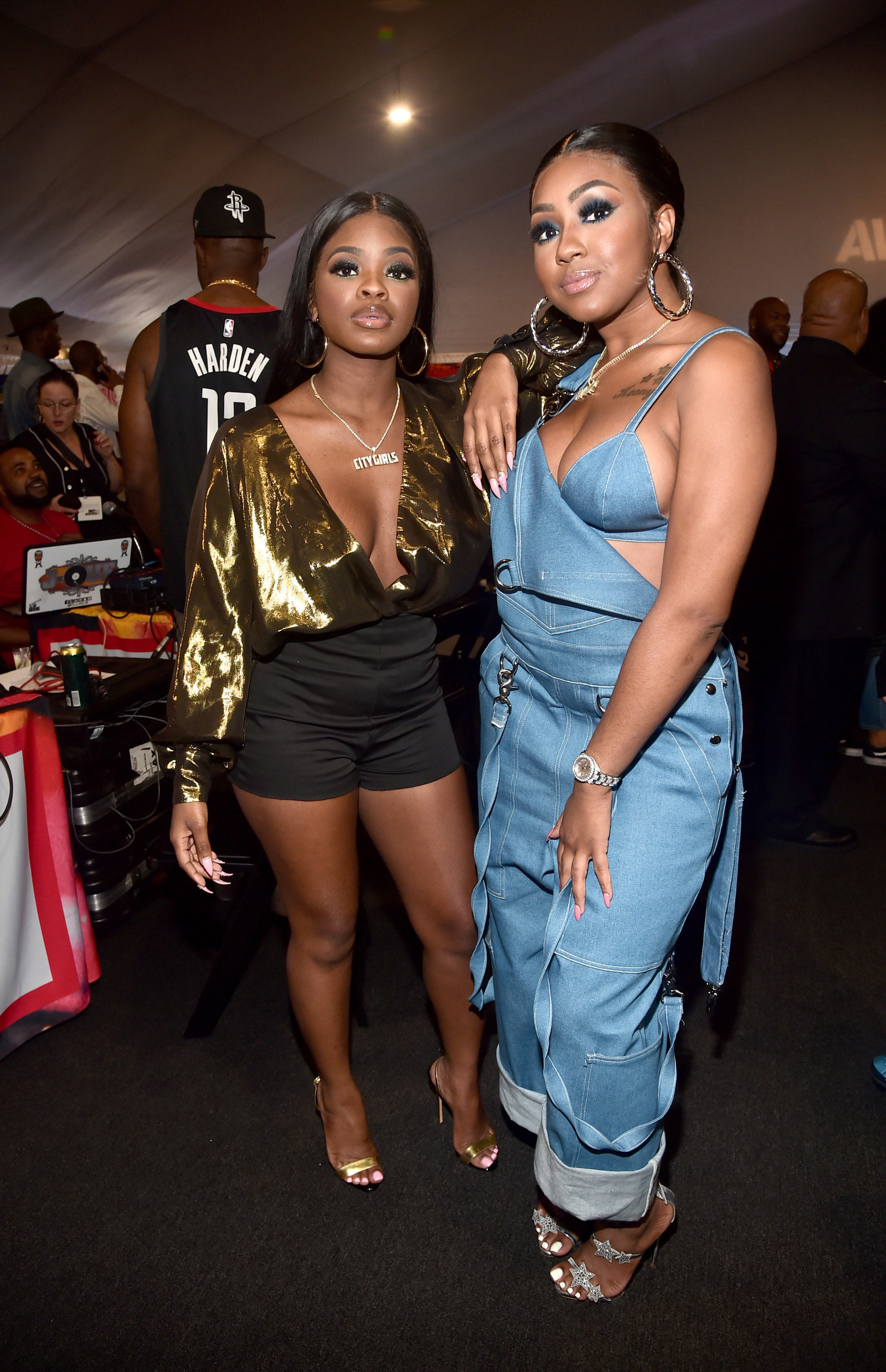 Although they're largely unknown, City Girls feel familiar. Their aspirational spirit suggests a 20-year nostalgia update of B.A.P.S., the 1997 film starring Halle Berry and Natalie Desselle, about two women from Decatur, Georgia, who head to Hollywood to pursue their dreams and end up scamming a millionaire played by Martin Landau along the way (Yung Miami has admitted that that movie is a huge influence of theirs). The City Girls' aesthetic recalls beautiful black Bratz dolls, with their swagger, rude attitudes, and demand to be spoiled by men who want sex from them. Their music is like that of Lil' Kim, Salt-N-Pepa, Trina, Khia, and Foxy Brown, stripped down to the transactional rhymes. You wonder if this economic climate has resulted in their having fewer fucks to give.
Much like Big Freedia's bounce, City Girls' music is made for twerking. Which makes sense, given their proving ground was strip clubs. (Yung Miami told Billboard she was nervous about performing at the show without JT, in part because she missed her groupmate and friend, and in part because she's used to performing music at strip clubs, not more formal music venues.) Their video "Where the Bag At" is basically their mission statement. The plot is super simple: While performing at a strip club, Yung Miami and JT spot a man's ID and credit cards and decide to rob him. They slip into his house wearing diamond-encrusted ski masks and take everything while he's distracted by gyrating dancers. This is the visual metaphor for their music: Sex is the super obvious and most distracting theme, but underneath the twerking, there's something subversive happening.
Often clocking in under three minutes, the songs on Period are brief, punchy, and reminiscent of its predecessors, the Miami sound popularized by Trina and Trick Daddy. Rhyming over the bombastic horns and anxiety-inducing '808s of Quay Global, Bigg D, and a cadre of other Quality Control producers, the women command these tracks like sex-positive drum majorettes. Their motivational message: Get over on men and never let them take advantage of you. In other words, from "How to Pimp a N**ga": "All my bad ass bitches pay attention / These broke ass fraudulent niggas off limits / It's time to wake up, it's time to go and get it / Tricking these niggas everyday is a mission, listen." Or, on "One of Them Nights," directed to men: "How you claim you want a bitch and you got a wife / It's gonna cost a pretty penny just to keep me quiet." Their music is so unsubtle and the themes are so consistent that they're predictable, but it's delightful to hear the permutations of metaphors they use to compliment their own vaginas and sexual prowess, or to attack some shadow woman whose man they'll seduce, or to approximate exactly how much capital a man would need to sleep with them (see: "Millionaire Dick").
Sex is the super obvious and most distracting theme, but underneath the twerking, there's something subversive happening.
Although their music may be repetitive, they're clearly astute observers of a certain culture of gendered, financial exploitation. Watching them talk about how to spot broke men is like some remixed version of Zora Neale Hurston's anthropological essay "Characteristics of Negro Expression" by way of TLC's "No Scrubs." Their taxonomy of broke dudes feels studied, a straight-shooting sociology you can find in a hair salon or the Shade Room comments section. "Run Them Bands Up" featuring Trina, which doesn't appear on Period, samples Juvenile's "Back That Ass Up" and flips the script, focusing on exploiting men in the vein of hip-hop's gender-switched song remakes ("No Scrubs" vs. "No Pigeons," "Chickenhead" vs. "Bickenhead").
The male gaze is myopic, and tiring to look from, but watching men watch City Girls is entertaining. In one video, responders seem alternately impressed with the lyrics and flabbergasted by the content of one music video. In another, the men offer a stoned, close read of the lyrics to the Girls' song "Tighten Up," and are perplexed by menstruation references. When you hear the men from the first video, who in response to the clip say that a woman's basically responsible for having sex if they arouse a man, you start to understand why City Girls are so determined to get over. Beyond the big-picture exploitation, there's also some personal reasoning for their musical themes. In "Rap S**t," JT explains, "I watched mama trick niggas to keep the lights on / by 16 I had a talk game and two phones." And later, "My own daddy said I wouldn't be shit / I looked at him, like we gon' see bitch."
While it's easy to see how Period fits into our current scamming moment, it's also a product of the #MeToo era. On the surface, the album clashes with the guiding ethos of this movement, which is that women are speaking truth to power, not gold digging and out to get men. Period has a mercenary quality, and a "secure the bag" myopia that mainstream leaders in the #MeToo movement (and countless other women) would certainly eschew. City Girls can be catty and intent on embarrassing other women, which is antithetical to this moment's aims, but there's something about Period's focus on retribution, and its arc, that speak to the emotional center of the movement. Like the double-cross, the main crux of a scam, or the plot to "Where the Bag At," City Girls' are after something sneakily subversive. Over the course of the mixtape's 16 tracks, their focus on gaming men for personal gain starts to sound like a complicated form of women's justice. Instead of honchos who are overdue to be toppled, JT and Yung Miami are after the lower-level everymen who need to be taken down a few pegs. The fake ballers who feel unduly entitled to their bodies, the "lames who got you stuck in a cage," they point at on "Rap S**t." It's precisely this banal focus on the everyman that speaks to the democratic impulse of the movement.
On the album, the women claim to say what they think and feel. They ascribe to their candor a larger meaning, a liberation of mealymouthed femmes who are unable to talk openly about their desires and daily degradations. As Yung Miami told Billboard, "I like to say that we speak for women who want to say certain things but they don't say it. Or they think things but don't say it. A lot of people like to maintain classiness and carry themselves in a way, so I feel like we're an alter-ego for girls." How many of us have had awful sex with a man, for free, and said to ourselves, "Welp, I should have been paid for that"? How many of us women, in these dark economic times, have softened our second-wave feminist ideas about sex work?

Over the course of the mixtape's 16 tracks, their focus on gaming men for personal gain starts to sound like a complicated form of women's justice.
While they are adamant that their music does not promote prostitution — "We're not promoting prostitution because we're not prostitutes, we just 'bout our money" — in their unabashed honesty and insistence on getting paid, they demonstrate the ways capitalism infects almost every aspect of life and makes us all vulnerable. Nothing is free, they say, and sex in particular shouldn't be, an idea expressed in "How to Pimp a N**ga": "Pimpin' ain't easy but pussy ain't free." Get your money, or fall by the wayside, period. Of course, these notions aren't new. Lil' Kim and Foxy Brown have been saying this for more than two decades, and countless writers and academics have been publishing work about this for longer than that. But in this moment, City Girls' unrepentant, unyielding, single-minded articulation of this idea feels exceptionally urgent. By the time we get to the album closer, "Clear the Air," the lines "Bitch I want smoke, let's clear the air / My bitches on 'go,' and we'll get there" sound downright triumphant.
Although their trademark line, "period," suggests finality and the end of a conversation, the most compelling thing about City Girls are the questions they face moving forward. Is their entry on the scene emblematic of a fresh Florida rap renaissance, or merely a bit of local color? Will the music stand up once the Drake effect has passed? Will their lyrics evolve to keep fans interested? Will the duo survive JT's prison term intact? Perhaps another question — posed by Langston Hughes, an artist of a different renaissance — is most pressing right now for the two women whose careers have blown up but who remain in limbo because of JT's incarceration: What happens to a dream deferred?
Niela Orr is a writer from Philadelphia. A former BuzzFeed Emerging Writers Fellow, she is a columnist for the Baffler and an interviews editor for the Believer. Her writing has also appeared in the New York Times Book Review, Elle, and McSweeney's Quarterly.