SAN JUAN, PUERTO RICO — When Henry Jackson, the deputy commissioner for New York City's Office of Emergency Management, arrived in San Juan last Saturday to help the mayor's response to her devastated city, he realized pretty quickly there was something missing from their headquarters: FEMA workers.

"To get communication is the most important thing in an emergency, and nobody's phones are working," Jackson told BuzzFeed News. "We like putting people in a room," he said diplomatically about the Federal Emergency Management Agency, "so we can get to them and get answers and move things."
President Trump on Friday seemed to become aware that his administration was botching the aid to Puerto Rico after cable news showed people in dire conditions and San Juan's mayor, Carmen Yulín Cruz, captured headlines by ripping the administration's handling of the crisis and begging for help.
On Saturday, Trump responded by attacking Cruz on Twitter and implying Puerto Ricans were looking for handouts, told the island residents to ignore "fake news" on cable TV — only 5% of the nation currently has power — and repeatedly called the administration's response "great" and "unprecedented" and getting "great marks."

But for people on the ground, Trump's reality exists only in his mind.
That was on display at the Coliseo Roberto Clemente, a stadium in the Puerto Rican capital where Cruz is running her own relief efforts — as many mayors across the country have been forced to do absent a cogent federal government response — with the help of people like Jackson.
Eventually, Jackson said, he corralled two FEMA staffers into the stadium, which had been serving as a shelter during and after Hurricane Irma hit and was evacuated before Hurricane Maria hit. It's now housing supplies from private donations and donations from other cities in the US. San Juan and New York City workers are sleeping on cots in two of the stadium's locker rooms.

Many Puerto Ricans — all US citizens — in San Juan and other parts of the island told BuzzFeed News on Saturday that they have not received help from federal or state agencies. Across the country, as of Saturday morning, the government says 45% of people have drinkable water. More than 11,000 people are in shelters. About 10% have cell phone service and about half of the supermarkets are open. One hospital is fully running, while 59 are partially available.
Cruz told BuzzFeed News on Saturday that her comments from earlier in the week — that people were "dying" because of bureaucracy — "weren't directed at anyone. They were the reality of what's happening in San Juan and Puerto Rico."

"I am getting donations that are private donations sent directly to San Juan because they trust our supply chain and trust that we will help other people and that they see that we have a group of people in from New York that will make the logistics work," she said. "But I think people are just looking for excuses to throw blame around rather than accepting that things haven't been working the way they should have, making them work, and then just move on."
There are now some 100 pallets of food, water, baby food, diapers, feminine hygiene products, toothbrushes, and toothpaste at the San Juan–NYC headquarters. Jackson said they were being packaged into household kits and would be sent out over the next few days to community centers in San Juan and further afield.

It's this center where the mayor of another city, Comerío, about 26 miles away, came earlier this week after going to the federal-and-state-run center at the nearby Estadio San Juan — and being told he would have to call back next week to discuss receiving aid.
Cruz said that up until Thursday, she'd only received three pallets of water, four pallets of food, and four pallets of baby supplies from FEMA. "I gave that to Comerío," she said, "a town that had gotten nothing."
Picking up a water desalination pump donated by a nonprofit, she said, "We are surrounded by a very big ocean and we should take advantage of that."

Across Puerto Rico, people are still waiting for water, food, and medical supplies. Some roads have been hard to access and communication infrastructure everywhere continues to be either nonexistent or unreliable. But there are Puerto Ricans who, despite the difficult circumstances their own families are facing, are doing what they can to help.
Dores Rodriguez, an occupational therapist, was at the Coliseo on Saturday with a group of medical staff who had come from different parts of the US to volunteer.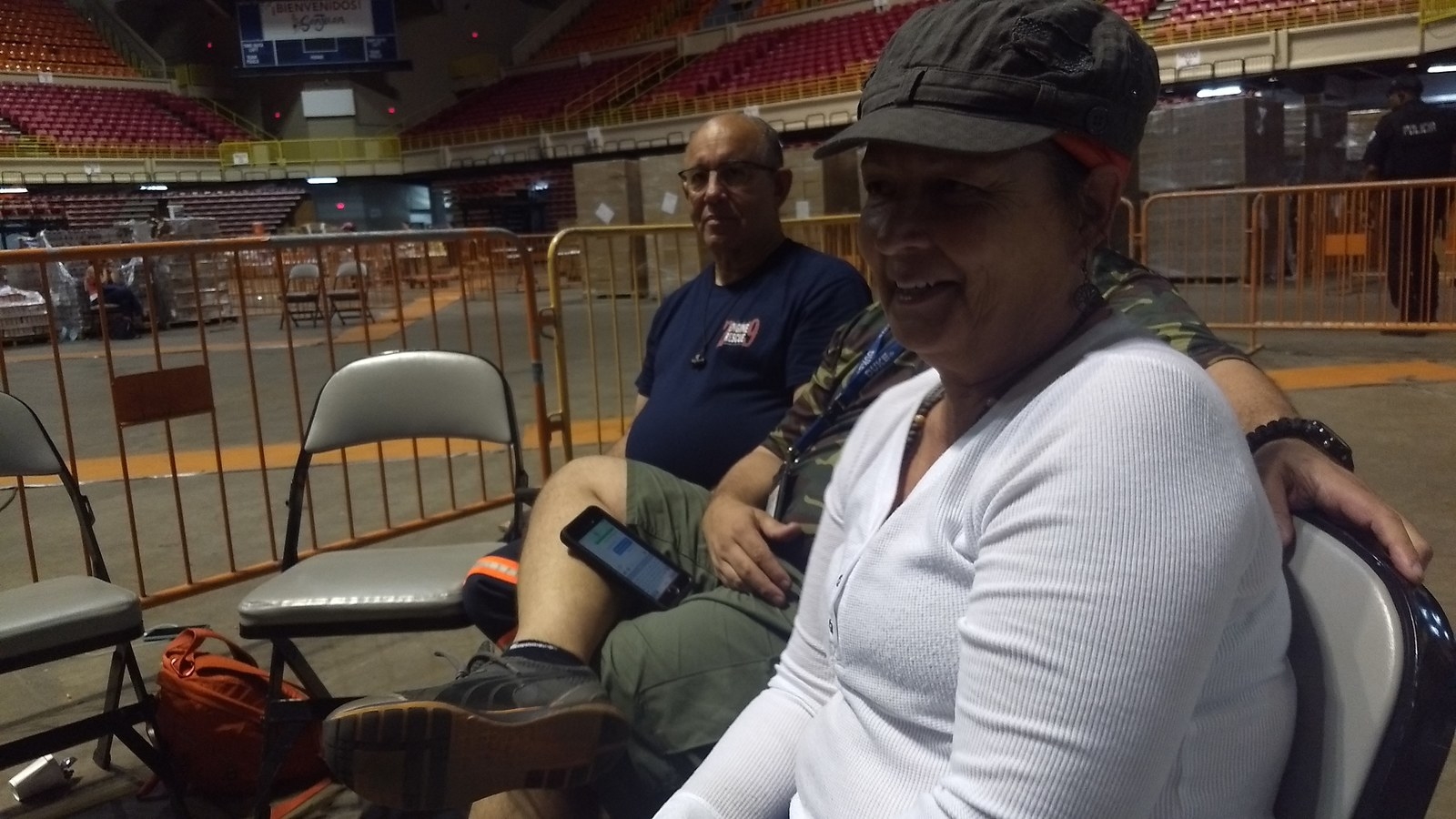 She's based in Florida but is from Puerto Rico, and hasn't been able to reach her 86-year-old mother, who lives in Quebradillas.

"I haven't been able to contact her directly," she said. "We're concerned about her home, we don't know what condition it's in."
As she spoke to BuzzFeed News, after returning from a shelter where she'd been attending to critically ill and elderly people, news came through that a dam near her mother's town might have failed. (Officials later said it had not, but it's another example of how poor communications can spark a deep sense of worry.)
"We don't know how it's going to go," she said. She'd been hoping to reach her mother when she can take a break from the patients and to get her on a flight to somewhere safe.

Another woman working at the center said she'd been too busy and disconnected from phone and internet access to know what Trump was tweeting.
"I haven't had a chance to look at the internet, and we don't have a radio here either," said Lymaris Ortiz Olazagasti, who works for the City of San Juan and on Saturday was pouring coffee for workers at the Coliseo. "We're here most of the day and don't really have time to leave."

In La Perla, the San Juan neighborhood made legendary by salsa and, most recently, "Despacito," there is no power and not much by way of aid, Everlyn Crespo, a teacher and Uber driver from the area, told BuzzFeed News.

Crespo said she had been struggling without work in the aftermath of the hurricane— on Saturday at least Uber was back up and running in some parts of the capital.

"Literally it is dark. It is pitch black," Crespo said of her neighborhood. But, she said, the mayor "came and handed out these solar lanterns that you can charge in the sun for eight hours and then you have eight hours of an LED lamp. That's really cool. She was handing them out and man, has that made a difference. I mean, we were running out of candles and stuff."
When told of Trump's comments, she said he's not trying to understand the US territory. "You have to understand our political history in order to say stuff like that and he doesn't understand that," she said. "All these years of 'self-government' under a commonwealth, which is like a walking daydream, because our governor doesn't really rule us, the US tells him what to do."

About 25 minutes outside San Juan, in the town of Loiza, the situation is still dire.

Loiza is a poor, mostly Afro-Puerto Rican community of about 29,000 people on the coast. It's known for its music, culture, and 10-day-long epic party each summer.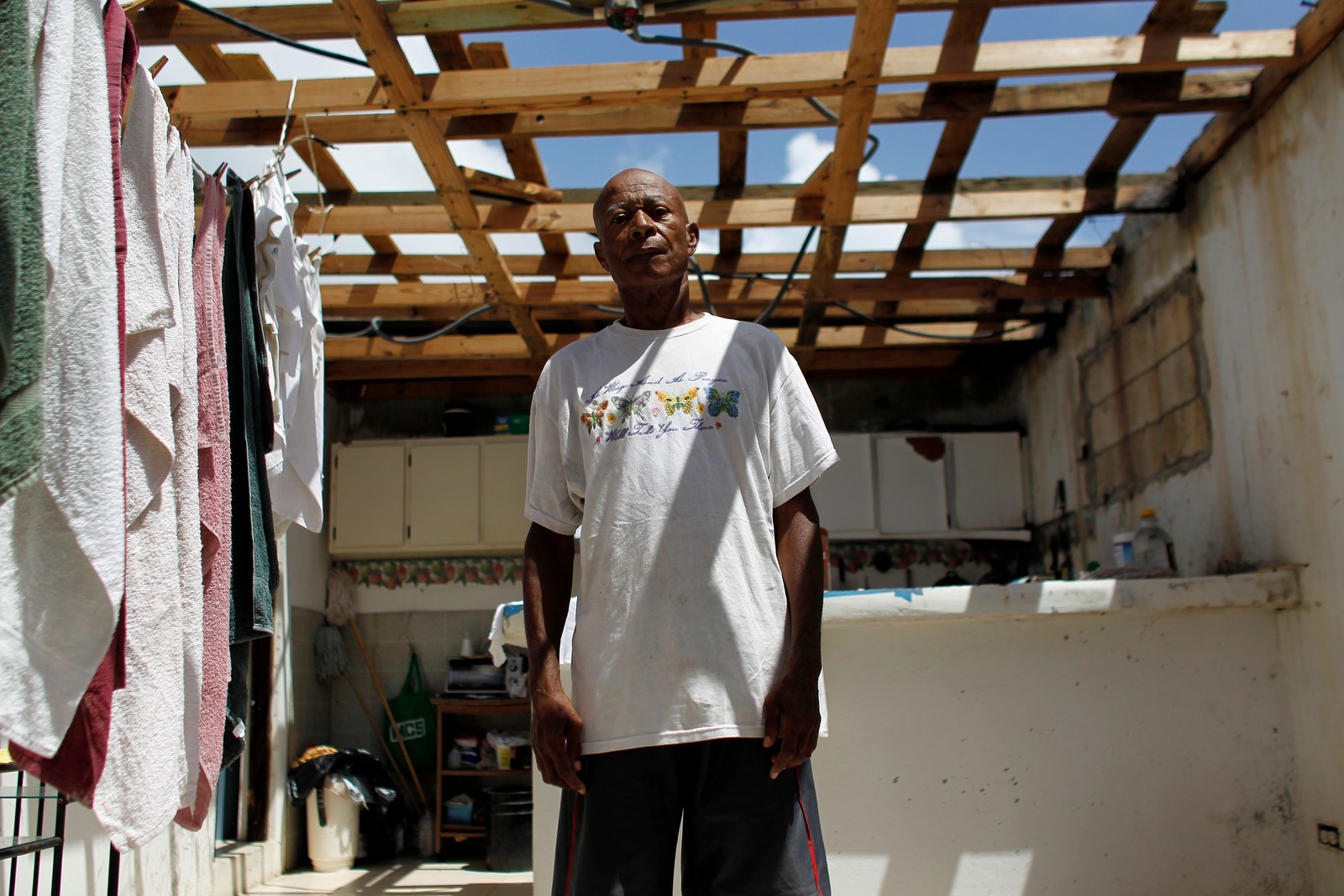 On Saturday evening in Loiza, the sky was dark and there was drizzle. There were about 20 people waiting in line for gas on foot, standing under umbrellas. The line of cars was around the block.
"Nobody has electricity, and almost no one has water. And there is barely any money. Even if there was water to buy, no one has cash. The two banks in the town aren't open. The little money that people have they already spent on diesel for generators and food," Loiza Mayor Julia María Nazario Fuentes told BuzzFeed News.

"Trump doesn't know Loizeños nor Puerto Ricans. We have been helping ourselves," she said. "The central government is one thing, but local people cleaned up the debris and cleared the roads and opened up the way. If the Puerto Rican and Loizeño hadn't done it, we wouldn't have any way. Nobody from the central government came to clear the roads. The people threw themselves to work and did it."

Paola Rolón, 23, lives in the city of Caguas, about 20 miles from San Juan. There's no power except for a few hours people squeeze out of generators that are running low on diesel.
She told BuzzFeed News via intermittent text messages that the city is a ghost town at night and that most businesses, including grocery stores, are not open.
She hadn't heard of Trump's Saturday comments until she was asked, because she has no power and no access to the internet. She said from her perspective the administration shows "the overall lack of care that his administration has shown for the serious problems that Puerto Rico has been facing, even before Hurricane Maria hit the island."

"There are community efforts taking place everywhere. Especially in places like Yabucoa, Caguas, and Utuado where there is little to no government (federal or local) help available," she said. "But there are just somethings that the community cannot do. The community cannot reestablish running water or electricity. They can barely make roads accessible with the resources they have."
Mayor Cruz, back at the Coliseo, says she wants the FEMA aid to continue more reliably to her center, and plans to continue coordinating with other mayors. And she still wants everyone involved to move more efficiently to send help.

"I am shocked that it has to be explained to someone," she said. "I am shocked that the human suffering needs to be digested. But it is what it is and we will push on."

And she said of the President's visit on Tuesday, "I think it's an opportunity for a good visit, to look at people in the eyes and talk to them unscripted."
—Cristian Rossel contributed to this report.