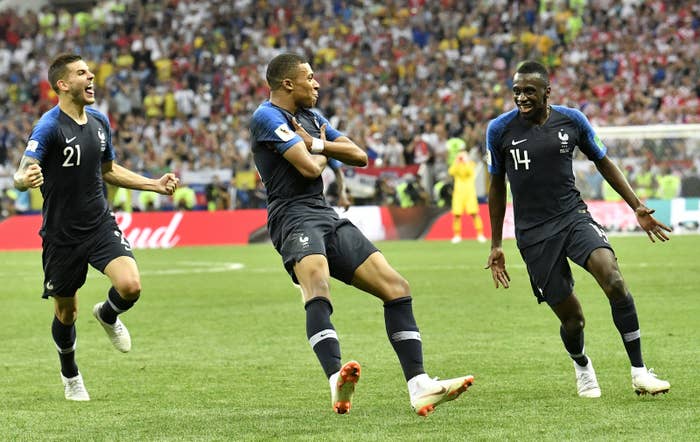 France beat Croatia on Sunday to become the winners of the 2018 FIFA World Cup.
The French team is the youngest team to win the World Cup since 1970.
It was Croatia's first time reaching a World Cup final.
The game started with an own goal early on by Croatia's Mario Mandžukić — something you don't see very often in a World Cup final. But his team then went on to score an actual goal, bringing the score to a tense 1–1.

France broke the tie with a penalty kick goal around the 40-minute mark, which led to this moment from French player Antoine Griezmann, who broke into a Fortnite dance in celebration.
French player Paul Pogba scored France's third goal in the game's second half, followed by his 19-year-old teammate Kylian Mbappé, who brought the score to 4–1.
Croatia rallied with a goal from Mandžukić soon after, but France saw the game through with a final score of 4–2.
French President Emmanuel Macron cheered on his team's win from the stands.
And President Donald Trump took the opportunity to congratulate France for their win and Russian President Vladimir Putin for hosting the World Cup.