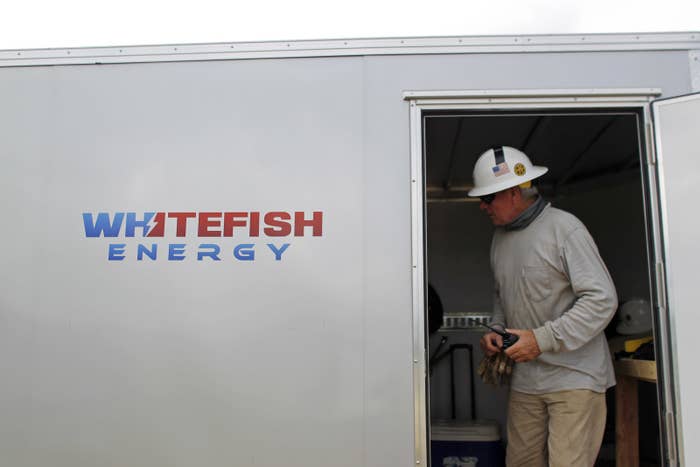 Days after Puerto Rico Gov. Ricardo Rosselló canceled Montana power company Whitefish Energy's $300 million contract to fix the island's energy grid, Sen. Claire McCaskill wants to know how public funds were used in the failed deal.

The deal came under scrutiny from territorial and federal regulators after a weather.com story first revealed that the company had been contracted by the Puerto Rican government utility without a competitive bidding process, bypassing the companies that usually assist in the immediate aftermath of a disaster like Hurricane Maria.
In a letter to Brock Long, the administrator of the Federal Emergency Management Agency (FEMA), McCaskill requested information about the agency's role in "providing oversight of taxpayer dollars used to fund the repair of Puerto Rico's electrical grid."

"I am particularly troubled by two recent revelations: first, PREPA [Puerto Rico Electric Power Authority] may already have paid Whitefish using federal disaster relief funding, possibly without knowledge, and second, PREPA has awarded another large contract that contains questionable terms and implicates hundreds of millions of federal taxpayer dollars," she wrote.
McCaskill, who is the top-ranking Democrat on the Governmental Affairs Committee, also wants more details into the US Army Corps of Engineers' (USACE) decision against contracting Whitefish to assist with Puerto Rico's recovery, citing the company's unwillingness "to agree to comply with federal procurement laws." The cost of contracting the company was deemed "more than double what USACE considered appropriate."
In a separate letter to Whitefish CEO Andrew Techmanski, McCaskill is also asking for details about the contracting process and the source of funds paid to the company before the contract was canceled, noting that FEMA awarded more than $215 million in funding to PREPA between Oct. 10 and Oct. 23 to fix the power grid.
"A FEMA official informed Committee staff it is possible that FEMA funds will be used by Whitefish. The FEMA official also indicated that FEMA did not review and approve actual expenses prior to awarding the $215 million in Public Assistance funds," she wrote in the letter. "Although FEMA issued an official statement representing it has not provided any reimbursement to Puerto Rico for the PREPA contract with Whitefish, it is possible that PREPA has already been using federal taxpayer dollars to pay your company."
The letter comes amid multiple ongoing inquiries into the contract and, more broadly, the operations of the Puerto Rico Electric Power Authority after the hurricane.

In an interview on BuzzFeed News' AM to DM on Thursday morning, Rosselló, Puerto Rico's governor, blamed the decision to contract Whitefish Energy on USACE's slow progress in restoring the grid.
"They have said and stipulated that we were going to get this up quickly and be there immediately and it's 35 days after signing the contract and still their brigades are not in Puerto Rico," he said of the Army Corps of Engineers.