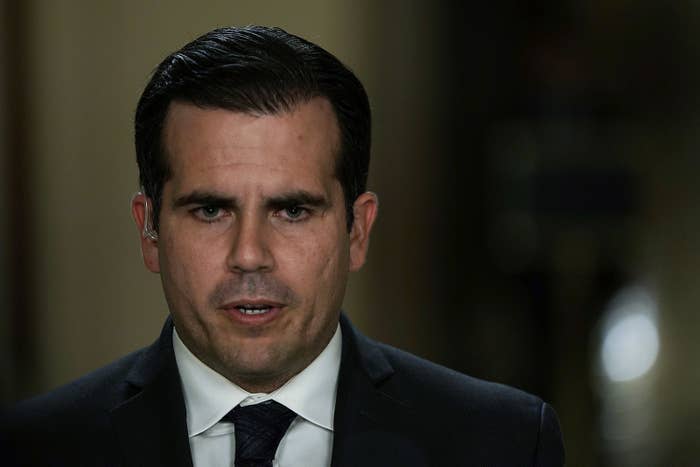 An aide to the top official in Puerto Rico, Governor Ricardo Rosselló, tried to restrict reporters on Wednesday from asking him about the ongoing investigation into whether the island's death toll after Hurricane Maria has been undercounted.
BuzzFeed News asked anyway, specifically about how he felt the investigation was going and any details about the process.
Rosselló, in a vague comment, told BuzzFeed News that next week, "we're going to show the progress and the path forward."
He added, "It's not a report, it's an outlying of the process that is being taken. Of course this takes some time as you've seen from other jurisdictions."
As BuzzFeed News asked the questions, Rosselló's spoksperson tried to conclude the interview.
The death toll from the hurricane currently stands at 64 people, but, as BuzzFeed News reported, funeral directors say they they have buried or burned the bodies of far more people who died from the storm than the government has counted.

The Center for Investigative Journalism (CPI) has sued the island's Demographic Registry for failing to provide statistical updates on deaths in the months following the storm.

Some funeral directors recently told BuzzFeed News they don't have faith in the government's investigation. Last week BuzzFeed News spoke to two funeral directors who said they had uncounted hurricane deaths in October and that the government had not reached out to them after the investigation was launched.

"They'll just add some 15 people to the count to look like they're doing something but nothing has changed. It's a sham," said Freddy Rivera from Rossy Funeral Home in Jayuya.
Oct. 8, 2018: Funeral Homes In Puerto Rico Say They Have a Lot More Dead People Than The Government Has Counted
Oct. 27, 2017: Puerto Rico Is Burning Its Dead, And We May Never Know How Many People The Hurricane Really Killed
Oct. 27, 2017: Puerto Rico's Government Just Admitted 911 People Died After The Hurricane — Of "Natural Causes"
Nov. 8, 2017: Puerto Rico's Government Admits The Death Rate Rose After Maria, But Still Won't Say It Was A Result Of The Hurricane
Feb. 8, 2017: Journalists Are Suing Over Hurricane Maria Death Statistics