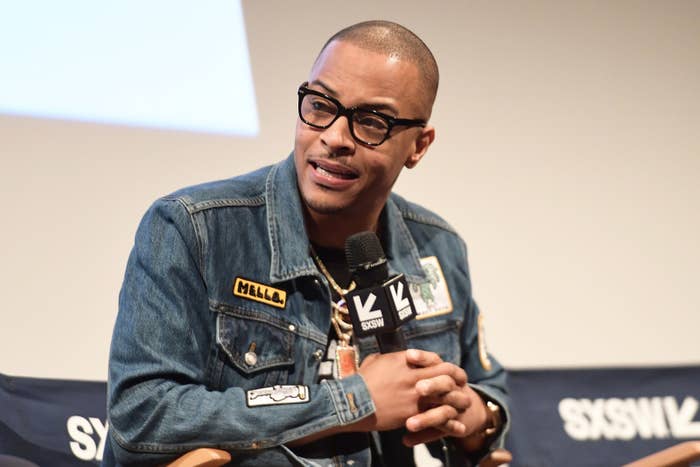 Rapper T.I. was arrested early Wednesday while trying to get inside his own home in a gated community in Georgia, an attorney representing the rapper confirmed to BuzzFeed News.
T.I., whose legal name is Clifford Harris Jr., was trying to get into his Henry County home at around 4:30 a.m., but didn't have his key, when he was "wrongfully arrested," his attorney, Steve Sadow, said.
The incident unfolded after T.I. arrived at the entrance to the gated community to find the guard asleep in the guardhouse, Sadow said. After waking the guard up, T.I. "clearly identified himself and sought entry," but the guard refused, even after the rapper got his wife Tiny on the phone to confirm, the attorney added.
"Words were exchanged and apparently the guard and/or a supervisor called the police. When the police arrived, they were not interested in hearing T.I.'s side of the story and wrongfully chose to end the situation by arresting T.I.," Sadow said.
The Henry County Police Department did not immediately respond to requests for comment. But WSB-TV Channel 2 reported that T.I. was charged with disorderly conduct and public drunkenness and released without bail, and that a friend who was with him also had a warrant out for his arrest.

Later on Wednesday, the rapper posted a live video on Instagram addressing the arrest, which was recorded and re-posted by a fan.
"I guess y'all have been hearing all the nonsense you know saying, I'm looking like yesterday man, I was inconvenienced and arrested, you know what I'm saying...With all we been through this is small potatoes, man," the rapper says.

T.I. goes on to say he's celebrating his son's birthday at his school.
"I'm here, present at school. Ain't been to sleep, but guess what, God is good all the time," he adds. "Alright, so I'm going to get back in here man and continue to kick it with my 10-year-old, you know what I'm saying, and my 2-year-old, and we're going to let God deal with the craziness, you know what I'm saying."