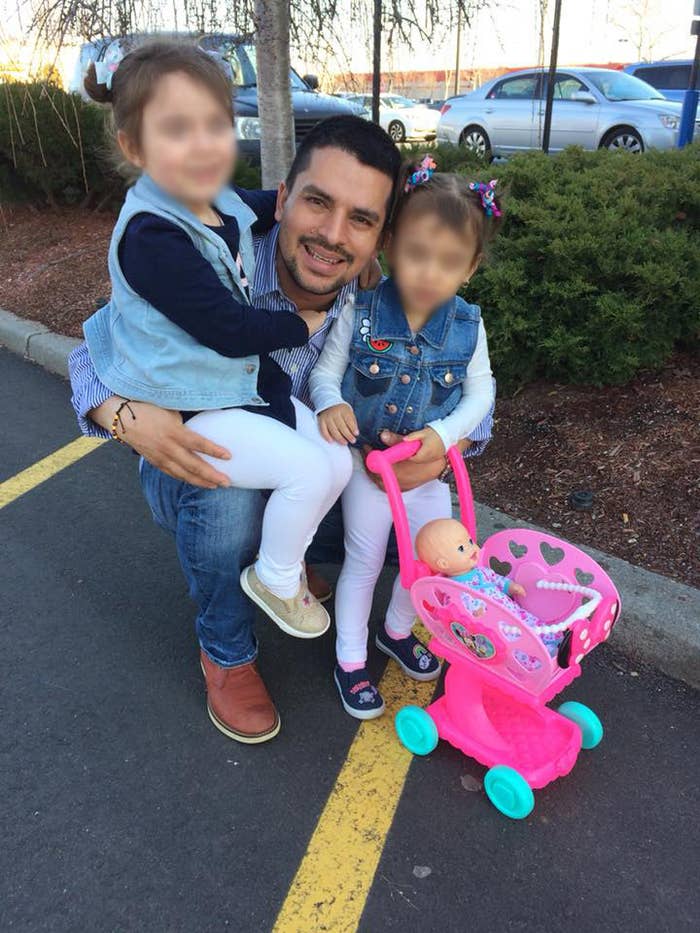 Sandra Chica was at the laundromat with her 3-year-old daughter on Wednesday when a news segment flashed up on a television screen — it was a story about her husband, Pablo Villavicencio, who was arrested by ICE on June 1 and is being held in their custody, waiting to be deported.

"She started crying immediately like she was scared," Chica told BuzzFeed News on Wednesday night about her daughter Luciana. "This is going to affect her one way or another ... deep down she knows something is happening to her father."
Chica — who along with her 2- and 3-year-old daughters is a US citizen — hadn't told them what happened to their father when they asked her where he was every night. She just said he was away on a job.
But Villavicencio, who is originally from Ecuador and undocumented, was all over the evening news on Wednesday because he was arrested and detained for deportation after delivering pizza to Fort Hamilton military base in Brooklyn.
When he brought the pizza to the base on the morning of June 1, a security guard called ICE and had him arrested. His wife said the guard asked Villavicencio for a second form of identification beyond the IDNYC card, which he usually provides when he's delivered to the base before.
"This came to light because of an act of racism; he had gone to that military base numerous times with that ID. Why ask him these questions now?" Chica said. "I can't stay quiet, because of the desperation of my girls whose dad was just working when he was taken away.
"He wasn't doing anything. I'm willing to take this as far as I can go," she said.

The IDNYC card is a city-sponsored form of identification available to all New York City residents regardless of immigration status.
An ICE spokesperson said on Wednesday he was arrested and is being held pending deportation because he was "granted voluntary departure" in March 2010 — but when he didn't leave the country by July 2010, "his voluntary departure order became a final order of removal, and he is an ICE fugitive."

Villavicencio had an open green card application prior to his arrest on Friday. US Citizenship and Immigration Services said when a person with an open green card application is arrested by ICE and processed for deportation, their application is closed because USCIS loses jurisdiction over the petition.
A USCIS spokesperson added that in many cases petitions transferred to the Department of Justice, which did not immediately respond to questions about what happens to green card petitions closed out by USCIS for this reason.
It's unclear whether Villavicencio's green card application has now been closed by USCIS because he is in ICE custody.
"We're asking that they at least give him an opportunity to continue his petition here in this country so he won't be separated from his daughters," Chica said. "From one moment to the next I was left with the responsibility of being the mom and dad without any answers for my daughters. My outlook right now is very dark. I'm really worried about my daughters."
Immigrant advocates say Villavicencio's case is an example of federal authorities placing obstacles in the path of people trying to legalize their status.
Avideh Moussavian, senior policy attorney at the National Immigration Law Center, told BuzzFeed News having a prior order for removal like Villavicencio did does not bar people from getting a green card.
"So what they've done is create enormous barriers to being able to pursue a legal pathway for relief," she said.

"What it tries to do is paint a picture of someone as a fugitive and that is completely false," she added. "Here is a person who has every right to pursue that green card application."
On Thursday afternoon, New York Gov. Andrew Cuomo met with Chica and offered legal assistance through the state's Liberty Defense Project, a state legal aid program for immigrants.
"I had one message for her: Anything we can do to help, we will do," Cuomo said in a statement to BuzzFeed News. "I confirmed with her that New York State, working with our partners, has secured pro-bono legal counsel to represent Mr. Villavicencio, who is currently held at a federal detention facility in New Jersey."
New York City Mayor Bill de Blasio released a statement in support of Villavicencio on Thursday. "We demand Pablo Villavicencio Calderón's immediate release. Delivering pizza is not a threat to public safety," he wrote on Twitter.
Villavicencio is being held at the Hudson County Correctional Facility in Kearny, New Jersey. An ICE spokesperson told BuzzFeed News they would not provide details on when he is scheduled to be deported "for the safety of both the detainee and the officers."
A manager at the restaurant he worked for, Nonna Delia's in College Point, Queens, said he had delivered to the base a few times before and had never had a problem.
"Never had an issue. That's what we can't understand," the manager, who did not want to give his name out of fear of repercussions, told BuzzFeed News on Thursday. "It's a very sad situation. My heart goes out to his family. He's a great worker, a good employee, a great father."
Fort Hamilton spokesperson Cathy SantoPietro told BuzzFeed News the base has no record of Villavicencio delivering to the base before. SantoPietro also said that visitors are not recorded if they only go up to the security booth just inside the gate, rather than being directed to the Visitor Control Center where people are screened if they need a daily pass to enter the base.
The restaurant manager said different people at the military base have placed orders at Nonna Delia's before, even though it's an hour and a half away from Fort Hamilton.
"I get orders from all over the tristate area," he said.
The New York Times reported that even though Villavicencio was arrested, someone on the base still took the food delivery.