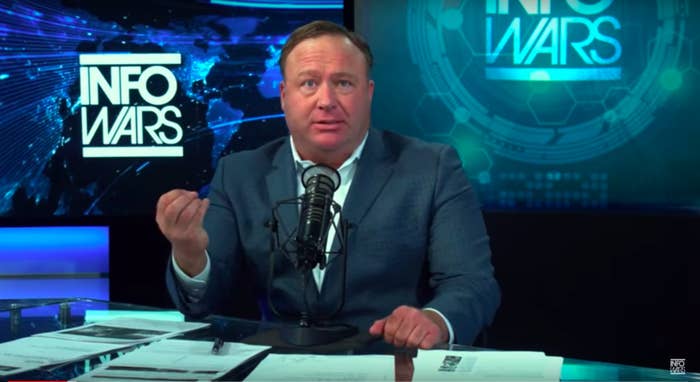 Infowars host Alex Jones is being sued by the parents of two children killed in the Sandy Hook Elementary School massacre over his claims that it was a hoax.

Jones' conspiracy theories led to death threats and "intense emotional anguish," the parents allege in two separate lawsuits that seek more than $1 million in damages each.
Adam Lanza, 20, shot and killed 20 children and six adults at the Newtown, Connecticut, school in 2012 before turning the gun on himself. In the years since, Jones has aired several segments accusing the parents of the children who were killed of lying and calling them "crisis actors" involved in an elaborate plot.
The lawsuits were filed late Monday in Texas's Travis County District Court by Veronique De La Rosa and Leonard Pozner, whose 6-year-old son Noah was killed in the shooting, and Neil Heslin, whose son Jessie, also 6, died.

The lawsuits chronicle Jones' campaign since the shooting, claiming that De La Rosa is a "crisis actor" and urging his audience to not "believe any of it."
The lawsuit cites an April 2017 segment called "Sandy Hook Vampires Exposed" in which Jones talks about an interview De La Rosa did with CNN's Anderson Cooper. Jones claims the interview uses a green screen and that it did not take place at the Edmond Town Hall in Newtown. He also rants about CNN, the Gulf War, the Arab Spring, Libya, and Syria, before circling back to say that CNN and De La Rosa are not to be believed.

"Based on the video footage of the Anderson Cooper interview with Mrs. De La Rosa, Mr. Jones sought to convince his audience that they should not "believe any of it." the lawsuit states.
Jones' conspiracy theories have not only caused emotional suffering but resulted in Pozner receiving death threats from an Infowars fan in January 2016, the lawsuit adds.
Florida resident Lucy Richardson sent four voice and email messages to Pozner, with threats, such as "you gonna die, death is coming to you real soon" and "LOOK BEHIND YOU IT IS DEATH," according to the complaint. She was sentenced in 2017 to five months in prison and three years of supervised release over the threats and is banned from accessing conspiracy theory sites, including Infowars.

The other lawsuit, filed by Heslin, focuses on Jones' claim that the father was lying when he told Megyn Kelly in a June 2017 interview that he had held his son's dead body and seen the bullet hole in his head.
"I lost my son. I buried my son. I held my son with a bullet hole through his head," he responded when asked to about Jones' claims.
Jones and Infowars correspondent Owen Shroyer, who is also named as a defendant in Heslin's lawsuit, then aired a segment in which Shroyer claimed that Heslin couldn't have held his child because bodies were identified through photo identification after the shooting.
"The statement [Plaintiff] made, fact-checkers on this have said cannot be accurate. He's claiming that he held his son and saw the bullet hole in his head. That is his claim. Now, according to a timeline of events and a coroner's testimony, that is not possible," Shroyer said on the show.
"You would remember if you held your dead kid in your hands with a bullet hole. That's not something you would just misspeak on," he added.
The bodies of Sandy Hook victims were released to their families for burial after the initial photo-based identification.
"This heartless and vile act of defamation re-ignited the Sandy Hook 'false flag' conspiracy and tore open the emotional wounds that Plaintiff has tried so desperately to heal," the lawsuit states.
In November 2016, Jones aired a segment titled "Alex Jones Final Statement on Sandy Hook," but continued to repeat his conspiracy theories into 2017.
"By making renewed accusations about the plaintiffs in 2017, Infowars breathed new life into this conspiracy and caused intense emotional anguish and despair," the lawsuit states.
Jones, Shroyer, Free Speech Systems, and Infowars did not immediately respond to requests for comment.
"For the last five-and-a-half years since they have had to bury their children, Infowars and Alex Jones have repeatedly and continuously called them liars, called them crisis actors, and have made them re-live what they've had to go through. As a parent, it takes a toll on you," Bill Ogden, an attorney representing the parents in both cases, told BuzzFeed News.

Ogden's law firm, Farrar & Ball, is also representing Marcel Fontaine, a man suing Jones and Infowars for defamation after the site falsely identified him as the attacker in the Parkland school shooting.
"The First Amendment has restrictions on it. You can't yell 'fire' in a movie theatre, you can't incite a riot," Ogden said. "You don't have the right to just make up anything you want, especially as a news outlet, which they count themselves as the truth of journalism and truth media. You can't just make up something that's going to damage people this way and not expect consequences."
Another man, Brennan Gilmore, is also suing Jones in a separate defamation claim after Infowars published conspiracy theories about him being an "operative of the Deep State" because he captured on video the moment a white supremacist in Charlottesville, Virginia, allegedly plowed his car into a crowd of anti-racist protesters last year, killing one and injuring dozens.
CORRECTION
Marcel Fontaine's name was misstated in an earlier version of this post.