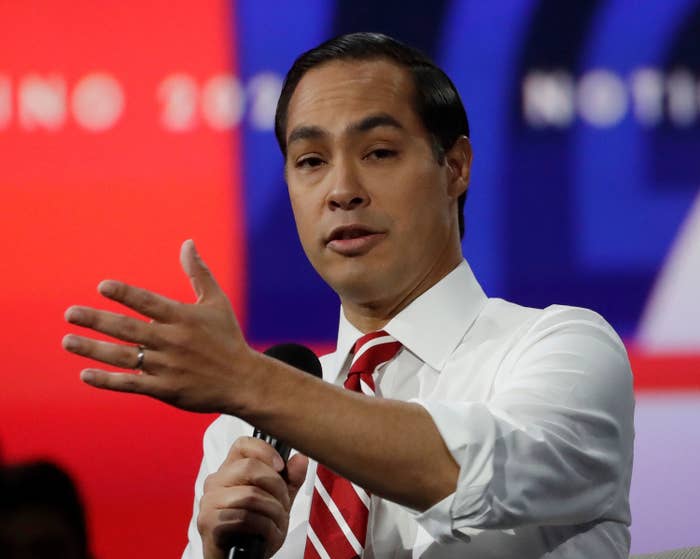 Former housing secretary Julián Castro said Sen. Kamala Harris's bid for president was hampered by the media treating candidates of color differently, speaking after Harris ended her presidential campaign on Tuesday.

"To me, they held her to a different standard, a double standard, to other campaigns. And I don't know if it impacted her decision to withdraw from the race or not, but I'm sure it didn't help," Castro, the only Latino candidate running for president, told BuzzFeed News on Tuesday night.
"This was a narrative from very early on. … From the earliest critique that she has no black support, the [Congressional Black Caucus] is going other directions. It's just holding people to different standards," he said.
Castro specifically criticized recent reporting which revealed disarray and grievances within Harris's campaign, citing several staffers' own criticisms of how the campaign was being run and including on-record comments from close supporters.
"I was disappointed by the treatment her campaign got especially during the last seven days, when you had the Washington Post, New York Times, and Politico writing very gossipy-sounding big articles trashing the campaign," Castro said.
Asked why he thought those stories were unfair, given that dozens of Harris staffers spoke out about the state of the campaign, he said, "Sourcing in journalism, just because somebody is willing to talk doesn't mean that reflects a reality or that necessarily gives it front-page coverage in your publication," he said. "Donald Trump was very willing to talk to journalists in 2015 and '16 and because of that journalists gave him a lot of coverage. There has to be more responsibility in the profession than that."
Castro also spoke about Harris's exit in a video tweeted by his campaign staff:
After a strong start to her campaign, Harris struggled to gain traction over the summer despite a few significant moments, like her exchange with former vice president Joe Biden about race and segregation on the first Democratic debate stage in June.

Harris had qualified for the next primary debate this month, but Castro has not. The current makeup of the stage only includes white candidates, though candidates have until Dec. 12 to qualify. Tom Steyer, the billionaire candidate who qualified for the debates earlier Tuesday, told BuzzFeed News after Harris dropped out that he was "not happy" with the possibility that the stage would not include any nonwhite candidates. "I'm not happy about Kamala Harris not being in this race. I wish she were in this race," he said.
"I hope that the DNC will reevaluate its threshold," Castro said of the debates on Tuesday. "What it's resulting in is a lack of diversity on the debate stage. It's also clear that some have been able to potentially buy their way on stage. I don't think that was the original intention with putting thresholds like this in place, but we need to make sure that voters have the opportunity to hear from a range of candidates."
Castro has also been critical of the order of the Democratic primaries because the earliest voting states have disproportionately high white populations, which he says places an unfair emphasis on white Democratic voters. He said on Tuesday that the media has focused on a narrative that discounts voters of color in other battleground states.
"I think there's a narrative that emerged early in this campaign cycle that in order to win, candidates needed to appeal especially to white working-class voters in the Midwest," he said. "I actually believe that in addition to the white working class in the Midwest, we also need to be able to appeal to diverse communities in Detroit, Philadelphia, and Milwaukee if we want to win Michigan, Pennsylvania, and Wisconsin."