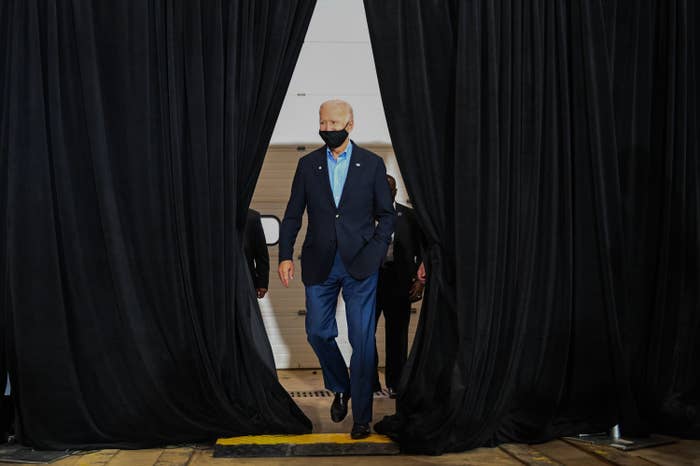 Democratic presidential candidate Joe Biden has tested negative for COVID-19, his campaign announced Friday morning.
Biden was tested after news early Friday that President Donald Trump and first lady Melania Trump tested positive for the coronavirus and are in quarantine. Biden was onstage for 90 minutes with Trump, neither of them wearing masks, during the first presidential debate on Tuesday night.

The coronavirus's incubation period can be up to 14 days, and false negatives are particularly possible in the first few days of infection.
Joe Biden's wife, Jill Biden, also tested negative for the virus, after being in the audience for the debate while wearing a mask.
"Vice President Joe Biden and Dr. Jill Biden underwent PCR testing for COVID-19 today and COVID-19 was not detected," the campaign said in a statement from Dr. Kevin O'Connor. "I am reporting this out in my capacity as both Vice President Biden and Dr. Biden's primary care physician."
Biden tweeted the news soon after.
Both Trump, at 74, and Biden, at 77 years old, are well within the high-risk category for the virus, which has so far killed more than 200,000 people in the US.
Biden was expected to travel to Grand Rapids, Michigan, today to deliver remarks on the economy and then attend a "get out the vote" event. Following his negative test result, he will travel to Michigan this afternoon, according to the Biden press pool.
Since the pandemic forced the closure of cities and limited travel across the US in March, the Biden campaign has been cautious about travel and has emphasized wearing masks and social distancing when the former vice president has taken part in public events or been around members of the press.
The campaign asked one reporter who had been on Air Force One earlier this week not to travel with Biden after Hope Hicks, a close adviser to the president who had been traveling with Trump, tested positive for the virus on Thursday, CNN reported.
Earlier on Friday morning, Biden tweeted, "Jill and I send our thoughts to President Trump and First Lady Melania Trump for a swift recovery. We will continue to pray for the health and safety of the president and his family."