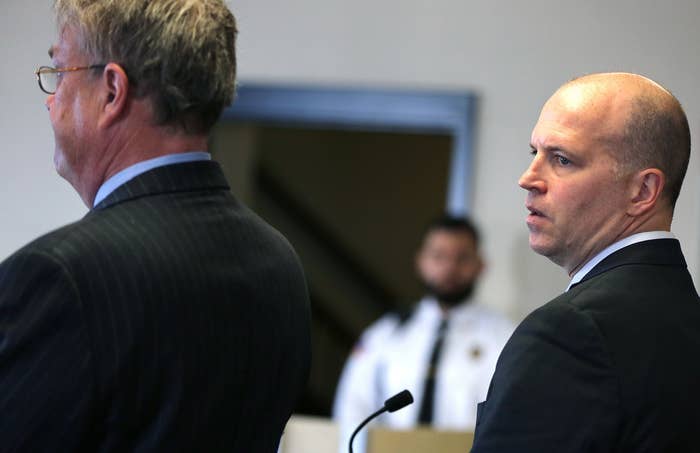 An IRS agent pleaded not guilty Thursday to charges that he handcuffed an intern, shoved a gun down her throat, and then raped her in his car.

James R. Clarke, a 44-year-old IRS criminal investigations officer, was indicted by a Suffolk County grand jury in March on charges of aggravated rape, rape, indecent assault and battery, strangulation, and assault and battery with a dangerous weapon.

Prosecutors say Clarke invited a 21-year-old student intern out for drinks after work at a nearby pub in Boston and then offered to drive her to the city's South Station to catch a train home.

Once they were in the car, Clarke allegedly handcuffed the intern — whom authorities have not identified — "under the guise of showing her what it was like given her interest in law enforcement work", according to a statement from the district attorney's office. He then allegedly shoved his gun so far down her mouth that she suffered an injury to the top of her throat, Suffolk County Assistant District Attorney Ian Polumbaum said during the arraignment.

Clarke told investigators his gun "might have brushed against her face when he showed it to her," Polumbaum told the court.

Forensic testing, however, detected amylase — a main component of saliva — in a swab collected from the surfaces of the gun, and at the time of her hospital exam, the victim had a fresh injury to the uvula at the top of her throat, prosecutors said.

Clarke then allegedly raped her repeatedly, telling her "that she liked pain," prosecutors told the court. After driving her to South Station, prosecutors said he also allegedly pushed her head down in "an additional assaultive act."
The woman told investigators she did not resist out of fear.

An IRS spokesperson told BuzzFeed News in a statement that they "cannot comment on specifics involving these serious and disturbing allegations." They also did not say whether Clarke is still an active IRS agent or answer questions about whether he had faced disciplinary action since the allegations surfaced.
"The IRS holds our employees to high standards, and we do not tolerate inappropriate behavior," the spokesperson said in the statement. "The IRS treats allegations of employee misconduct seriously, and we work cooperatively with local law-enforcement authorities and the Treasury Inspector General for Tax Administration whenever questions arise."
A lawyer for Clarke, Michael Doolin, did not respond to a request for comment, but told reporters at the court after the arraignment that his client has "been completely cooperative with the police department throughout this," adding, "He's an outstanding individual."

Clarke was released on his own recognizance, meaning no bail was imposed, and ordered to not have contact with the intern or witnesses. His next hearing is scheduled for May.