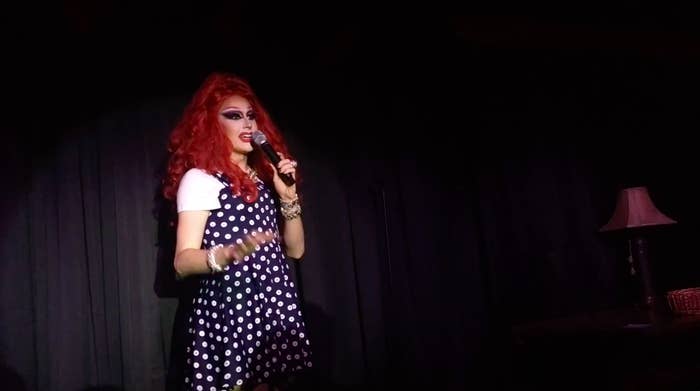 Regina Thorne-DuBois carefully positioned her bright red extensions in the mirror of the dressing room, her sequined polka dot dress gleaming under the lights. She was full of energy for her first drag show since Harvey's deluge shut Houston down last week.

"I'm so excited to be back," she said. "The whole point of a drag show is to make people forget about what's going on outside, and to just enjoy themselves inside those four walls."
Houston's drag scene is gradually reemerging after the storm, with a major benefit show planned next week and smaller shows like Thorne-DuBois' popping up.
Thorne-DuBois, 22, has put on The Broad's Way every Monday night for about four months at Michael's Outpost, a bar in Houston's Montrose neighborhood.
Last Monday, as southeast Texas was inundated with water from the storm, the show was canceled. Thorne-DuBois (Ryan Barrett when she's not in drag) was stuck in her apartment on the University of Houston campus downtown and decided, after spending a few hours watching the unrelenting rain, to put on a livestream version of her show on Facebook to raise money for the storm.

"For the first two or three days I would go out and look at the water level," she said. "A lot of really bad flooding came overnight."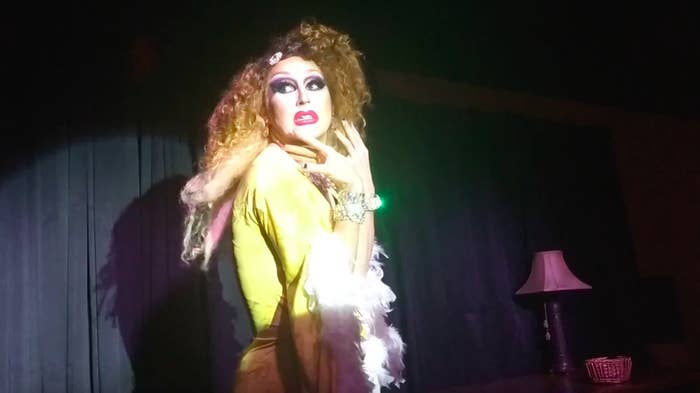 Through her livestreams she raised more than $3,000 for local organizations working with people affected by Harvey. One of the nonprofits she'll be donating that money to is the Montrose Center, which serves the LGBT community in Houston.
On Monday night, she was back at Michael's Outpost — although with a city-mandated midnight curfew still in place — with a cast of five entertainers singing and dancing to numbers about childhood and children.
Thorne-DuBois was clearly thrilled to be back in front of a live audience, cracking dad jokes and performing in a series of increasingly impressive wigs and elaborate sequined dresses.
The group of a few dozen regulars are mostly students at the University of Houston or Montrose residents who claim Michael's as their neighborhood bar.
For many of the performers and audience members, drag shows starting up again means they have the opportunity to show their support for the people they've begun to consider an extended family of sorts.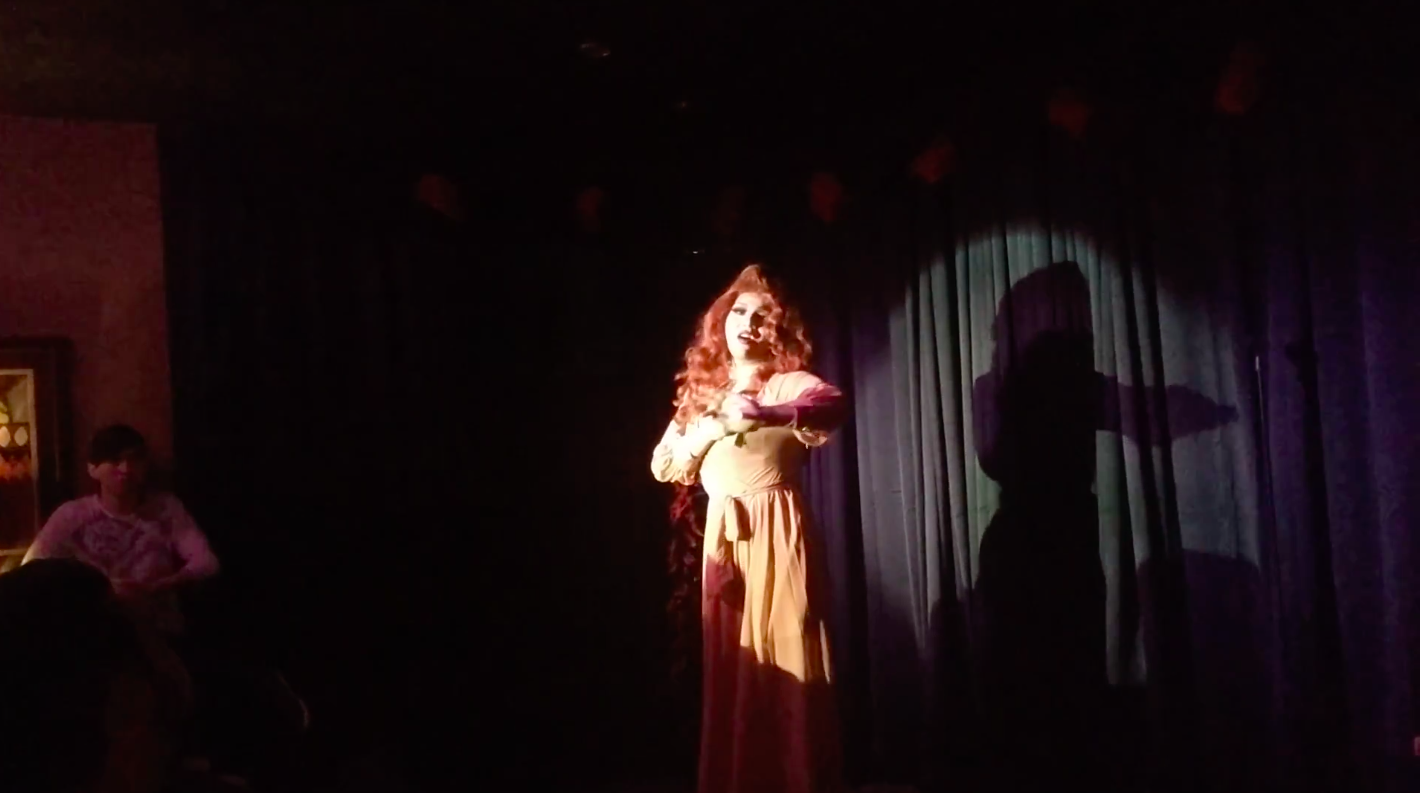 "It hurts and I want to do everything I can," said Natalia E. Crawford, a 24-year-old drag queen in the show with flowing red hair and a peach-colored gown. "Sadly, I don't have the money to give, but I can give my time and my effort, and I can work and help in any way that I can to raise money."

One regular, 21-year-old Kalairn Keaton, had a particularly rough time during the storm. While Keaton (who uses the pronouns they/them/their) was at their partner's place outside Houston, their family's home is in Orange County, one of the hardest-hit parts of Texas in the storm. Keaton's family, including their mother and autistic brother, have been forced to move out and most of their belongings are destroyed.
"It was awful," they said. "I felt very helpless."
Having Monday's show back was comforting, they said, because it meant being back in a familiar routine with people who look out for them.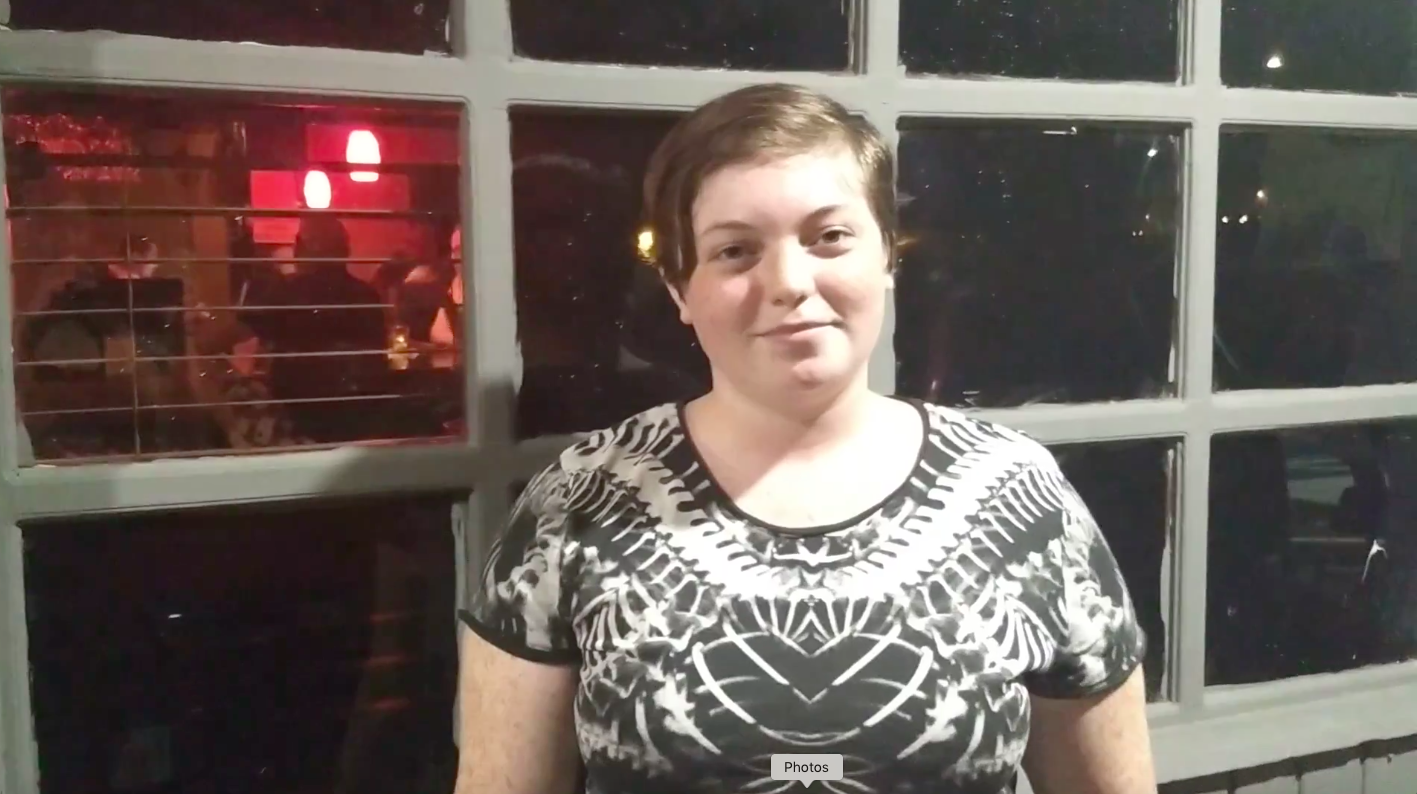 "This is what we do every Monday. It makes me feel a little bit more normal and more human to get back into the routine," Keaton said. "Like, 'OK, things aren't all bad. Regina still makes bad jokes. Everything's OK.'"

After two solid hours of show tunes and wisecracks from Thorne-DuBois, the cast came together to present their combined tips and donations from the audience — just under $200 in total — to Keaton's family at the end of the evening.
"Half of my friends on Facebook now are drag queens," Keaton said. "I kind of started doing drag. This is where my friends are, this is my family essentially."