This Thanksgiving was an especially good one for NFL player Everson Griffen, who was crushing it on the field in the Minnesota Vikings vs. Detroit Lions game just hours after his third child was born.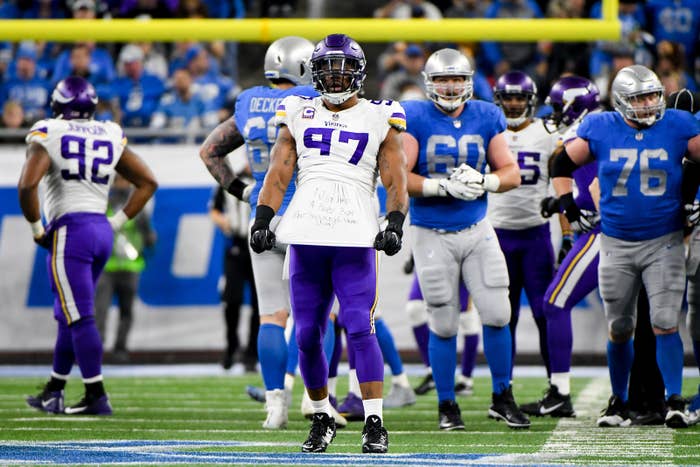 He was clearly pumped about his new son. Right before the game, he posted this video, saying, "I just had my baby today on Thanksgiving Day."
And while Griffen was out on the field, right after he sacked the Lions' Matthew Stafford, he lifted up his shirt to reveal a message that read, "I just had a baby boy. What should we name him?"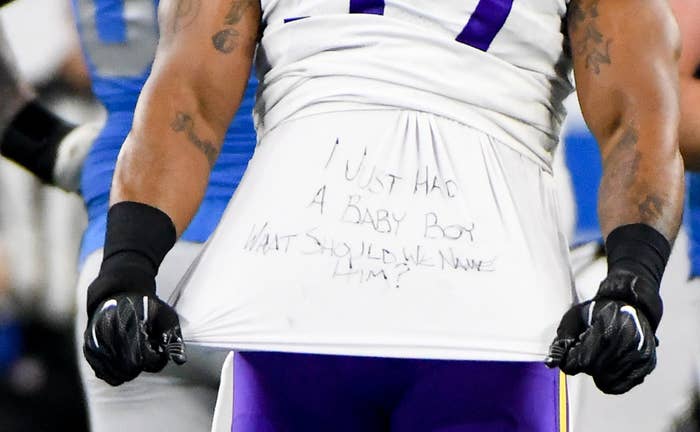 His team posted the message on Twitter, telling fans, "#Vikings fans, let's help out our good friend @EversonGriffen."
People responded with suggestions, some more helpful than others
One fan wrote that he'd just had a baby boy too.
After the game, which the Vikings won 30–23, Griffen told reporters he was going to check out people's suggestions on Twitter.
"I don't know. I was thinking about doing something, and I just thought of that. You know, 'This will be funny,'" he said, according to ESPN. "I'm going to check [social media], but I called my wife first and foremost to make sure the baby is doing good and everything is good. She's good, the baby's good, so we're all excited."
And he tweeted that he was excited to head home to meet his son. Yep, Griffen had been in Detroit preparing for the game when his wife gave birth on Thanksgiving morning.