Three days after a bomb exploded at a mosque in suburban Minneapolis, a White House official told MSNBC that he isn't yet convinced the attack was not a "fake hate crime."

President Trump has not issued a statement — via Twitter or the White House press office — since the attack at Dar Al-Farooq Islamic Center took place.
On MSNBC, Sebastian Gorka, a top national security adviser to the president, said the president won't speak out about the bombing until "local authorities provide their assessment." (Minnesota Governor Mark Dayton has called the bombing "a criminal act of terrorism." The local police handed the investigation to the FBI.)
"When we have some kind of finalized investigation, absolutely — so, you know, there's a great rule, all initial reports are false, you have to check them and you have to find out who the perpetrators are," Gorka said in response to a question about whether the White House will address the bombing.

"We've had a series of crimes committed, alleged hate crimes, by right wing individuals in the last six months that turned out to actually have been propagated by the left," he said. "So let's wait and see and allow local authorities to provide their assessment. And then the White House will make its comments."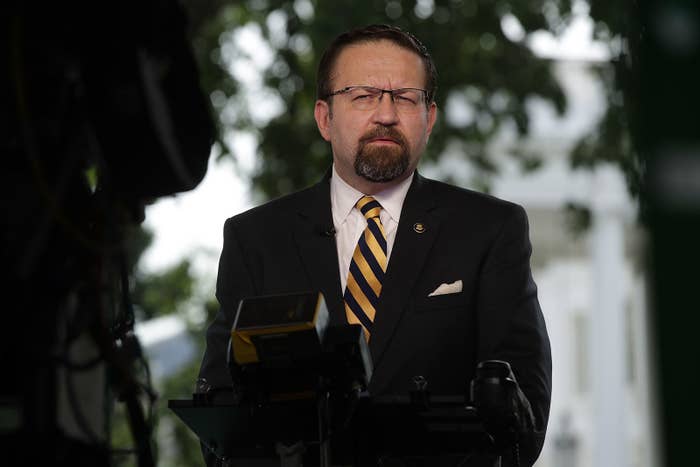 Asked why the president responded to the London terrorist attack in June immediately but has not addressed the bombing in Minnesota, Gorka said there have been "fake hate crimes," and so the White House is not responding to the attack.

"The question of who does it is a question. When you've had people, fake hate crimes in the last six months with some regularity I think it's wise, don't you, to find out what exactly is going on before you make statements when in fact they could turn out to be not who you are expecting," Gorka said.
Local Muslim leaders were astounded by Gorka's comments, given the president's track record of reacting immediately and emphatically to attacks in other parts of the world, calling them terrorism — sometimes even if local authorities are not confirming at the time that they are related to terrorism.
"I find this comment outrageous and offensive. Waiting for an investigation to be complete has not been something Trump has done when the perpetrators have been Muslim. This hypocrisy must be called out. What prevents the president from expressing sympathy for members of the house of worship that was attacked?" Asad Zaman, director of the Muslim American Society of Minnesota, told BuzzFeed News.

Trump has responded immediately to a certain kind of attack — those that reinforce anti-Islamic rhetoric. The "wait and see" approach appears to be reserved for attacks on Muslims.

In February, hours after a man shouted "Allahu akbar" and attacked soldiers (injuring one) at the Louvre Museum in Paris, Trump tweeted that "A new radical Islamic terrorist has just attacked in Louvre Museum in Paris."
Six days earlier, a man opened fire inside a mosque in Quebec City, killing six people. While he had tweeted about Paris, Trump remained silent on the Quebec attack.
The administration's only mention of the shooting came when then-press secretary Sean Spicer told reporters, "It's a terrible reminder of why we must remain vigilant and why the president is taking steps to be proactive rather than reactive when it comes to our nation's safety and security," using the attack to justify the president's executive order banning travelers from several Muslim-majority countries.
In May, a white supremacist killed two people and injured one after they stepped in to defend two women he was verbally abusing with anti-Muslim slurs on a train in Portland. The White House did not address the attack until two days later — after considerable public pressure — when Trump tweeted from the official POTUS Twitter account, "The violent attacks in Portland are unacceptable."
In June, the day after a gunman set fire to a casino and killed at least 36 people in the Philippines, Trump labeled the incident an example of "what is going on throughout the world with terror."

"We are closely monitoring the situation and I will continue to give updates, anything happens, during this period of time," he said. "But is really pretty sad what is going on throughout the world with terror. Our thoughts and our prayers are with all of those affected."
Soon after he made the statement, authorities in the Philippines said the incident was linked to a robbery, not terrorism.
A few days later, seven people were killed in terrorist attacks in central London. Trump reacted as news of the incident broke, using the moment to once again promote his travel ban. "We need the Travel Ban as an extra level of safety!" he wrote.
A few weeks after the first London attack, a man attacked mosquegoers in the UK capital's Finsbury Park neighborhood, killing one man. Trump was silent both on social media, and through the White House press office.
As the FBI investigation into Saturday's bombing continues, the Bloomington Muslim community is still waiting for the president to address the attack on its place of worship.
"We invite the president to come and see — to come and see what happened," Mohamed Omar, the center's executive director, told BuzzFeed News on Monday.

The White House did not immediately respond to a request for comment.