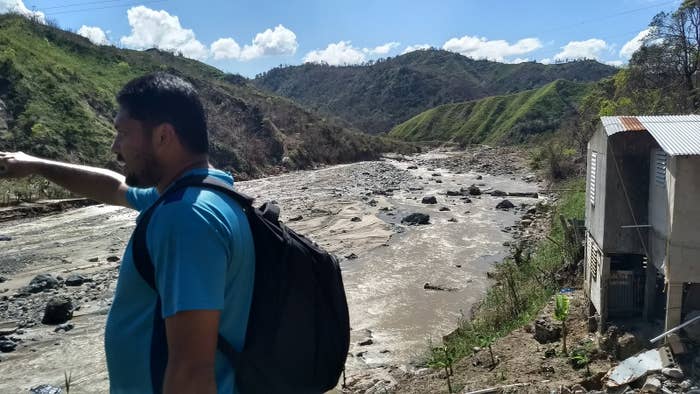 HOYOS PLANES, Puerto Rico — For nearly two weeks after Hurricane Maria swept through Puerto Rico, Jose, known locally as Pito, was trapped on the mountain road where he and a dozen other families live, outside a town southwest of San Juan. On Tuesday, he was able to leave and reach the outside world for the first time since Sept. 20 — but only on foot.
"There's no light or water or anything," he said about his town. "We're missing these things but the most important thing is that we can leave and go get things now."
He's been making the hour-and-a-half journey on foot from Hoyos Planes to the nearby town of Jayuya every day because the roads are not passable by car. In one precarious section of the hilly path out, half of the road has collapsed into the Caonillas River below. The pathways outside their homes were also blocked by debris, he told BuzzFeed News, until he and his neighbors started cutting the trees, mud, and rocks to clear the way.
Jayuya, the town at the center of the municipality of the same name, is a small regional hub — there are banks, pharmacies, and services that people in the outlying areas need. The municipality, part of the US territory whose residents are US citizens, includes some 17,000 residents.
The daily reality for the people of Hoyos Planes and surrounding towns has been whitewashed by President Trump and barely served by the federal government's relief apparatus. During his visit to the capital of San Juan on Tuesday — which, while still struggling, is doing relatively well — Trump declared the response "fantastic." And while San Juan gets that attention, which draws television cameras and national publications, which influences people's perception of how the overall recovery efforts are going, areas in the middle of the US territory are struggling daily for necessities.
The villages of Hoyos Planes and Caonillas — which have about a dozen homes, half of which were empty because people left before the storm — sit on the outskirts of the municipality of Utuado, just over the line from the municipality next door, Jayuya. Residents told BuzzFeed News that they are regularly neglected by the municipality they technically belong to, Utuado, because they're practically in Jayuya, which doesn't take responsibility for them.
On Sunday, FEMA's federal coordinating officer in Puerto Rico, Alejandro De La Campa, told reporters all 78 municipalities — think of a county in a US state — on the island had been reached by the central government, but acknowledged that some of the more remote communities have still not been reached.
In Hoyos Planes and the small communities surrounding it, there's still a sense of isolation. No one has cell phone reception.
Approaching the portion of the road that crumbles down into the river on Wednesday, right at the border of Utuado and Hoyos Planes, an emergency responder with the municipality of Jayuya turned back. "That's out of our jurisdiction," he told BuzzFeed News.
In Hoyos Planes, locals said no one had arrived in the village since the storm — this BuzzFeed News reporter was the first outsider to show up. The municipality of Jayuya, though, has cleared the roads further up from the village.
"You are the first people to reach up to here," said Jose. "No one else has come."
He hasn't been able to get to Utuado, where he works as a maintenance worker, for the past 20 days because, first, Hurricane Irma hit. And then Maria. His home was partially flooded after the storm took part of the roof.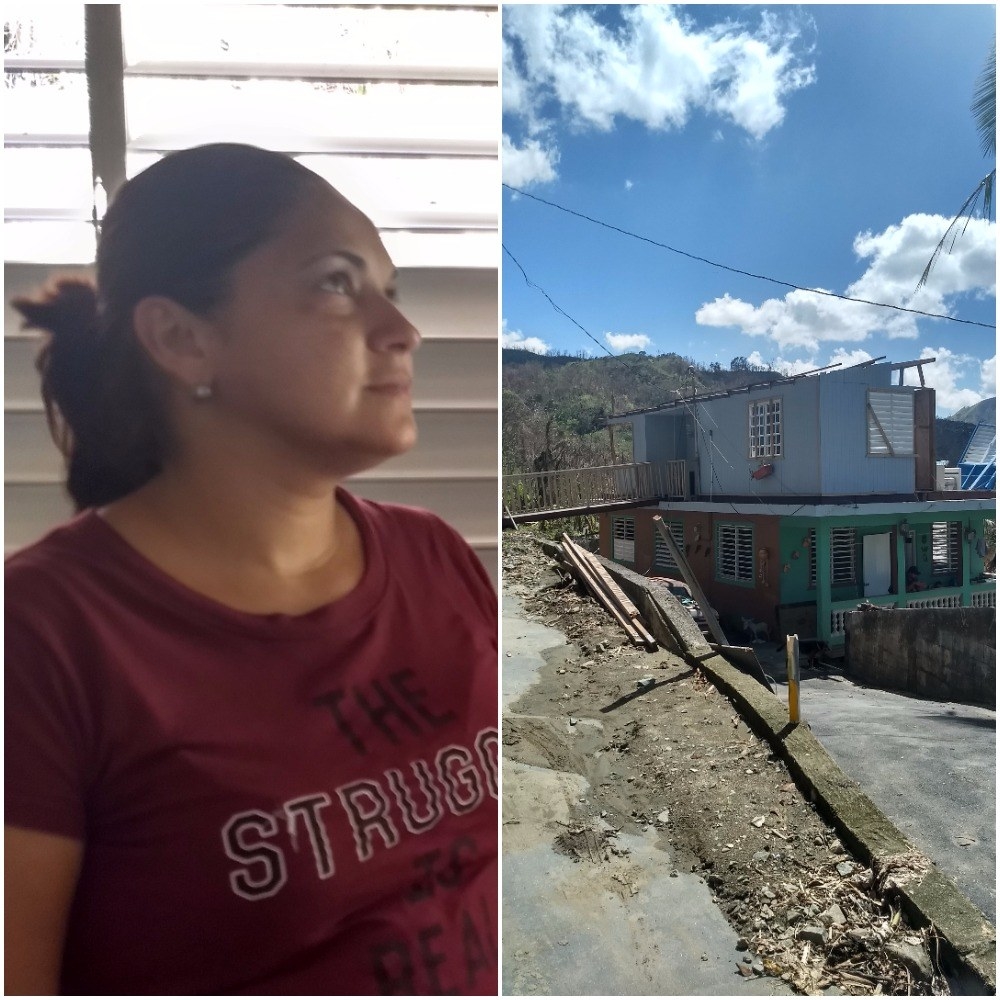 His sister Veronica Acevedo, who lives in the house next door to him, had been struggling to find work even before the hurricane hit. She lives in the two-story house their grandparents built — but the top level of the house is now completely exposed, the roof and walls stripped bare by the hurricane winds.
"It makes me a little emotional to see it like this," she said. "I always planned to stay here, it has sentimental value." On the bottom level, where she and her 17-year-old son Josue live now, leaks are starting to appear, and parts of the ceiling bulge ominously from the weight of the water on the floor above. On Wednesday, Josue was sweeping the water off the top level of their home while she cleaned the bottom floor as best she could.
Her neighbor — the only other one remaining on this stretch of road — is Suzanne Jorgensen. "The coffee farm is how I made my living," she said. "It's hard to know what to do. I'm 70 years old."
She's been living in Hoyos Planes for 30 years, farming coffee, bananas, and other plants. She said she was with a friend who lives a little higher up the mountain during the hurricane, and came back a few days later. "I walked in the mud up to my knees, and I thought for sure I was going to die," she said.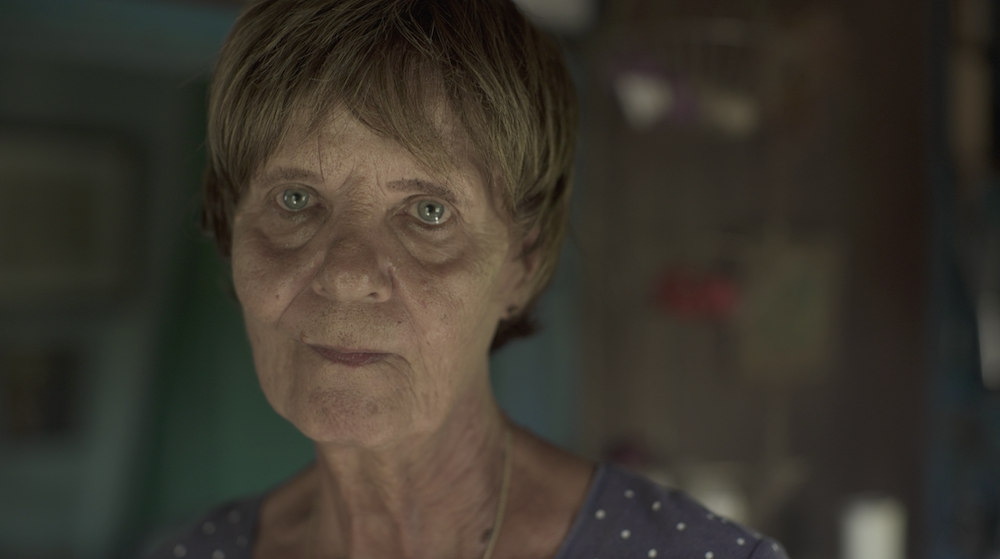 Further down the river, about an hours' walk from Jorgensen's house, on a muddy path that's now covered in fallen branches and rocks, three families have been taking shelter in one home in the community of Caonillas.
Olga Lisia Ramos, 56, has been walking three hours each way to the town of Utuado, the main town in the municipality of the same name, to find medicine for her husband, Felix Mercado, 54, who has severe asthma and a disability that prevents him from walking without crutches.
The town of Utuado's historic central plaza is surrounded by shops, and the town also has banks, pharmacies and supermarkets — some of which have reopened after the storm. Some 33,000 people live in the broader municipality.
"I want them to take us into account. That people live here," she said. "That's what I try to tell people, that people live here."
She said a federal emergency rescue team arrived in a helicopter and landed near them 10 days after the storm, bringing some emergency medical supplies for her husband. They offered to evacuate him, but he told BuzzFeed News he refused because he didn't want to leave his family. "I didn't want to leave them all here," Mercado said.
They have seen a few other helicopters land in the surrounding area, she said, but they were too far away for anyone in the community to reach them before they take off again.
"Help is going to certain points," Ramos said. "We're really far away. It's one hour to get anywhere. We can't go running. They go down there or up there to drop help. They're leaving us out."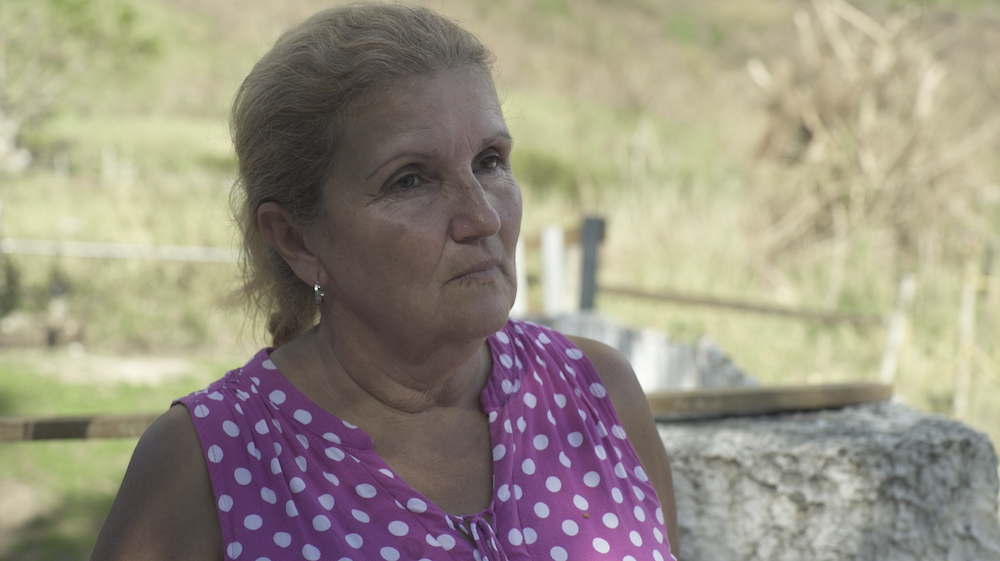 The families staying here have been surviving off mostly canned food and water from the mountain. Ramos has lived here on the banks of the Caonillas River all her life. "It was a horrible, horrible, horrible, thing," she said of the hurricane. "The river rose, the kids were screaming, my husband is also sick, it wasn't easy."
"Jayuya sent a machine to clear some paths but I think they're already gone and they didn't come down here," she said. "These five homes are in the worst area there is. We can't communicate with anybody and when we leave, we have to take whatever road we can because as you saw everything has collapsed here. It's difficult."
She said that even if she reaches one of the two towns nearby, she's often sent to the other one instead, because supplies are running low at pharmacies and supermarkets in both towns.
"We have problems in the supermarket because they're not taking cards and we don't have cash. So that's a problem, we can't do anything. The bank in Jayuya is closed. They said the one in Utuado was open so we went there, and it was closed. It's a guessing game. It's not easy. That's the truth."
Ramos said the most important thing the families need right now is food for the children, and medicine for her husband. She says the rescue team that came through in a helicopter promised they would send a doctor for her husband on Wednesday. A few hours before sunset, a doctor had not yet arrived.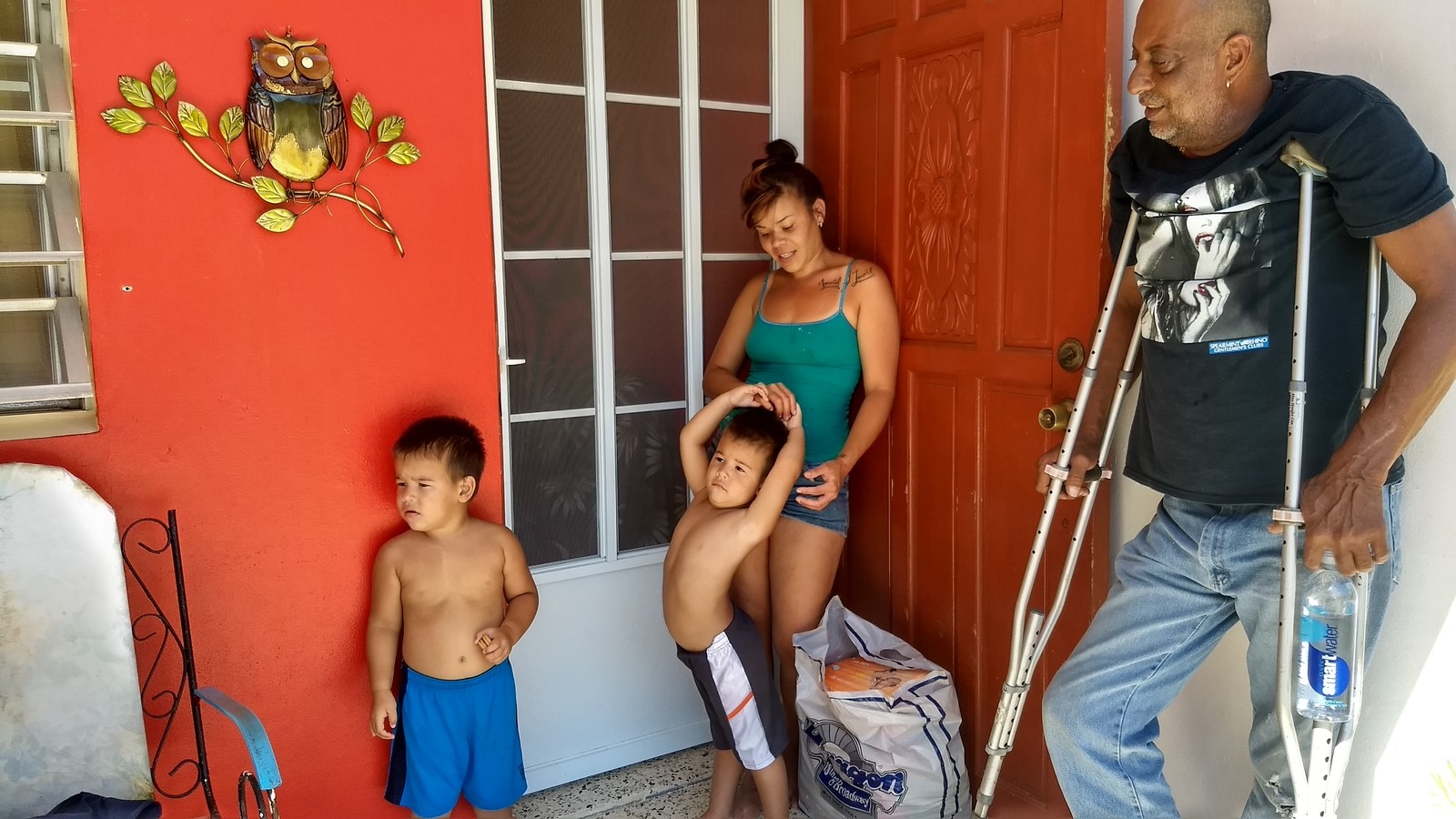 In another house nestled right on the edge of the riverbank, another family is waiting for a way out to be cleared. They've been able to leave on foot to get supplies for the past few days. Before that, Iris Pagan Yderedia told BuzzFeed News, her main concern was that she couldn't communicate with her son in Arecibo.
"The whole time, I was thinking about him," she said. A few days ago she was able to get a message to him through friends in nearby towns. She also has a 59-year-old family member living with her who has a mental illness that prevents her from leaving the house. The Red Cross came and offered to airlift her out, she said, but she's house-bound and Yderedia is not sure she'd make it.
"She can't really leave her room," she said. "It's difficult."
The house was slightly damaged. But what worries Yderedia is that the coffee and fruit farm that the family depends on was destroyed. Some of the plants were insured, but she's not sure how long it will take to recover the money.
She said many in this area depend on agriculture. Immediately, she said, they need water, electricity, and for the roads to be cleared.
"Everything has collapsed," she said. "It makes me wonder what we're going to do."