Trump Aide Stephen Miller Was Kicked Off CNN As White House Continues Railing Against Michael Wolff's Book
CNN host Jake Tapper abruptly ended a contentious interview with the senior White House policy adviser, saying Miller had "wasted enough of my viewers' time."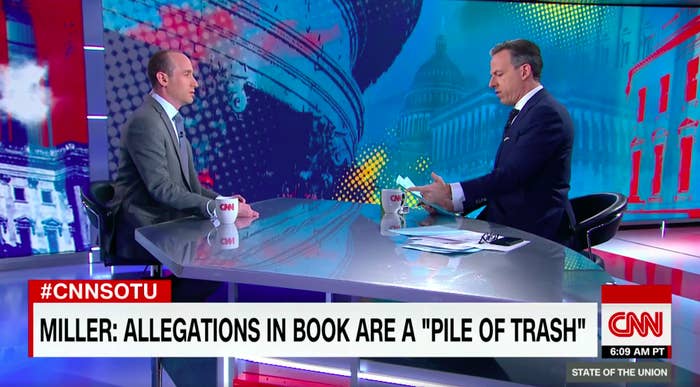 The White House's attempts to counter an explosive new book about the Trump presidency went off the rails Sunday when a contentious CNN interview with president's senior policy adviser Stephen Miller devolved into a shouting match that ended with the aide being escorted off the set by security.
A vociferous defender of Trump, Miller appeared on State of the Union With Jake Tapper to attack Michael Wolff's Fire and Fury: Inside the Trump White House, a buzzy tell-all book released Friday that portrays a dysfunctional administration and suggests the president's closest allies question his mental stability.
Calling it a "grotesque work of fiction," Miller trashed Wolff as a "garbage author of a garbage book," and attacked former White House chief of staff Steve Bannon over quotes attributed to him in the book. "It reads like an angry, vindictive person spouting off to a highly discredible author," Miller told Tapper. "The betrayal of the president in this book is so contrary to the reality of those who work with him."
The interview grew heated as Tapper pressed Miller on Wolff's more explosive claims. Sidestepping specific questions about the book, Miller instead lavished praise on Trump, describing him as a "political genius" and referring to him twice as a "self-made billionaire who revolutionized reality TV."
He also trained his attacks on CNN, accusing the network of "sticking knives" into Trump's supporters, and of running "24 hours of negative anti-Trump hysterical coverage."
Eventually, Tapper cut him off, abruptly ending the interview by telling Miller he had "already wasted enough of my viewers' time."
Miller was then asked to leave the set several times but refused, prompting CNN to call security to escort him out of the building, according to a report published by Business Insider late Sunday and confirmed by BuzzFeed News.
Shortly after the interview aired, Trump tweeted again about the "Fake Book, written by a totally discredited author," and signaled that he'd been watching Miller's performance.
The comments follow a series of tweets on Friday night and Saturday morning, in which the president called Wolff a "total loser who made up stories" and mocked Bannon as "Sloppy Steve."

"I consider [Fire and Fury] a work of fiction," the president told reporters at Camp David on Saturday. "And I think it's a disgrace that somebody's able to have something — do something like that."
Amid his public falling-out with the White House, Bannon addressed the comments attributed to him in Wolff's book in a statement to Axios Sunday, stating his "unwavering support" for Trump and his presidency. He also praised Trump's son, Donald Trump Jr., and denied calling him "unpatriotic" and "treasonous," as Wolff reported.

"I regret that my delay in responding to the inaccurate reporting regarding Don Jr has diverted attention from the president's historical accomplishments in the first year of his presidency," he said in the statement. "Donald Trump, Jr. is both a patriot and a good man. He has been relentless in his advocacy for his father and the agenda that has helped turn our country around."
Wolff, meanwhile, continued to defend his reporting, telling Meet the Press on Sunday morning that he was granted access to the White House and did not violate any off-the-record agreements with sources.

"I literally kind of knocked on the door and said, 'Can I come in?' and they said, 'Okay,'" he said. "I came in and I sat on the couch and that's the point of view that I've written this book from."