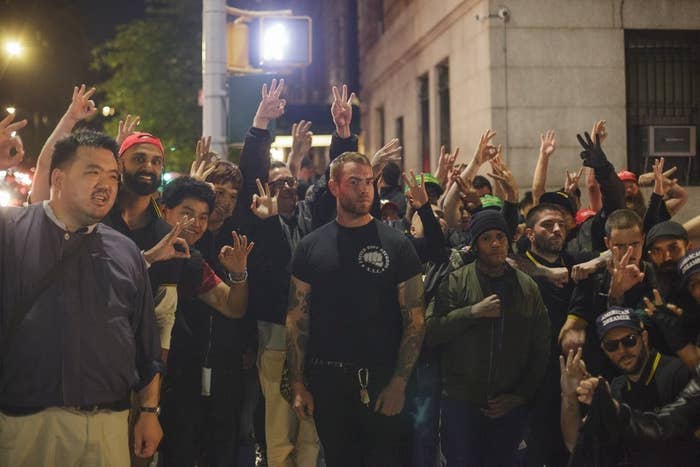 Leaders of a Manhattan political club that was once the archetype of moderate Republicanism say they stand behind the decision to invite the founder of a far-right men's group as police investigate violence by and against his group after his speech at their clubhouse Friday night.
The Metropolitan Republican Club advertised Proud Boys founder Gavin McInnes's appearance as an opportunity to see McInnes reenact the samurai sword assassination of Japanese socialist leader Inejiro Asanuma. In a Facebook post, the club called the Proud Boys founder the "Godfather of the Hipster Movement [who] has taken on and exposed the Deep State Socialists and stood up for Western Values."
Following McInnes's speech, a group of about 30 men who appeared to have just left the event were caught on video attacking two or three protesters near the club, while screaming threats and slurs.
Yet despite internal criticism from some club members — and the video capturing the violence — club leaders defended their decision in a statement on Sunday.
"We do invite speakers to the Club with differing political points of view — some we agree with and some which we do not. But we are staunch supporters of the 1st Amendment," club officials said in a statement on Sunday night. "We want to foster civil discussion, but never endorse violence. Gavin's talk on Friday night, while at times was politically incorrect and a bit edgy, was certainly not inciting violence."
The club's president, Deborah Coughlin, didn't respond to repeated interview requests.
Friday's events offer a microcosm of the disorienting speed of change inside the Republican Party in the age of Trump, as emboldened extremist groups take traditional Republican and American political institutions by storm. The Proud Boys, who made an appearance at a racist gathering in Charlottesville in 2017, are a group so wedded to violence that their initiation rituals involve being punched by members — a far cry from the wealthy Upper East Side Republicanism of figures like former senator Jacob Javits, who the club boasts once made its townhouse his campaign headquarters.
"It's an Upper East Side genteel club — and to have fistfights outside, it just doesn't match," said one former Metropolitan Republican Club president, who spoke to BuzzFeed News on the condition of anonymity. The former president said the club's change since 2016 has followed a national shift in which "the whole tone of the Republican party has hardened, and the tone of American politics in general has hardened as well."
"I think that members of the Metropolitan Republican Club began to believe that they couldn't win offices again, and said fuck it," the former president said, adding that the group had changed after it became clear about a decade ago that Republicans could no longer even win state office on Manhattan's Upper East Side: "In the years since there haven't been elected officials there's a temptation to wander into controversy to get membership and to entertain, and it backfired here."
"A lot of the old-time club members who have been around, old-time New Yorkers, have very strongly weighed in on this choice of speakers. That message was delivered, very much so," they said, adding that the current leadership had only the haziest idea of what their guests actually represent.
"They didn't even know who [the Proud Boys] are. It sounds like the Gangs of New York," the former president said.
Alan Bialeck, a current board member of the club, told BuzzFeed News he personally does not stand by "a lot" of the rhetoric used by McInnes and his followers. But he defended the club's decision to host the Proud Boys founder, and said that he believes McInnes was "joking" and exercising his "free speech."
The Metropolitan Republican Club, he added, is "not a hate group."

"We have gay people, we have black people ... we have every type of person imaginable in the club," Bialeck said. "The club is not a hate group."

Clarifying that he does not "speak for the club," Bialeck also sharply criticized the liberal protesters that demonstrated outside of McInnes's event, and who appear to have been involved in the altercation afterward.
"When you look across the street and see the protesters, they weren't particularly nice," Bialeck said. "They were too far the other way. Why don't you pay attention to them?"
Several New York elected officials — all Democrats — expressed outrage over the violence, and called on the NYPD to take action against the Proud Boys, which has been designated a hate group by the Southern Poverty Law Center. NYPD said Sunday that police are investigating the video of the attack outside the Metropolitan Republican Club. They did not respond to repeated requests for comment about why no arrests were made by the officers present at the time of the beating.
On Sunday morning, New York Gov. Andrew Cuomo condemned the violence on a call with reporters, and called out the state's Republican Party directly for aligning itself with McInnes's group.
"There was a very disturbing incident in New York over the weekend," Cuomo said, calling the Metropolitan Republican Club the "home of the Republican Party operation and the home of the Republican statewide campaigns."
"Why would the Republican Party, at their main club, invite the Proud Boys, who are known to be a hate group, who are known to promote violence?" Cuomo asked, rhetorically. "Why would they invite them to attend a rally just 20-something days before a midterm election?"
He then turned to President Donald Trump, and said he believes that, under his leadership, the GOP is "motivating people by fear and motivating people by hate."
"Bottom line is I hold the president responsible," said Cuomo. "This was clearly a political tactic."
Cuomo then announced that he is calling on the FBI to investigate Friday's altercation, "because, again, this is a national group — Charlottesville, all across the country."
In response to Cuomo's comments, New York GOP Chair Ed Cox called the governor a "political coward" and accused him of ignoring earlier acts of vandalism on the club's building in advance of McInnes's speech.
"A real leader would call for calm. He would work with the NYPD to protect a near- century-old club from further attacks, but that's not Andrew Cuomo," Cox said in a statement. "He is all about himself and all about politics. What shame."
CORRECTION
Jacob Javits and Gavin McInnes's names were misspelled in a previous version of this post.