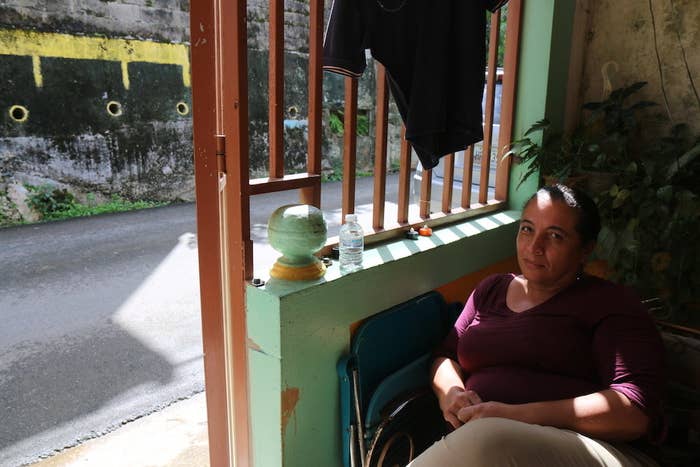 ARECIBO, Puerto Rico — More than four months after Hurricane Maria tore through Puerto Rico, thousands of residents in the municipality of Arecibo continue to live without electricity — and a plan for a short-term microgrid fix was delayed at the last minute on Saturday.
The broken promises from local authorities, the island's power authority, and federal agencies are wearing thin on people here, who are US citizens.
President Trump's most recent substantial comments about Puerto Rico — he has so far pushed a false, rosy picture of the recovery — were in November, when he said the territory was "doing well" and "it's healing, and it's getting better, and we're getting them power, and all of the things that they have to have."
José "Memo" González Mercado, a district representative for Arecibo, told BuzzFeed News, "The reality is that we are US citizens but Donald Trump treats us as second-class citizens."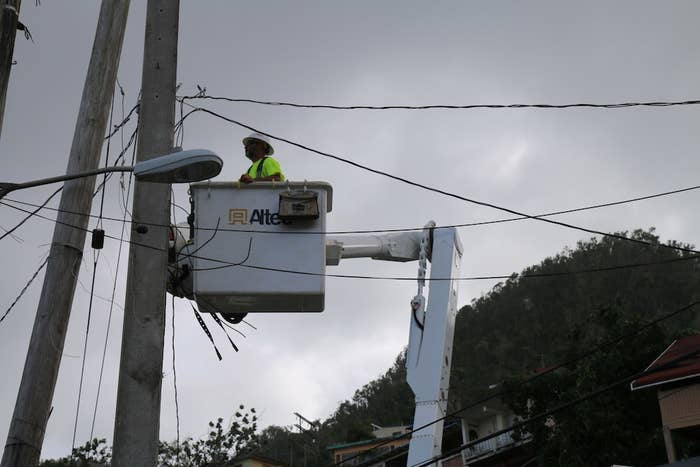 González was certain that the power would be restored to close to 10,000 residents of his northwest coast municipality of around 88,000, on Saturday. Some 35% of residents in Arecibo don't have electricity, he said. González said he had word from the Puerto Rico Electric Power Authority that one of the region's substations, Charco Hondo, would receive a generator from the US Army Corps of Engineers to power a temporary microgrid while repairs on the substation continue.
"Four months is way too much time for people in Puerto Rico to not have energy. All of us, the representatives, the mayors, the people, the senators, have to raise our voices to get things done," he said.
González reached an agreement in December with PREPA to temporarily restore power by means of the microgrid. Earlier this week, he called out the utility in a statement to local reporters for not yet complying. On Saturday, he planned to tour the substation with PREPA's interim director, Justo González, as the generator was being installed.
But in another example of the dysfunction that has plagued Puerto Rico's recovery, the day didn't go quite as planned. With no sign of the generator or PREPA's interim director at the Charco Hondo substation, thousands of residents of Arecibo remained in darkness, like 32% of the island — more than a million people. There's no clear idea of when they could expect to regain power.
A spokesperson for PREPA told BuzzFeed News that the US Army Corps of Engineers was overseeing the project and providing the generator, and that it was unclear where Justo González was on Saturday.
A spokesperson for the USACE said that after a second inspection of the site, they had decided that there was too much damage to the nearby power lines to allow the generator to be safely switched on as planned on Saturday. He said contractors will "begin installing" the generator over the weekend but that it won't be operational — and that USACE "cannot give a definitive time" when it will be switched on.
"The microgrid will be energized once it is determined that a section can be safely utilized without the risk of harming anyone within the community. USACE cannot give a definitive time, but we are working tirelessly to complete the project as soon as possible," USACE Public Affairs Officer Luciano Vera told BuzzFeed News in a statement.
The Mayor of Arecibo, Carlos Molina, did not respond to a request for comment.
In La Planta, the leafy, semirural neighborhood that houses the substation on Saturday, a crew of line technicians including workers from a Missouri-based company, RS Electric, worked on repairing power lines — to both prepare for the microgrid and as an essential part of the long-term restoration of the island's infrastructure. Jose González expects it to take another two to three months before the permanent grid is repaired.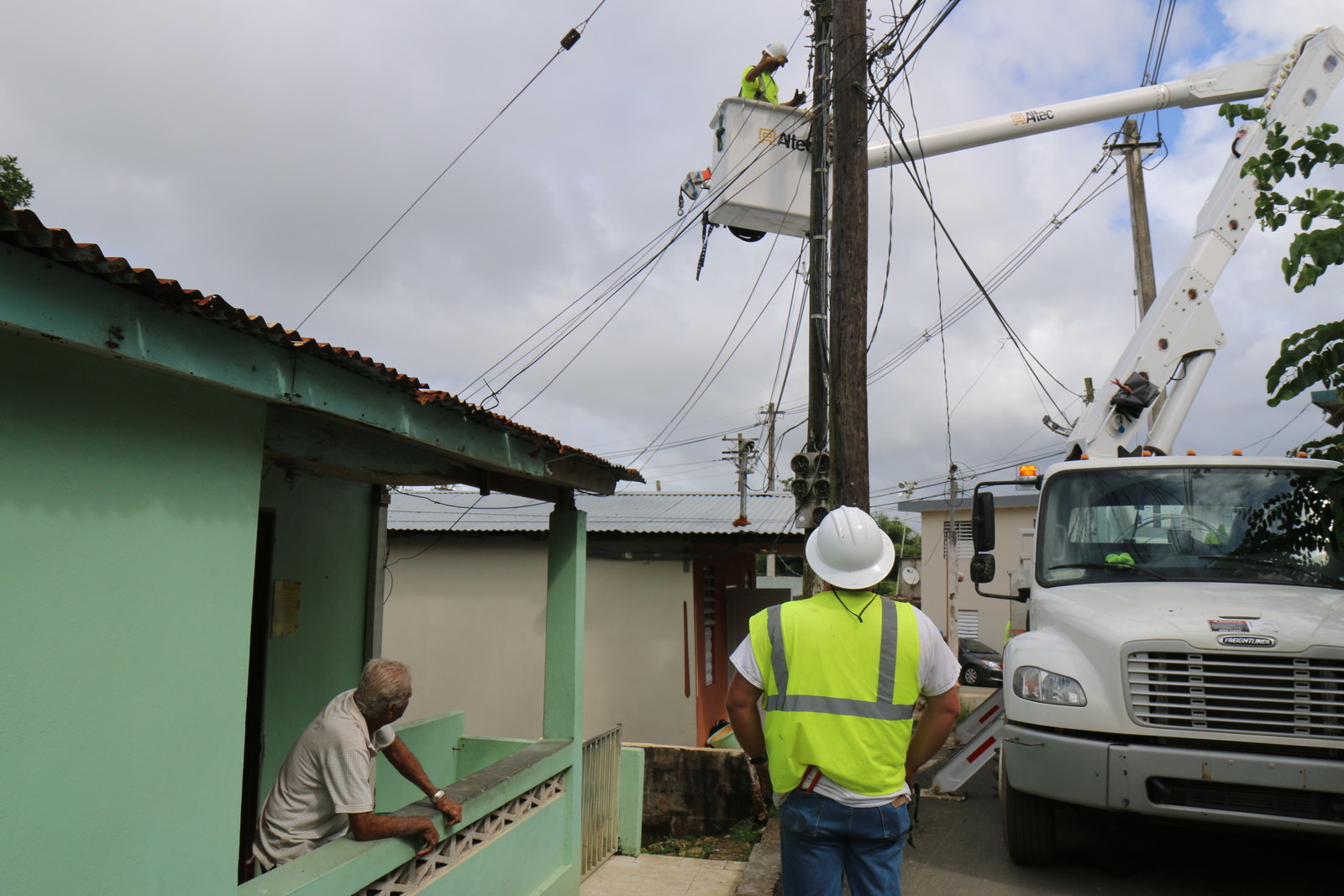 Local residents stood in their doorways and on their patios watching the workers cut away dead cables and loose wooden poles above.
"What government? There is no government. Nobody tells us anything," said one resident, Jose González, 28, laughing when asked if he'd heard from any authorities about when power will come back to his parents' home in La Planta.
"In San Juan they're doing okay but once you get out into the countryside, the mountains, they don't even know that we exist," he said. The family is one of those that have been without power for more than four months now.
González's mother, Marise Martinez, 48, added that it's been exhausting living without electricity since September. Like several of their neighbors, they said they've become accustomed to living in darkness: At around 7 p.m., as the sun goes down, most people in this neighborhood retreat to their homes and lock their doors.
A line technician who's been in Puerto Rico for a month working on the cables in Arecibo and Manatí — about a 30-minute drive west — was not impressed with what he's seen of the Army Corps' work on the grid.
Moses Salinas, one of the lead line technicians working on the project for RS Electric, said the Army Corps told them to expect a generator on Saturday.
"They told us this Saturday, but you gotta remember there's 12 months and a bunch of Saturdays, so…" he said ironically.
He said PREPA is rarely on site, and criticized the Army Corps.
"You've got people out here that don't know power lines work," he said. "The Army Corps, they don't belong here," he said. "They don't know what they're looking at. They don't know how much voltage this line has. They don't know that. They'll come talk to us, 'How would you do it?' You're the engineers, you're supposed to tell me how to do it!"
He said he's frustrated by the lack of materials line technicians have to rebuild the power lines.
"They expect you to build a house, they say, here's a shovel, build a two-story house. Here they only give you a handful of materials and say, build power lines," he said.
Arecibo Rep. Jose González blamed bureaucracy. "The reality is that the bureaucracy of the USAC has been way too slow. They're too slow and the people need them to be more efficient, at least for energy and water," he said.
Residents in parts of Arecibo that depend on the Charco Hondo substation are somewhat resigned to not having clear information about when they'll go back to living with electricity. Most didn't know about the possible microgrid installation on Saturday. People said they generally get updates by stopping utility workers they see on the road or through friends and gossip.
"Someone told me it was coming on the 13th, but they didn't say the 13th of which month or which year," said Hector González, 58, in Bajadero, a barrio in Arecibo where he was waiting out the rain on a patio with a friend on Saturday afternoon.
At a shop down the road, Hector Serrano said he regained electricity at his garden shop about two weeks ago, though just his business and the three buildings around it have power. His home, five minutes away, is still without. He said the power at his shop is still not stable, and that it's come and gone several times.
"We had to open and close it several times," he said. "And on top of that there's the school, I have a 9-year-old son, and the school changes its timings depending on what their electricity situation is like."
He said he's heard from others in the community that the plan is to put a generator in the Charco Hondo substation but, "every day it's a different story, that it's coming, that it's here, that they don't have posts, that they don't have transformers."
For other residents, the indefinite lack of power has made it harder to stay healthy. Fermina González Martinez, 75, and her husband both have diabetes and hypertension.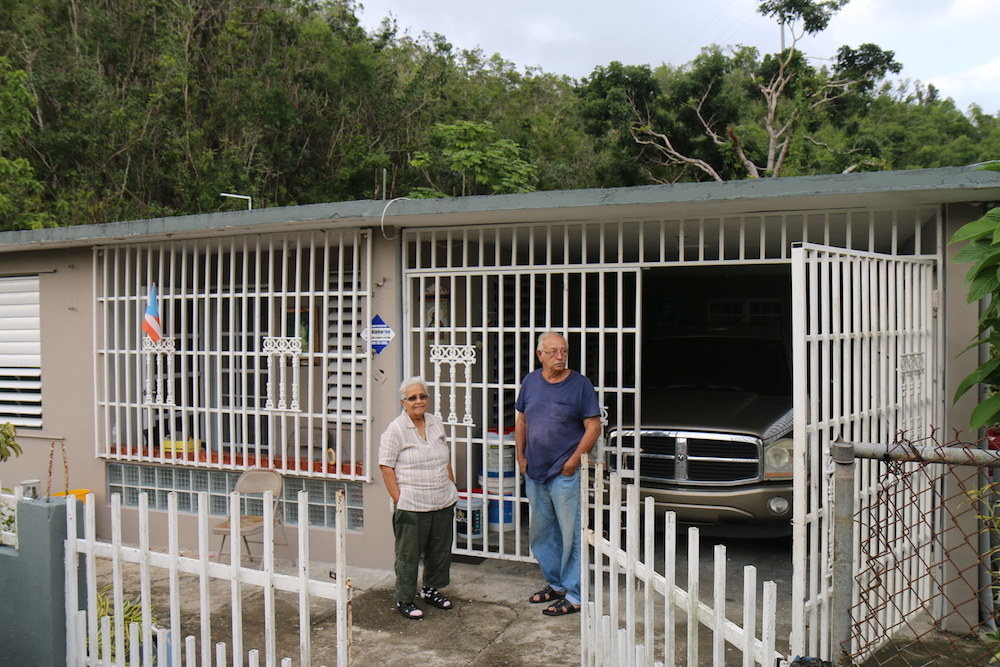 She said she can't eat canned food because she also has intestinal issues, and keeping to a diet that includes fresh meat and vegetables to keep their diabetes in check has been impossible without electricity to power a refrigerator. Luckily, she said, neither of them need insulin for their condition.
González Martinez and her husband are nervous, saying they don't see evidence of long-term fixes to the grid in their neighborhood — and they know another hurricane season starts in June. And even if the Charco Hondo substation gets its generator, some 20,000 people in other parts of Arecibo would still be waiting for electricity.
"If another hurricane comes, there will be nothing left here," her husband, Juan González Trujillo, said, looking over at the dangling power lines on the road in front of their house.
CORRECTION
Hurricane Maria reached Puerto Rico more than four months ago. An earlier version of this story misstated how much time has passed.