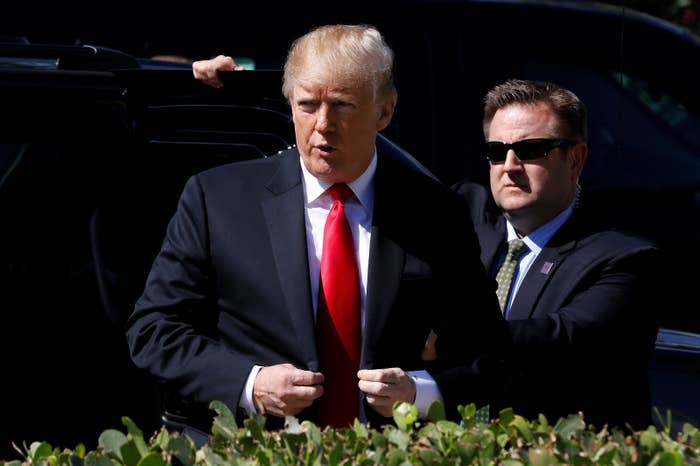 President Trump responded to a Fox News report on a caravan of Central American migrants approaching the US border with a new attack on the Mexican government and immigrants inside the United States — even as caravan organizers blame US policy for their flight.
Many of the people in the group — which is led by a volunteer organization called Pueblos Sin Fronteras, or People Without Borders — are traveling to the US through Mexico from Honduras to seek asylum, organizers told BuzzFeed News. Honduras currently has one of the highest murder rates in the world, and the December reelection of its president, Juan Orlando Hernández, was met with days of violent protest and allegations of voter fraud.
"If this caravan bothers him, then it also bothers me that he supported people like Juan Orlando who oppresses the people, destroys the economy of the country, and creates a humanitarian crisis," Irineo Mujica, director of Pueblos Sin Fronteras, told BuzzFeed News. "We didn't create that humanitarian crisis. They want to stop the humanitarian crisis how? Stopping these people? The crisis is in Honduras, and he was part of the chaos that occurred in the country."
US support for Hernandez didn't begin with Trump: President Barack Obama's administration also backed the leader, viewing allegations of domestic corruption and abuse as secondary to his willingness to cooperate with the United States on security issues. In 2013, then–secretary of state John Kerry congratulated Hernandez on his first victory. The US currently provides aid to Honduras through various initiatives.
The caravan has received widespread attention through reports from BuzzFeed News' Adolfo Flores as he travels with the group as it heads north through Mexico toward the border. About two thirds of the roughly 1,200-person caravan plans to either seek asylum or cross the US-Mexico border undetected, and another third intend to stay in Mexico.

In a statement, Pueblos Sin Fronteras said most of the migrants in the caravan will turn themselves into US Customs and Border Protection or remain in Mexico. Many of the refugees are still undecided about what they will do once they are near the border.
"Although some of the participants may choose to cross the US border undetected, it would only be as a result of the unjust, politicized, and racist application of US asylum laws that would discourage them," Pueblos Sin Fronteras said. "We believe they all should be given a real opportunity to seek asylum in the country of their choice, in this case Mexico or the US."

In a series of tweets on Sunday morning, President Trump said he does not support reaching an agreement on DACA, called for Republicans to "pass tough laws NOW," and threatened to leave the North American Free Trade Agreement.

In his tweets, Trump referenced "caravans coming" and said, "Republicans must go to Nuclear Option to pass tough laws NOW. NO MORE DACA DEAL!" He also tweeted that Mexican authorities "laugh at our dumb immigration laws," and threatened to "stop their cash cow, NAFTA" if they don't do more to stop immigrants from entering the US through Mexico. "NEED WALL!" he added, also saying that he thinks "these big flows of people" are "trying to take advantage of DACA."
In response to the tweets, some caravan members told BuzzFeed News Sunday that they were leaving because of violence, instability and poverty in their home countries, and that they did not think they'd qualify for DACA, which applies specifically to people who entered the US as minors and have lived here continuously since 2007.
Trump's Sunday-morning tweets came minutes after Fox & Friends aired a segment about the group of Central Americans traveling through Mexico, aiming to cross the border to the United States.

Before he attended an Easter Sunday church service in Palm Beach, Florida, reporters asked Trump what he meant by "NO MORE DACA DEAL!"
Trump announced last year that he would end the DACA program this March, but it remains in place due to federal court orders. Neither Trump not Congress has done anything to provide a more permanently solution for DREAMers in the meantime and talks to revive DACA, even in part, were put on hold last month.

In his statements to the press, Trump also put pressure on Mexico.
"Mexico has got to help us at the border," he said. "And a lot of people are coming in because they want to take advantage of DACA, and we're going to have to really see," he said.
"They had a great chance. The Democrats blew it. They had a great, great chance but we'll have to take a look — because Mexico has got to help us at the border. They flow right through Mexico. They send them into the United States. It can't happen that way anymore."
Mexican officials rejected Trump's latest salvo, with Foreign Minister Luis Videgaray tweeting a response.
According to government data, Mexican authorities have deported more than 420,000 Central Americans since the 2014 implementation of the Southern Border Program, meant to stem the flow of migrants through Mexico.

Mexican politicians who are competing in Mexico's July presidential election also responded to Trump's tweets.
During his first official campaign speech on Sunday, Mexican presidential frontrunner Andrés Manuel López Obrador reacted to Trump, saying that walls and violence would not solve the root causes of migration: "We do not discard the possibility of convincing Donald Trump that his foreign policy is mistaken, and in particular, of his derogatory attitude toward Mexicans."
The candidate running second in most opinion polls, Ricardo Anaya, sounded a similar line, according to Milenio, a national news outlet. "Mexico has to assume a dignified and firm posture in the face of threats made by US President Donald Trump," Anaya was quoted as saying.
According to US Customs and Border Patrol, 26,666 people were apprehended at the Southwest border in February 2018, a 2.4 percent increase from the previous month. Apprehension rates have held relatively steady for the last several months following a precipitous dropoff in January 2017 and small rebound last spring.