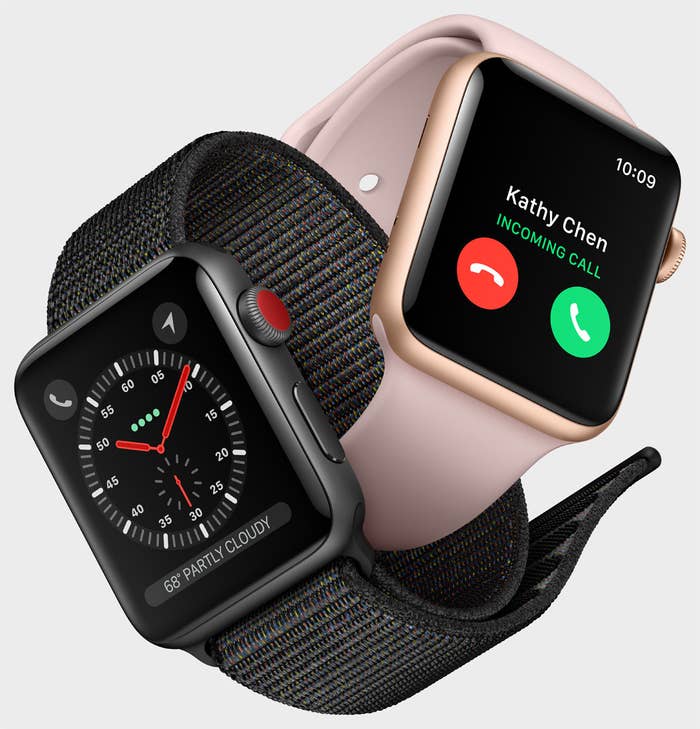 With the new third-generation Apple Watch, users won't have to be near their phones to make calls, stream music from Apple Music, and find directions, thanks to the wearable's new LTE connectivity.
The Apple Watch could previously only load data over a Bluetooth connection with an iPhone, and limited data (Siri, iMessages, and smart home control) over Wi-Fi.
Now, the Apple Watch Series 3 will be able to download data on its own, without being tethered to an iPhone or a Wi-Fi network — that is, if you sign up for an additional data plan with a cell provider (for now, AT&T, Verizon, or T-Mobile are the first US carriers at launch). The number on your watch will be the same number as your iPhone, and third party apps like WeChat will work as well.

The display itself acts as the antenna — and there's an embedded electronic SIM card in the device's hardware. The watch's form factor is largely the same, which means bands bought for previous Apple Watches will be compatible with the new device. Only the side dial (called the "digital crown"), which now has a red accent, looks different.

There's an option to turn cellular connectivity on and off, as well as add cellular-related information (or "complications"), like connection strength and ability to make/receive calls, to your watch face.
However, according to Apple's specs, LTE connectivity reduces battery life significantly.
Talk time is three hours connected to the iPhone, and just one hour over LTE. With the GPS and heart rate sensor on during an outdoor workout, the battery life is five hours without LTE, and four hours with LTE. The company's 18 hours all-day battery life claim includes four hours of LTE connection and 14 hours of Bluetooth connection to the iPhone.

Like Series 2, the watch features built-in GPS and waterproofness up to 50 meters deep, as well as an OLED Retina display.
WatchOS 4 is the new software shipping with the Apple Watch Series 3, though the update will also be available to older versions of the Apple Watch on September 19.
It includes new watch faces, including a Siri-based version that proactively displays information it thinks you need (eg. traffic info, reminders, and airline tickets from Apple Wallet). The Workout app has a new high intensity interval training (HIIT) mode, enhanced pool swim tracking, and the ability to exchange information with certain gym equipment. When you start a new workout in watchOS 4, the watch will also turn on Do Not Disturb simultaneously, so it doesn't buzz during your workout class.
There's better Apple Music integration, too (personalized playlists like New Music Mix are auto-synced). Person-to-person Apple Pay (launching with iOS 11 for phones and tablets) is also available on the watch.
You can preorder the watch on Sept. 15, which starts at $329 for the non-cellular version and $399 for cellular in a variety of colors and finishes. Both ship Sept. 22.
Apple made progress towards a more independent smartwatch with last year's fitness-focused and newly swim-proof Apple Watch Series 2, which added GPS, so runners, cyclists, and swimmers could track their routes. But the ability to connect to an LTE network may finally fulfill the smartwatch's original promise: to be a computer on your wrist. The original Apple Watch was too reliant on the iPhone to add any additional benefit for many users. The second-generation watch was more palatable for those interested in health and fitness, but it still wasn't the device for those who'd rather wear their phones than carry it.
The Apple Watch Series 3's ability to temporarily replace your phone will be contingent, however, on how the data connection impacts the watch's battery life. Features like LTE data, built-in GPS, near-field communication for mobile payments, and heart rate sensing are notoriously energy draining. Using GPS on the Apple Watch Series 2, for example, reduces the battery from about 18 to 5 hours.
To compensate for power drain, many smartwatch-makers that have already implemented LTE data, including Samsung for the Gear S3 and LG for the Watch Sport, have simply increased the size of the battery, making the wearables incredibly bulky. Apple, on the other hand, has not increased the size of the watch, which also compromises the watch's battery life.

Only real-world testing will tell if the Apple Watch can meet these battery specs. If you were looking forward to a wearable-only future, stay tuned for our full Apple Watch Series 3 review.