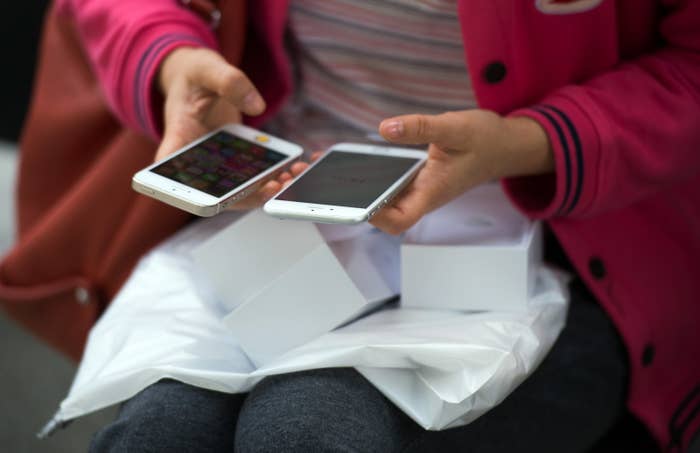 Internal documents obtained by MacRumors last week first indicated iPhone 6 Plus battery delays. Now, customers tell BuzzFeed News, support staff is alerting iPhone 6 Plus owners of the months-long wait time.
When pressed for comment, an Apple spokesperson pointed to this statement from Dec. 30: "We expected to need more time to be ready, but we are happy to offer our customers the lower pricing right away. Initial supplies of some replacement batteries may be limited."
Similar language is posted on the company's support website:

According to a technician at iTech, an authorized service provider in Cedar Falls, Iowa, production of iPhone 6 Plus and its batteries had been stopped, and due to sudden, increased demand of the discounted batteries, Apple was forced to "reproduce the batteries from scratch," causing the delay. The smaller iPhone 6 device and newer iPhone 7 and 7 Plus models are experiencing shorter wait times, according to another authorized service provider, Core Care.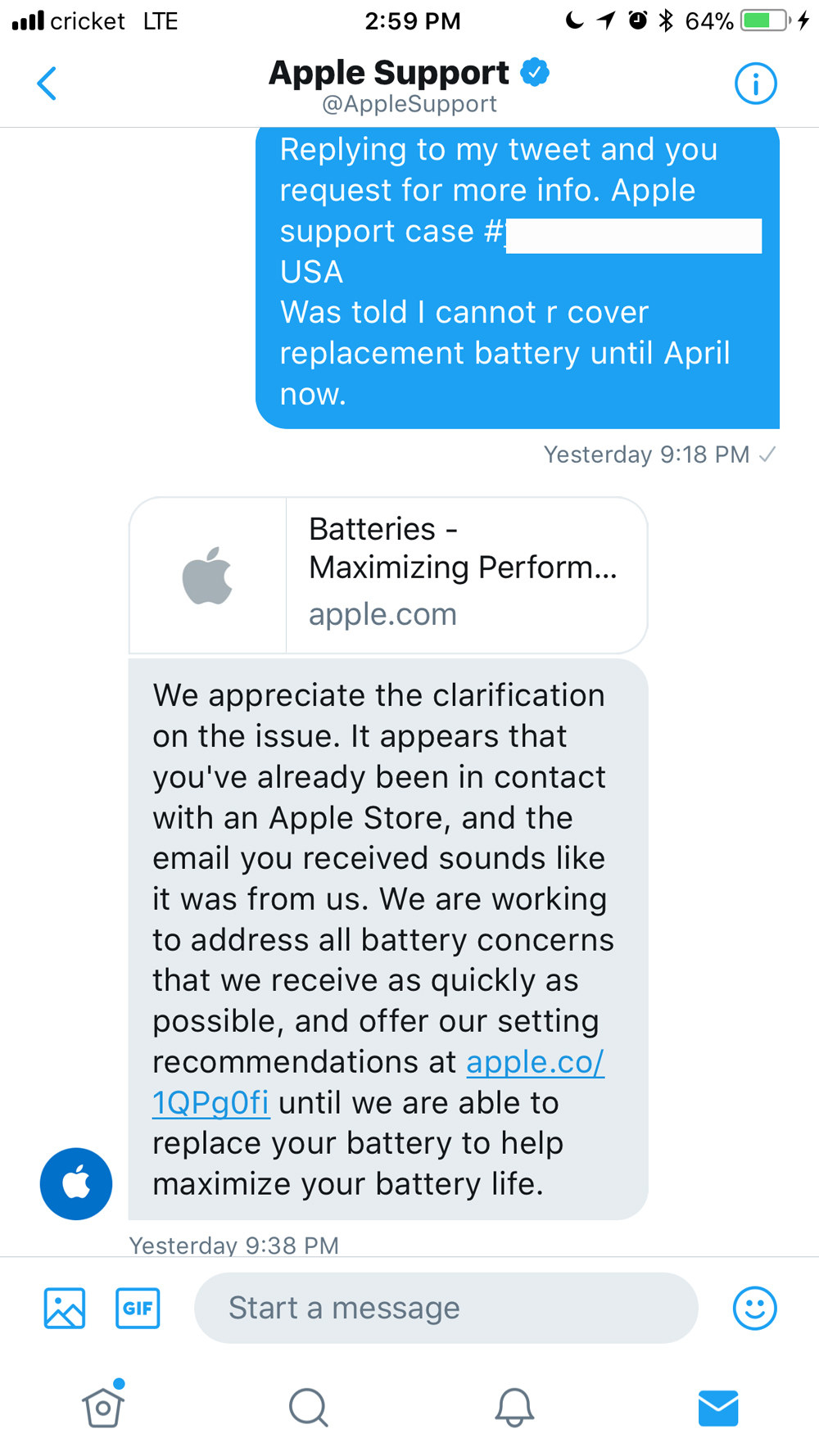 Some customers have been told the batteries wouldn't ship, "Realistically, until April."
iPhone 6 Plus user Jeremiah Preszler told BuzzFeed News that an Apple support representative said a battery would not arrive, "realistically, until April" over the phone yesterday evening. Initially, at a Jan. 4 Genius Bar appointment, Preszler was told the replacement would take about 10 days to arrive.
Preszler said, "The representative said batteries are supposed to last 300 to 500 charge cycles, and my battery, when I got it tested, was over 900 charge cycles. I keep 30% of what I used to have, and I have to charge it all day, every day."
The 42-year-old, who runs a medical laboratory in the Dayton, Ohio, area, stores critical information on his iPhone and frequently gets paged at night because of the nature of his work. Preszler now carries an external battery pack, in addition to his phone, all day. "I was having real problems with [iOS 11.0] when it came out in December. Apps crashing, really bad battery life," he recalls.
If the iPhone dies before April, Preszler said he's "going to Samsung" but is "trying to keep the thing alive and running," until then. "The biggest thing I'm frustrated about is their PR system saying you can replace your battery for $29, and the reality is, they tell you it's going to take three months to get a working phone," he said.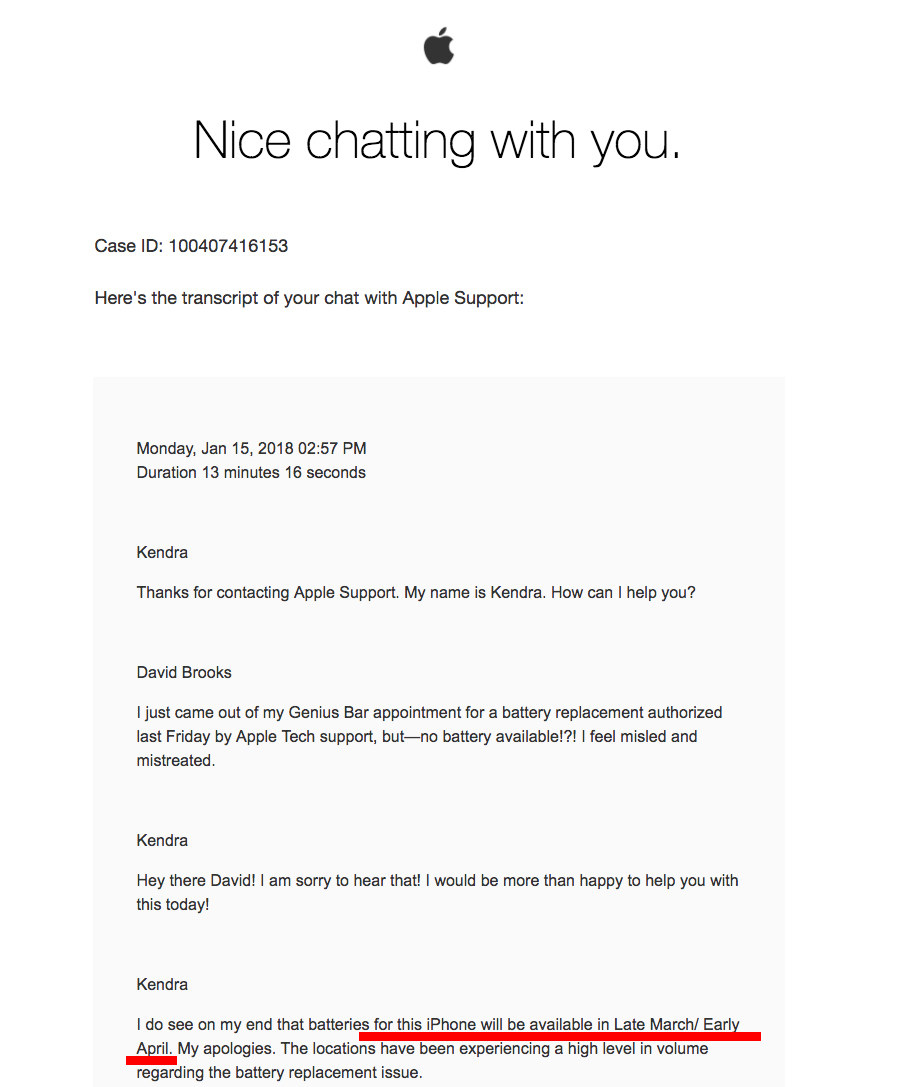 One longtime Apple customer was angry after being directed by online support to a Genius Bar with no batteries on hand.
David Brooks, an iPhone 6 Plus customer from Dublin, Ohio, told BuzzFeed News he drove an hour through the snow on Jan. 15, after Apple's online support scheduled an appointment for him at a local Genius Bar.
"When I showed up, a Genius Bar attendant said, 'We don't have any batteries,' and I said, 'That's a problem because it took me a long time to get here. Why would Apple direct me to come here to get one if you did not have batteries?'" Brooks said. He continued: "Apple is one of the biggest companies in the world. I refuse to believe that one hand does not know what the other hand is doing." A follow-up chat with Apple's online support revealed the battery would not be available for several months.
Brooks runs his own dessert shop, Dave's Artisanal Cheesecakes, and has owned an iPhone 6 Plus for three years, but recently noticed significantly diminished performance: "This phone has been very good to me, and I can't imagine using anything else. But I'm less than pleased with my treatment by Apple tech support. I was very upset — if I tried to conduct my business like that, I would be out of business."
Despite his frustration, the cheesecake chef is sticking with iPhones: "I'm more than willing to pay for what I need to pay for, but I can't afford to upgrade just yet. All I really want from [Apple] is a sincere apology."
Replacements for the smaller iPhone 6 battery don't appear to be as backlogged.
A technician at Core Care, an authorized service provider in Sacramento, CA, said the estimated availability for iPhone 6 and iPhone 7 replacement batteries are "about 10 days" and needed to be ordered from Apple by Core Care.
However, Martin Lieberman from the Boston area, who had a Jan. 6 Genius Bar appointment, has not received an update regarding iPhone 6 battery availability. "They started a work order and said, 'We'll get in touch with you when we get it in.' That was two weeks ago, and I have not heard anything from them," he told BuzzFeed News.
Lieberman, who was told his battery was "consumed" after a diagnostic test, said, "I just don't understand why Apple would offer to replace people's batteries if they couldn't make good on that offer. I don't want to get a new phone yet, and I shouldn't have to, especially if Apple said it would replace it."
Another iPhone 6 customer, Paulina Acuna of Chicago, told BuzzFeed News she was notified on Jan. 15 that a battery replacement would not arrive for another two to four weeks, after initially bringing in her device on Jan. 5.
Apple's head of retail, Angela Ahrendts, has made a number of refinements to in-store service over the past few years in an attempt to address some of the gripes Apple customers have had with the Genius Bar. And yet the battery replacement issue reveals how iPhone repair remains a frustrating experience for many, especially because Apple Stores and Apple's authorized service providers are the only places customers can turn to for official replacement parts.
"Right-to-repair" advocates say that fixing your electronics should be as simple as servicing your car. (Automotive laws require car makers to provide manuals and replacement parts to any repair shop that wants them. So car owners can choose to pay a premium by going to a dealer, or save and opt for an aftermarket product at an independent repair shop.)
But it's worth noting: While Apple's Genius Bars receive much scrutiny, iOS and Mac hardware support is much more straightforward than what's available to Android users, who typically rely on cell carriers and service partners for troubleshooting and repair.