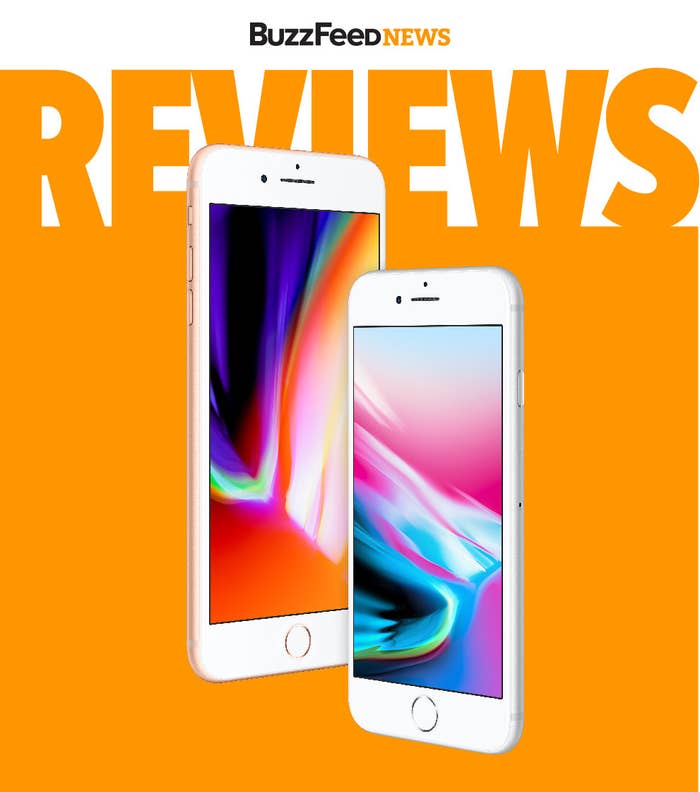 I want to be clear. I'm not an iPhone H8r.
But I'm going to call the iPhone 8 what it really is: the 7s that never was.
Every other year, Apple has, historically, released an "S" version of the iPhone, like the 5s and 6s. The "s" stands for "better, but mostly the Same" (which I made up but doesn't take away from its truth). This year, Apple skipped the "S" model of the 7, and went straight to 8.
There's a lot that's still the same as last year's 7:
* The screen size and resolution
* Its water- and dust- resistance
* Its non-physical home button with Touch ID
* No headphone jack (RIP)
* The camera megapixels and aperture
* 3D Touch
And here's what's been updated:
* Wireless charging support (cool, but not perfect)
* A new copper-y gold color (which ultimately doesn't matter because you'll put it in a case anyway unless you're a monster)
* TrueTone display (which makes the screen easier on your eyes, in a very subtle way)
* Dolby vision and HDR 10 support (do you know what that is without having to look it up?)
* 25%-louder speakers
* Improved, more even flash
* New chip (A10 vs. A11)
* A new "color filter" and "deeper pixels" in the camera
* 1080p slo-mo videos at 240 fps
None of these updates are *bad* — together, they make the new iPhone 8 and 8 Plus slightly faster, more comfortable, more convenient, and better at taking photos compared to older iPhones. But make no mistake: if you were expecting the NEW! NEW! NEW! of a "whole" number iPhone (A new kind of port with the 5! A new bigger phone with the 6! Water-resistant and no headphone jack with the 7!), you might be underwhelmed.
In terms of feeling New, the 8 pales in comparison to the iPhone X-pensive, the most significant redesign/update to the iPhone ever. The iPhone X retires the home button (in favor of more screen and a new form of biometric authentication that can recognize your FACE) and replaces the ol' LCD display with a stunning OLED one, for blacker blacks and more saturated, eye-popping colors.
Oh yeah, and it costs a grand. And it won't be available until November. So, of course, it's the iPhone you want. But, unless you're a hardcore fangurl/boi who needs the latest, the X probably isn't *the* best phone for you.
Most humans in need of an upgrade — especially those with an iPhone 6 or older — should get the 8, which hits stores this Friday, Sept. 22. While the iPhone 8 doesn't wow, it's still the best iPhone for most people. For Android users looking to switch, it's a little more complicated, because there's a new Google Pixel coming just around the corner.
For an iPhone 8 and 8 Plus deep dive, don't rest your weary eyes just yet. If you're already saying to yourself, "PIXELS BLAH WHO CARES," scroll to the bottom for the TL;DR.
Dat glasss.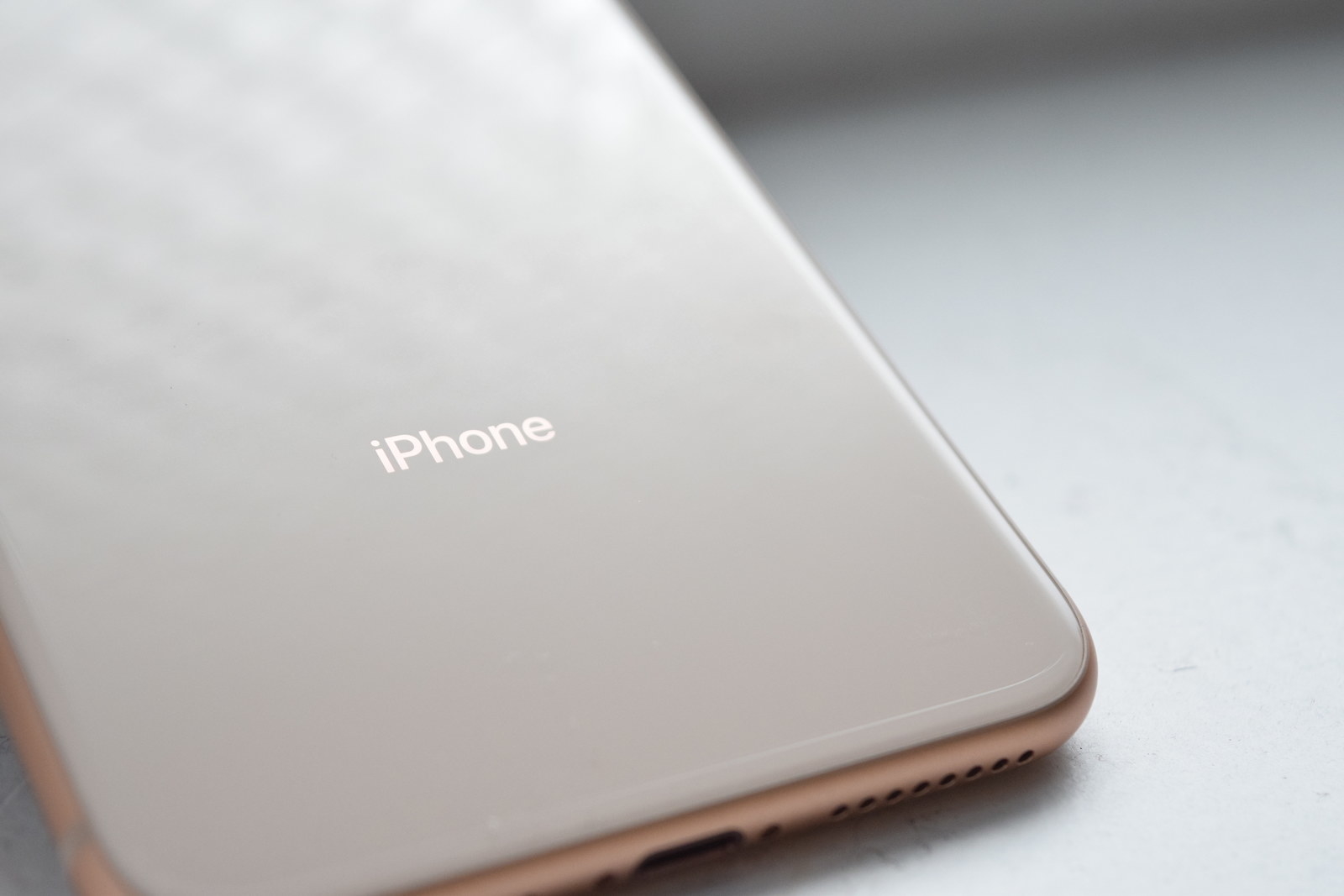 I was — and am — a huge fan of last year's black matte shade, because of how it absorbed all the light around it in this beautifully goth way. Now, matte is no more. ಥ_ಥ
In addition to a glass display in the front, the new iPhones have glass backs that shine and sheen. This design change was made to accommodate wireless charging — and to also help give the phone the appearance of newness (jk). Now, instead of feeling like little rocketships in MacBook casings, the new iPhones feel completely smooth, like they're made entirely of screen.
During this part of the iPhone announcement, a flashback hit me: in slow motion, my phone slipping from my hands and meeting cold, hard concrete, a stupid mistake that left a spiderweb-shaped crack on my display for months. Except this time, I had the new iPhone, and both the front *and* back shattered. I started to cold sweat in the just-opened Steve Jobs Theater's meticulously designed, buttery leather seats.
The glass is strong, reinforced by "laser-welded" steel, the company claims. For the purposes of this review, I treated the phone like a 200-year-old antique, so I didn't, like, throw it down on the ground to test how strong it was or anything.
The new iPhones now come in three colors (bye, rose gold, I hardly ever knew thee): basic silver, slightly less basic space gray, and an even less basic gold, which Apple calls gold, but really lies somewhere in between copper and a hip, trendy nude pink. Online the "gold" model looks more yellow than it actually is in person. The new hue is extremely pretty.
There's a new camera sensor in the 8 and 8 Plus, and to understand what that means, you have to really zoom in to the details.
The difference between the iPhone 7 and 8 cameras is even more subtle than the difference between the iPhone 6s and 7 cameras.
The new "color filter" and "deeper pixels" in the 8 and 8 Plus mean more vivid colors and less noise. The new image signal processor helps optimize features like exposure, autofocus, and HDR, before you take the photo.
What that means in practice is more detailed photos that really only appear more detailed if you zoom way, way in.
For low-light situations (like the one on the left of San Francisco's Market Street at sunset), or a changing lighting situation (like the portrait on the right), the iPhone 8 Plus and 8's cameras (respectively) were fast, and did a fantastic job of capturing the scene in a way that's true to life.
The iPhone 8 photos are slightly warmer and more saturated.
But it's pretty hard to tell the difference. Click on each photo to see 'em up close — and decide for yourself.
Both cameras have the same megapixels and aperture.
The iPhone 7 and 8 have 12-megapixel cameras with a wide angle lens, f/1.8 aperture, and optical image stabilization.
The Plus has two lenses, which enables "Portrait Mode," and makes food look SO GOOD.
(But it was really meant for people.)
The 7 Plus and 8 Plus's cameras have that wide angle lens, plus a telephoto lens for close-ups with f/2.8 aperture.
There is also a new feature called "Portrait Lighting," which, I mean, this dog!!
Portrait Lighting, which is only available on the iPhone 8 Plus and X, simulates professional lighting using the iPhone's depth-sensing software, which identifies a photo's background and foreground. You can choose from Studio Light, which adds a light glow; Contour Light, which adds definition to your face; Stage Light, which adds a dramatic black backdrop; and Stage Light Mono, which is that same dramatic effect, but in black and white.
Studio Light is really nice, but the other effects are a little…Too Much for me.
The dual lenses also let you creep on Good Dogs with 2x optical zoom.
One of the more significant camera updates is good news for videographers.
Nicole Nguyen / BuzzFeed News
The recording rate (or frames per second) has now doubled. That means you can record smoother high-action 4k videos at 60 fps (previously limited to 30 fps), and slo-mo at 240 fps (previously limited to 120 fps).
Plz enjoy the above slo-mo of my bf belly flopping.
Here's another game for ya: True Tone edition.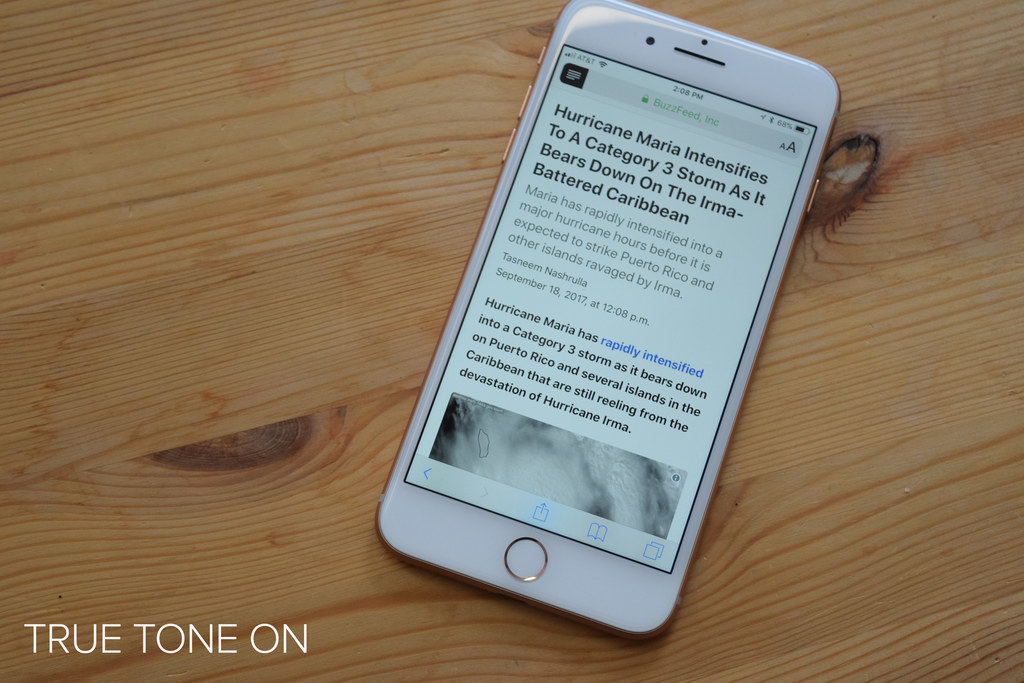 True Tone uses the phone's ambient light sensor to reflect the room's lighting, like a blank piece of paper. If the room has a warm tone, the screen will appear warm. If the room's lights have a cool tone, the screen will appear more blue. The feature is supposed to put less strain on your eyes — and while it's nice to know our displays are burning our eyeballs less intensely, True Tone is very, very subtle.
Going wireless is the ultimate F U to every Lightning cable I've ever owned.
The Biggest, Newest Thing this iPhone has to offer is wireless charging, which I know, has been in Galaxy phones forever. Don't @ me.
Qi is the wireless charging standard implemented in the new iPhones, which means that they'll be compatible with the hundreds of third-party accessories already available. And that's by design, because the iPhone 8 doesn't come with a wireless charger. You'll need to buy one separately. What I like about wireless charging is that it means minimal interaction with Apple's notoriously fragile Lightning cables. The less I have to use them, the longer they'll last, right?
It was amazing to just put my phone down on my side table instead of futzing around with plugging the thing into its port every night. The charge speed was about the same as plugging it in.
It was not amazing, though, waking up and finding out that my iPhone didn't charge at all, because it wasn't perfectly centered on the pad (I tried the Belkin charger, but my editor John Paczkowski found the same was true of Mophie's, too). If your phone is a little off-kilter, it won't charge. If your phone is face down, it won't charge. If you have a PopSocket, it won't charge.
Apple is working to fix the off-centered wireless charging issue with its own accessory, called AirPower, that can charge your iPhone, Apple Watch 3, and 2nd-gen AirPods case simultaneously. It won't be out until 2018, though, so it's not clear how much it'll cost.
And that's the thing: Wireless charging may seem convenient, but you have to buy an accessory to make it work, and you can't just lazily put down your phone because you still need to make sure it's centered and confirm it's charging.
Speaking of charging, the battery life hasn't changed, but the charging speed has (officially).
The battery life hasn't improved with the 8 or 8 Plus. Apple claims it's "about the same" as the 7 and 7 Plus: 12 hours of continuous Internet use for the iPhone 8, and 13 hours for the 8 Plus.
With the 8, I got an average of 13.5 hours of intense use (a couple hours of Spotify streaming, 30 minutes of YouTube, and an hour of texting, Instagram browsing, photo taking, with intermittent bouts of emailing and Slack-ing all day long) before the phone died. With the 8 Plus, I averaged about 14 hours under the same conditions.
I want to note that the performance of this battery, like all lithium-ion batteries, will decay over time, and need replacing in 1.5 to 2 years. After 500 charge cycles, iPhone batteries will only retain 80% of their charge.
What's different about the iPhone 8, however, is that it now supports fast charging (or, officially, anyway). That's supposed to give you 50% in 30 minutes with any charger that's 29 watts or higher. Regular charging, with the included five-watt iPhone adapter, powered up the devices 50% in one hour. In my tests using the 29W USB-C adapter with a USB-C to Lightning cable (sold separately for $74), I got 40% in 30 minutes almost every time, for both the iPhone 8 and 8 Plus.
Curiously, when I plugged my iPhone 7 into the fast charging setup, it was...also charged 40% in 30 minutes. Did the iPhone 7 unofficially support fast charging?
( ͠° ͟ل ͡°)
The 8, like the 7, is water- and dust-resistant, up to 3.3 feet deep for 30 minutes. It's not designed to go swimming. But it is really nice to know that if it did drop in the pool or toilet or bathtub accidentally, it wouldn't be like seeing $700 in cash catch fire right before your eyes. Which is amazing! And TBH, a killer feature in the new iPhones.
I took the 8 Plus for a couple dunks in the San Francisco Bay. And it's still truckin'.
You don't need the new iPhones to use the augmented reality apps coming to iOS.
Any iOS device running A9 and A10 processors can run augmented reality apps, too, which includes the iPhone 7, iPhone 7 Plus, iPad Pro, and iPad. I tried two apps: one called Sky Guide, that shows you the location of constellations and names of stars. The other was called Ikea Place, which lets you drop, rearrange, and visualize new furniture virtually in your own space.
Both apps ran smoothly, most likely due to the iPhone 8's new A11 processor, which has high-performance cores (the kind used for AR applications) that are 25% faster than the ones in the A10 chip iPhone 7. The AR apps feel novel — but the excitement wears off quickly. It's still a nascent technology that has fairly limited capabilities, since ARKit, Apple's augmented reality platform for app makers, just launched in June.
Bonus: a note on the Plus.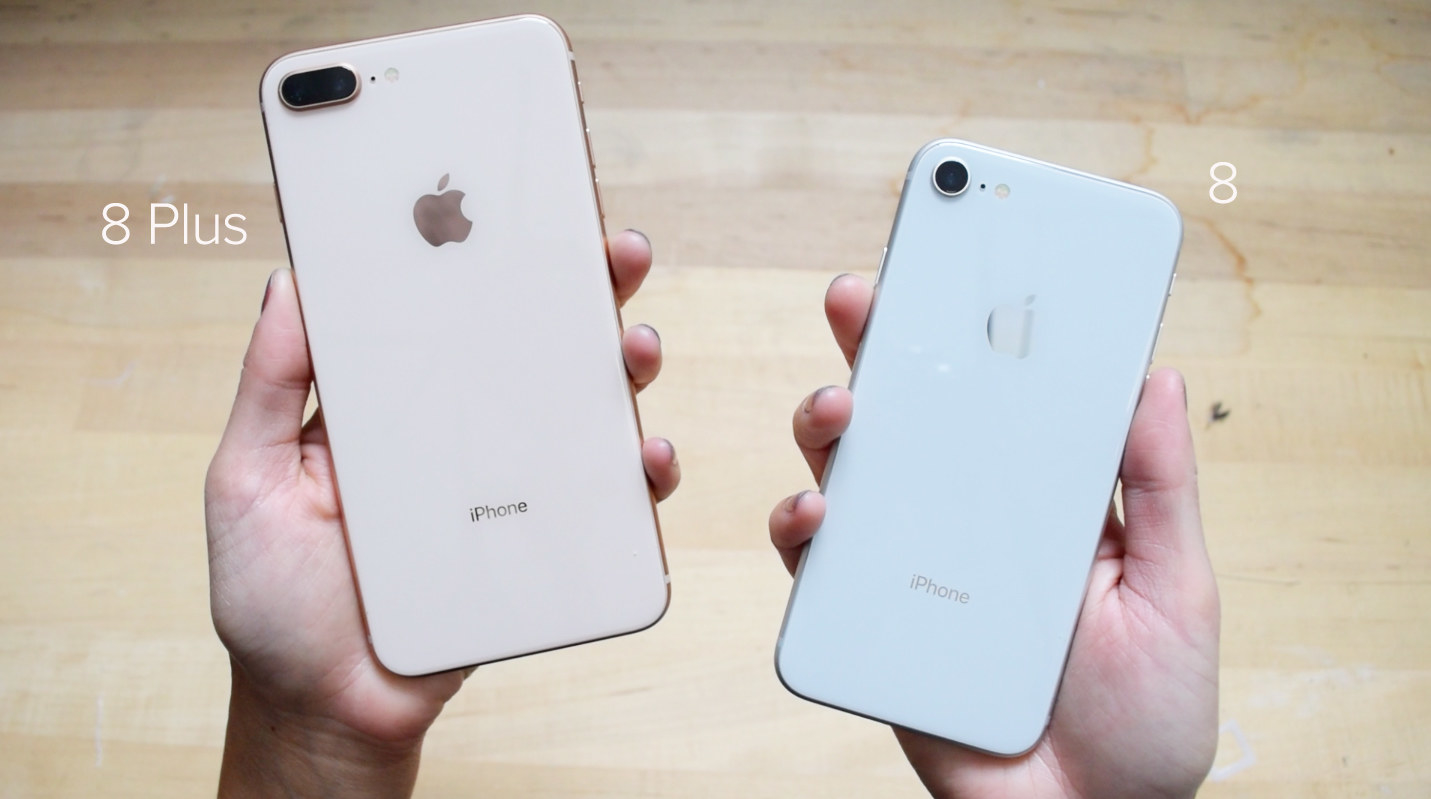 I got a little, er, bored reviewing this device, so I switched from the little phone (I have tiny hands) to the 5.5-inch Plus, which, at first, was amazing: so much screen, Portrait Mode was fun, creeping on dogs with the telephoto lens was great.
But it ultimately felt big and unwieldy, especially compared to the X (which has an even bigger screen than the Plus but is about the same size as the smaller iPhone 8), as well as Samsung's Galaxy S8 (5.8 inches) and Note 8 (6.3 inches), which pack a lot of screen into a skinny, comfortable-to-hold form factor.
Unless you're a photographer, filmmaker, ~lifestyle blogger~, or power user who needs all of that screen space, the 8 (or upcoming X) is the way to go.
The TL;DR is: if you need a new iPhone, get this one. But only if you really need it.
There's nothing bad about this phone. It's the same iPhone-shaped, iPhone-sized device that's been around for 3+ years. And that's okay! That shape and size is still working for a lot of people, and Apple focused on its longtime strategy of innovation by a thousand tweaks, under the hood.
If you're an iPhone user with no intention of switching to Android, here's the deal: The 8 is the phone those with an iPhone 6 or older will want. If you have a three- to four-year-old iPhone, it's a good indication that a) you want to stick with iOS, and b) you're not an early adopter or power user who needs The Newest, Bestest Thing.
The iPhone 8 will bring you up to speed. Compared to the older models, it has a much better camera, faster processor, second-generation Touch ID, 3D touch shortcuts, water-resistance, double the storage capacity (starts at 64 GB, $699 for 8 and $799 for 8 Plus) — and, now, wireless charging.
If you have a 6s or 7 that seems to be working fine, you don't need the 8. It won't feel like a major upgrade. At most, you'll need a $79 battery replacement and a software update to iOS 11 (available today!) to make your phone feel new again. Wireless charging is cool — but not *upgrade to a new phone when I have one that already works* cool.
The iPhone X fits a lot of screen and camera (the same dual lens as the 8 Plus) into a size you can actually fit in one hand, all of which sounds very appealing. But it doesn't just have a more expensive price tag ($999 to $1,150). AppleCare+ for the new phone will cost you more too. Plus, since the X is the first of its kind, I'm not sure it's worth the cost yet, unless you're an early adopter who wants spends a lot of time on your phone — though until I review it, I can't say for sure.
Android folks looking to switch to the iPhone or upgrade their devices, on the other hand, should hang on. There are a lot of good options out there: the gorgeous-but-bloated Galaxy S8, and the similarly bloated Note 8, which now has Samsung's best camera. But you might want to wait it out for Google to announce the new version of my personal Android pick, the Pixel, in just a few weeks, on Oct. 4.