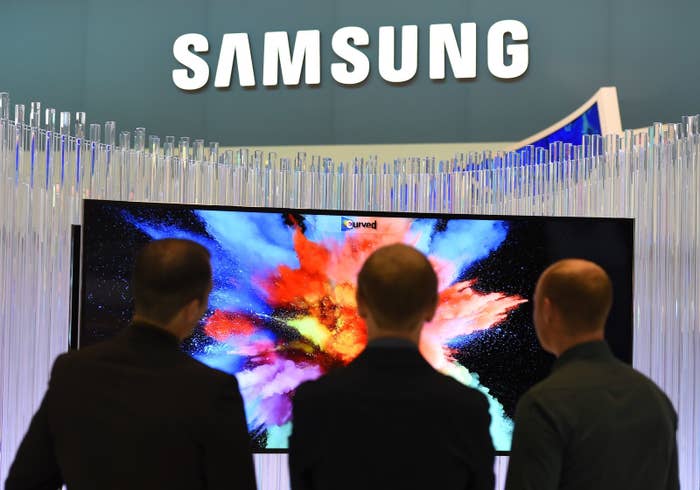 Over 40 million US households own smart TVs, a category that made up more than half of TVs shipped globally in the first quarter of 2016. These high-tech internet-connected displays offer viewers the ease of access to services like Netflix, games, and social media without a Roku, Chromecast, or other media streamer — but they also may be tracking your viewing habits and listening to your conversations.
"Smart TVs are testing the privacy expectations that consumers developed in the era of traditional television," said Bureau of Consumer Protection director Jessica Rich in her opening remarks at last fall's smart TV workshop hosted by the Federal Trade Commission.
Today's WikiLeaks release revealed that Samsung smart TV owners are particularly vulnerable to spying. Newly published documents detail a program called "Weeping Angel," an attack designed by the CIA and United Kingdom's MI5/BTSS that makes Samsung smart TVs look like they're turned off when, in fact, they're not.

The smart TV "operates as a bug, recording conversations in the room and sending them over the Internet to a covert CIA server," according to WikiLeaks, though in an interview today on The Late Show ex-CIA director Michael Hayden said, "These tools would not be used against an American," and, "There are bad people in the world that have Samsung TVs, too," in response to the Weeping Angel documentation published.
"There are people out there that you want us to spy on," said Hayden. "You want us to have the ability to actually turn on that listening device inside the TV to learn that person's intentions. This is a wonderful capability."
Here are some settings you should review if you're concerned about snooping corporations.
Samsung TVs
In 2015, Samsung drew criticism for its always-on voice detection privacy policy that stated, "Please be aware that if your spoken words include personal or other sensitive information, that information will be among the data captured and transmitted to a third party." Most Samsung smart TVs require users to press a microphone button before using voice commands, but the mic is always listening on models like the PN60F8500, which have voice recognition ("Hi TV"), as well as a built-in microphone and camera.
If you have a Samsung TV, there are several ways to turn off voice recording. On newer TVs, go to Home > Settings > System > Expert Settings > Voice Interaction and turn to off. On older TVs, it may be in Settings > select Smart Features > Voice Recognition > switch to off.
You can also go to Settings > Support > Terms & Policies and opt to "Disagree" with the policies for Viewing Information Services, Voice Recognition Services, and Nuance Voice Recognition and Privacy Notices.
If your TV offers gesture control or facial recognition to authenticate your Samsung account, you can turn this off in the Samsung Account settings menu or cover your camera with a piece of tape.
The alleged "Weeping Angel" attack revealed today, which was designed by the CIA to put Samsung TVs into a fake "off" mode, affects Samsung TVs with firmware versions 1111, 1112, and 1116, sold between 2012 and 2013 with "UNF" in the model name. While the attack suppresses most indicator lights on the TV, the blue LED on the back of the TV remains on.
The only way to defend yourself from this particular attack would be to either update the firmware or disconnect the smart TV from the internet entirely, which would essentially make it a dumb TV.
Samsung can also track your viewing habits and send that data to advertisers for targeted marketing purposes. To prevent this tracking, go to Menu > Smart Hub > Terms and Policy > SyncPlus and Marketing > disable SyncPlus.
Vizio TVs
If you own a Vizio TV, you can disable data collection by going to your TV's Menu > Settings > Smart Interactivity, or any option with Automated Content Recognition, and turning it off. It may also appear under System > Reset & Admin > Smart Interactivity or Menu > System > Reset & Admin > Viewing Data to Off.
In February 2017, Vizio agreed to pay $2.2 million to the Federal Trade Commission for failing to disclose when and how it collects user information and, more frighteningly, for transmitting the user data while it was unencrypted. "Automated content recognition software," which was pre-installed on Vizio TVs sold since 2014, captured a selection of pixels displayed on Vizio TV screens and sent that data to company's servers, where those pixels were matched to a database of TV shows, movies, and commercials. Essentially, the software recorded viewing history without the TV owner's explicit consent.
LG TVs
LV TVs also include tracking software, but by a different name. On webOS TVs, go to Setting > General > About This TV > User Agreements > and opt out of Viewing Information, Personal Advertising, and/or Voice Information. Opting out of Voice Information will disable voice control.
On older TVs, click on Settings > Options > LivePlus and toggle to "off." Some LG TV models may call this Collection of watching info.
In 2013, LG's smart TVs were found to have collected and sent data whether or not the Collection of watching info was set to "on" or "off" – but since then, LG pushed a software update that does not collect data when the user has opted out by toggling the setting to "off."
Sony TVs
Go to Home > Settings > TV - About > Legal information > View Privacy Policy and opt to disagree with the policy to prevent the device from sending information to Sony's servers. Older TVs may show Disable Upload Data instead.
Before I let you go...
When opting out of privacy policies and other user agreements, you may also be disabling automatic software updates. You may need to occasionally check for your TV's firmware updates or security patches and update them manually.
Additionally, if you use a streaming device like Roku, Chromecast, or Amazon Fire TV, your viewing information is also being collected. You can opt-out of collection for Chromecast, as well as Amazon Fire TV (Settings > System > Internet based ads to off). Roku collects search history, records voice searches, and uses cookies to track what you're watching. You can go to Settings > System > Privacy > and turn on Limit Ad Tracking to turn off personalized ads and prevent Roku from passing on identifiable ad measurement data to providers. Apple TV doesn't collect viewing or search data but, if you opt in, it does record a logfile that helps the company diagnose bugs or system errors.
Services like Hulu, Amazon Video, and Netflix are also tracking your viewing habits, no matter what platform you use. You can delete individual titles from your watch history, and those services will stop recommending similar titles to you – but they are looking at what you're watching and for how long.
Ultimately, it's always worth it to thoroughly review your tech's privacy settings options, whether it's a phone, console, or smart TV.
Realistically, you won't always be able to escape tracking, so it's important to at least be aware of what data is being collected and where's it's going. If your data is being sent elsewhere, make sure it's through encrypted means, so hackers won't be able to access it. You may also be able to turn on settings that anonymize the data and keep your personal info out of it (like "Limit Ad Tracking").