GoPro just unveiled two new cameras: the Hero 5 Black ($400) and the *slightly* more affordable Hero 5 Session ($300).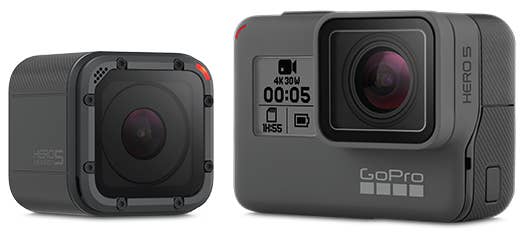 GoPro is known for its rugged, outdoor sports-friendly cameras and its newest releases are no different. Both cameras also come something a little extra: voice control. Here's what you need to know about GoPro's latest.

Both cameras are waterproof and can shoot 4k footage at 30 frames per second.
The Hero 5 Black and Hero 5 Session have the same water-resistance rating: submersion up to 10 meters (or 33 feet) without a separate housing case. Previously, GoPro's most advanced camera, the Hero 4 Black, needed a protective case to protect it from water exposure.

The cameras also have the same video recording capabilities at 4K resolution and stereo microphones. GoPro has also dropped micro USB ports in favor of USB-C. The Hero 5 Black also has a micro HDMI port.

GoPro is introducing two new features: voice control and digital image stabilization.
Voice control offers hands-free control of the cameras. You'll be able to say, "GoPro, take a photo" or "GoPro, start recording" in English, as well as German, French, Italian, Spanish, and Chinese.
The cameras also have video stabilization built-in for the first time. The software can produce smoother video capture than previous models.
The Hero 5 Black has a two-inch touchscreen and more advanced photo/video capabilities than the Session.
The Hero 5 Black has a touch display for changing settings, editing footage, and reviewing stills and clips, while the screen-less Session has a dedicated button for recording and is controlled through the companion GoPro mobile app.
The Hero 5 Black has the same photo/video capabilities of its predecessor, the Hero 4 Black: 12 megapixels for stills and, in addition to 4K at 30fps, 1440p video at 80 frames per second, and 1080p video at 120 frames per second – but is $50 less than the Hero 4 Black's original $450 price.
Additionally, the camera also includes GPS for location capture and the ability to take photos in RAW or WDR mode.
The Hero 5 Session, on the other hand, is much improved from the original Hero Session.
It can capture 10 megapixel photos (vs. 8MP), and 1440p at 60 fps (vs. 30) and 1080p at 90 fps (vs. 60), as well as 4K video, which was not available in the first-generation Session.
The cameras have a single dedicated button for recording.
They're also compatible with GoPro's first-ever drone, called Karma.
The drone, which can fly up to 400 feet high, 1000 feet away, can fold up and fit into a backpack that GoPro includes with the flying gadget. It costs $799 on its own.

The Hero 5 Black and Hero 5 Session will be available starting October 2 on GoPro.com.