If there's just one thing you need to know about Samsung's Galaxy Note devices, it's that they are, and always have been, Big Smartphones.
The Note was originally marketed as a "phablet," a horrible portmanteau of "phone" and "tablet" that insinuates the thing is both portable and productive, or something. Power users (aka people who do a lot of shit on their phones) have historically gravitated towards the Note because of its roomy screen and its precious tiny stylus — two features that differentiated the Note from Samsung's more popular Galaxy line, which aren't as large and don't come with a pen tool.
This year's model, the Note 8, is still designed to be a workhorse. But it's also so much more.
There are multi-tasking and note-taking features out the wazoo in this phone. But, for the first time, the Note is now *the* Samsung phone photographers (or, rather, phonenographers) should consider, because it has the best camera the Korean tech conglomerate has ever made. In other words, the Note's stylus is no longer its only major selling point.
Aside from the impressive dual-lens camera, all other features are incremental improvements or carry-overs from last year's disastrous Note 7, which shipped with faulty, exploding batteries and was recalled twice before finally being discontinued. The 8 has all the Samsung-y stuff: wireless charging, Gear VR compatibility, biometric security (iris and fingerprint scanning, and face recognition), 6GB RAM with 64GB of upgradable storage (mini SD cards up to 256GB), and compatibility with DeX, which is a dock, sold separately, that allows you to connect the phone to a monitor and use keyboard and mouse input.
The Note 8 has a smaller, more conservative battery, and Samsung says it's "committed to quality" now more than ever, with an eight-point battery safety check that includes extreme testing and X-ray inspection, plus additional testing by a third-party company, UL. All of that sounds like a good thing.
I've spent a week with the Galaxy Note 8, and though I'm still not a fan of the company's TouchWiz interface (all of the extra stuff Samsung adds to the phone on top of the Android operating system), it's clear that this is the most capable Samsung phone ever made.
Let's get right to it: that camera.
The third is that now the camera has a sense of depth (what Samsung calls "Live Focus"), which means it knows approximately how to get the blurry bokeh look that makes professional photos look so legit.
Apple's iPhone 7 Plus offers something similar: two lenses, one wide-angle and one telephoto, with a similar gauzy, out-of-focus effect called Portrait Mode. The Note 8 takes the concept a step further, by letting users adjust the background blur after the photo has been taken.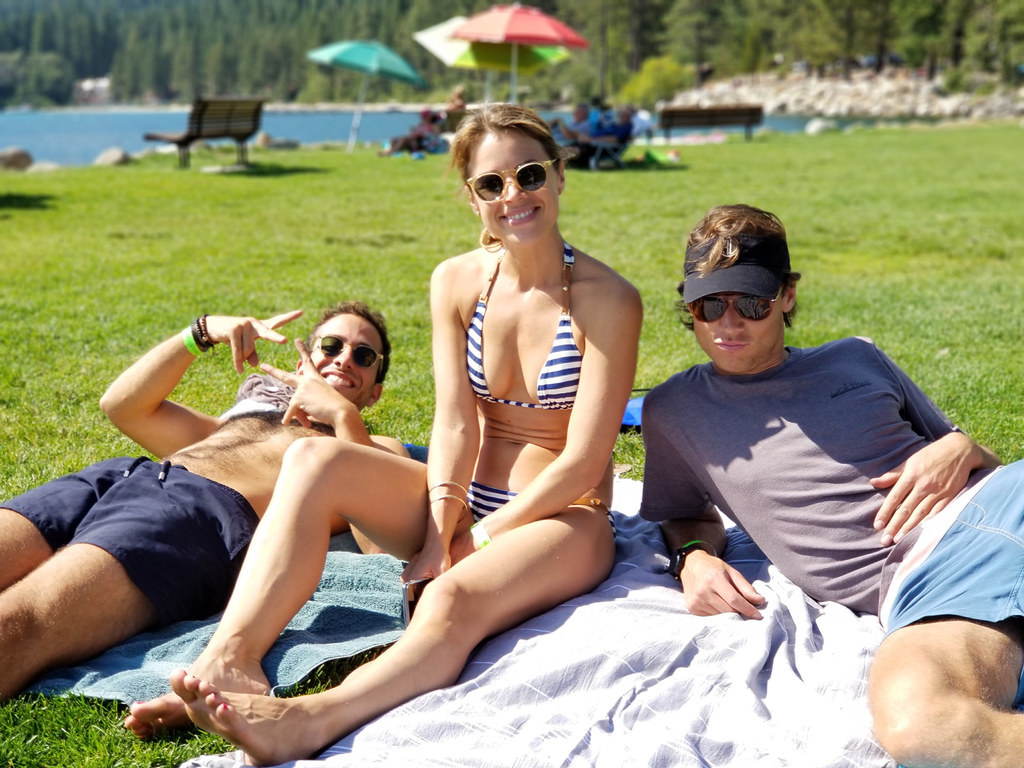 Live Focus sometimes misses and doesn't apply the depth effect to the full background (the rocks shown here, for example), but generally makes phone pics look really good.
On top of all that, the Note 8's camera has optical image stabilization, which reduces blur from the shakiness of your hand, on both of its lenses. Basically, this means that when zooming in at 2x with the Note 8, your photos will likely look less blurry.
Portrait Mode vs. Live Focus
2x optical zoom using telephoto lens with shaky arm
The camera is very, very impressive, and is clearly aimed at the photography-forward iPhone 7 Plus crowd. Of course, three new iPhones are expected to be announced in a few weeks, on Sept. 12, and who knows what kind of camera tech those devices will bring.
Other new features aren't nearly as wow-worthy.
"App pair" is a shortcut you can create that opens two apps in split-view, multi-window mode. You can access the shortcut easily by swiping in from the device's edge. It's a nice-to-have, but not an essential. The best use case I found for it was being able to open Google Keep and Chrome at the same time for grocery list making while recipe browsing.
"Live message" seems like it's inspired by iMessage's Digital Touch feature for iPhone users — and of all the features Samsung could copy from Apple it appears to have copied...the worst one?
It's basically sending an animated GIF to someone of you writing a very short phrase with glowsticks over a black background or a photo. You can't write more than about eight words with Live message, and the GIF itself looks pixelated and slow.
"Screen off memo," a way to jot down something with the stylus without having to unlock the phone, now supports up to 100 pages of notes (instead of just one page in the previous version), which is kind of awesome. It's a great feature for short to-dos.
Everything else has been introduced in last year's Note 7 or Galaxy S8. The S Pen stylus, for example, is the same as the Note 7's.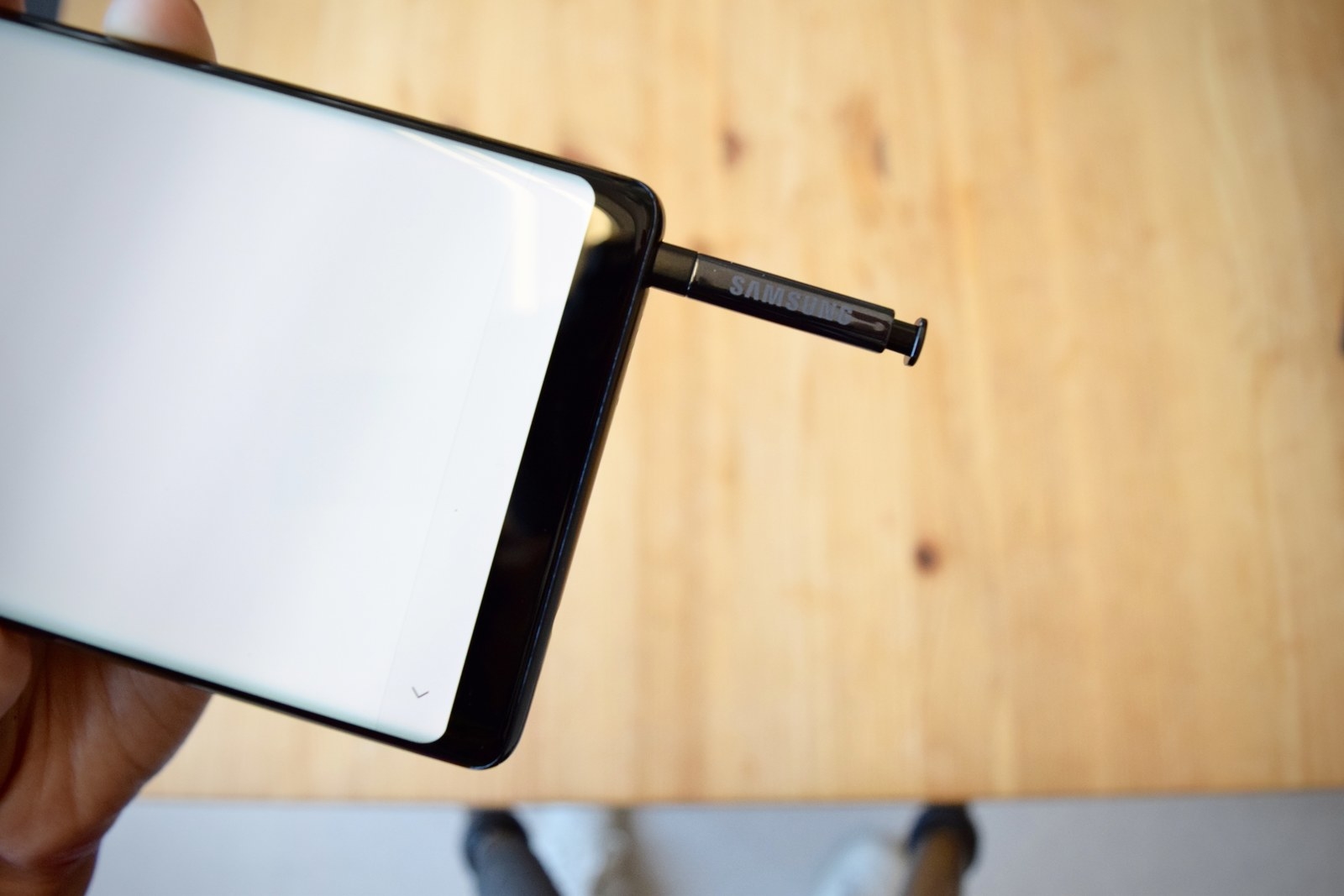 The Note 8 can't swim, but it's water-friendly.
The fingerprint sensor is still awkwardly placed on the back, and is a bit slow.
You have to pick the device up if it's on a table or take it out of its mount every time you want to unlock the device. In my experience, the phone has struggled with recognizing my left and right index finger. Your digit needs to cover the entire sensor to work, and since it's such a tall phone, it takes some hand fidgeting to get it right. It's also right near the camera lens (which has the same flatness and smooth texture), so the lens gets smudged 90% of the time.
The Note 8 looks like the Galaxy S8+'s fraternal twin.
The battery doesn't charge as fast as the Note 7 (and that's probably a good thing).
It took a little over two hours to fully charge the device (a bit more conservative than the Note 7's 50% capacity in 30 minutes claim). The phone got warm during charging, but not unbearable to touch.
Despite the smaller battery capacity, the phone should last more than a day for a normal user who spends most of their screen time on email, surfing the web with sporadic picture taking and casual gaming. The Note 8 offers a lot of features to save battery, like downgrading the screen resolution, limiting processing speeds, decreasing brightness, and turning the always-on display off. This absolutely helps stretch the device's juice for longer, up to 4 or 48 hours, depending on which power-saving mode you choose.
The tl;dr is that the Galaxy Note 8 is a beautiful phone with a seriously good camera — and the most expensive Samsung flagship phone on the market.