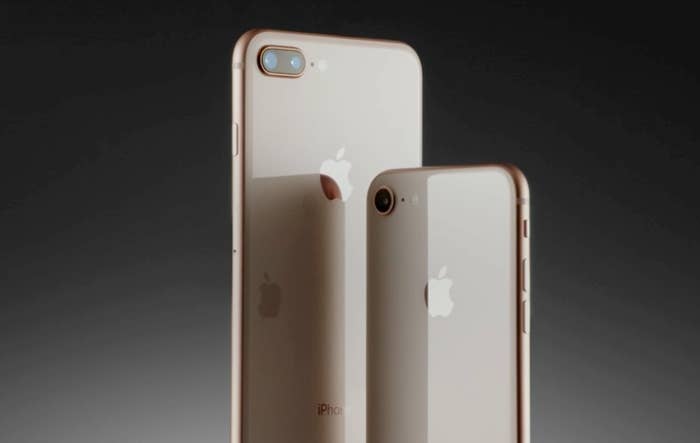 Today, for the first time, the annual September iPhone launch event was hosted at Apple's new Cupertino-based campus, in a new theater named after the company's late founder Steve Jobs. The first phones unveiled in the new venue were the iPhone 8 and 8 Plus, which feature a new glass and aluminum design, a faster processor, and wireless charging support.
This keynote is no ordinary one: This year marks the 10th anniversary of the iPhone, which first shipped in June 2007. The device ushered in a wave of touchscreen smartphones — and now makes up 70% of the company's revenue.
The phones are still 4.7 inches and 5.5 inches, respectively, and have Retina Displays.
Like the previous models (the 7 and 7 Plus), the 8 and 8 Plus are water-resistant (up to 30 minutes of submersion, 1 meter deep), and, sadly for headphone traditionalists, there's still no headphone jack.
What really set these new devices apart are their stainless steel border and glass front *and* backs, reinforced by steel. It's the "most durable glass ever in a smartphone." This means they can be charged wirelessly, without a cable. It's this new design that warranted the name iPhone 8, rather than a more incremental 7s, as is typical for years between bigger releases.
The new iPhone 8 and 8 Plus work with Apple's own wireless charging pad accessory, as well as all chargers with the Qi wireless charging support. Third-party offerings from Mophie and Belkin will also work. Next year, Apple will sell its own non-Qi, iPhone 8-compatible mat called the AirPower, which can simultaneously charge the Apple Watch Series 3 or the new wireless charging case for AirPods.
The 12 MP camera has a new sensor, and a new color filter.
The iPhone 8 can capture photos faster, with more vibrant colors. It also has a new LED flash with "Slow Sync," which helps create more uniformly lit backgrounds and foregrounds. While the 8 has one new larger and faster sensor, the 8 Plus has two new sensors for its dual-lens camera.
The Plus has a dual-, rather than single-, lens camera, with both a wide angle and telephoto lens (the non-Plus iPhone has just one wide angle lens). The dual-lens camera powers the Portrait Mode feature, which adds a professional camera-esque blur to the image's background. Apple is now introducing Portrait Lighting, which simulates different lighting effects. The feature will launch in beta for the new 8 Plus and 7 Plus. There's Contour Light, Natural Light, Stage Light, Stage Light Mono, and Studio Light.

Both the 8 and 8 Plus also have the "highest quality video recorder ever in a smartphone," according to Phil Schiller, VP of marketing at Apple. Slo-mo can now be shot at 1080p and 240 frames per second, double the frames of what was available previously.
The new chip inside is A11 Bionic (six-core CPU, 64-bit design). Its performance cores are 25% faster than A10.
The GPU is 30% faster, which is best seen in machine learning and gaming apps. This processing power is designed for machine learning, AR, and games — but you'll also see faster low-light autofocus, pixel processing for sharpness, and noise reduction when capturing photos.
Both devices will ship with iOS 11, which includes a slew of new features for the iPhone, including a new GIF-esque Loop mode in pictures, person-to-person Apple Pay within iMessage, a new male voice for Siri, photos that take up less space on your device, a redesigned Control Center, and a Do Not Disturb While Driving mode. Best of all: You don't need a new device to get the update. It will be free to download for those with the 5s, SE, 6, 6 Plus, 6s, 6s Plus, 7, and 7 Plus too.
The iPhone 8 starts at $699 at 64GB. The 8 Plus starts at $799, and can be preordered on Sept. 15.
Both ship on Sept. 22. The devices are available in silver, space gray, and a new gold finish.