Amazon's second-generation Fire TV Stick starts shipping to customers today.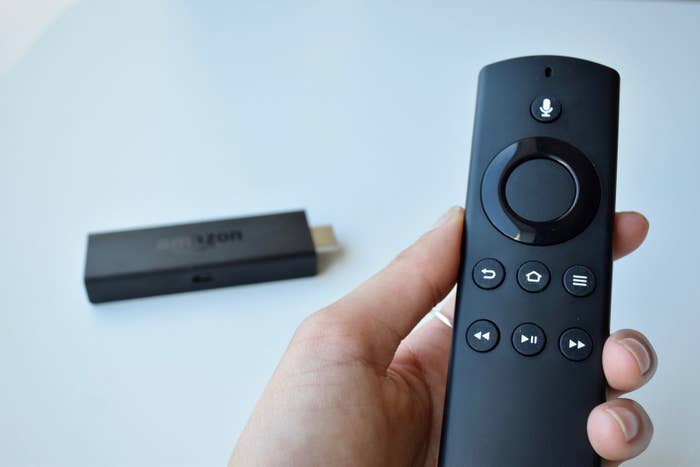 The portable media-streaming device, which is on sale for $40, includes a remote with a special button that activates Alexa, Amazon's voice-controlled personal assistant. Previously, the Alexa Voice Remote was sold separately for $30. You can ask Alexa to "find [genre]" like sci-fi or romantic comedy, "play [show]," or "skip ahead two minutes."
The new Fire TV Stick, which is no larger than a stick of gum, plugs right into a TV's HDMI port and doesn't look any different from the first-generation model introduced in 2014. Like its predecessor, this Fire TV Stick can stream shows from online services like Netflix, Hulu, HBO Now, and, of course, Amazon Prime to the big screen. It also still has 8GB of storage and 1GB of memory.
What is new is what's inside. The gadget now runs on a quad-core processor (up from dual-core) and supports 802.11ac Wi-Fi routers (the previous model only supported up to 802.11n, which has slower data transfer speeds).


The biggest upgrade is the Stick's redesigned, more personalized software, which will be available for all Fire TV customers, starting with the new Fire TV Stick.
The Fire TV Stick now features rows of personalized recommendations, which will surface show and movie suggestions based on the user's viewing history for services they subscribe to.

In search results, Amazon also shows all of the services that a given movie or TV show is available on. The device will remember whatever the user selects as a preference, and default to that service the next time they play a movie or TV show. It will also default to where you can watch that content for free. For example, if The West Wing is available to stream on Netflix and rent or purchase on Amazon Video, the Fire TV Stick will choose Netflix.

Other Fire TV customers will get an over-the-air update for the redesigned software later this year.

Amazon's streamer goes head-to-head with the Roku Streaming Stick ($50), announced in April, which also has a quad-core processor and unbiased search, and Google's Chromecast ($35), which uses the phone as a remote and can mirror Android and tablet screens.

The Fire TV Stick is the more affordable, more portable media streaming device in Amazon's lineup. The Fire TV ($100) is a box-like device that can be connected to the internet via ethernet, has double the memory of the Fire TV Stick, and supports 4K Ultra HD content. That more premium streamer is more in line with Chromecast's new 4K-ready Ultra ($69), Roku Ultra ($130), and Apple TV ($140).