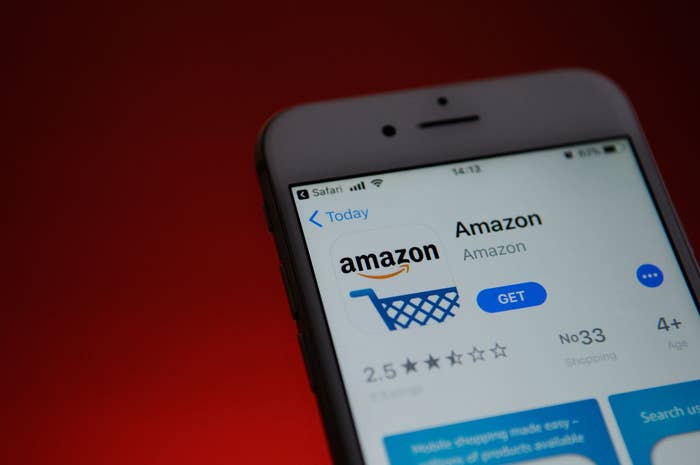 The next time you come across an Amazon product with hundreds or thousands of reviews, look closely. You might find some of them are for completely different products.

Take this listing for a $10 iPhone charging dock. The top customer review for the product was actually a 2016 comment on a "Culinary Torch" — the sort of tool you use to make crème brûlée. "Great for making the perfect dish!" read the five-star review, alongside the customer's photo of the torch.
The seller of the charging dock, Lazaga, did not respond to a request for comment through Amazon's contact seller form. The review was removed after BuzzFeed News sent Amazon an inquiry.
The mismatch between the product and the review may appear random, perhaps a glitch, but it's a deliberate tactic Amazon sellers use to accumulate reviews. They take an existing product page, then update the photo and description to show an entirely different product. By retaining all the existing reviews, the new product looks more tested and legitimate to shoppers — and in the world of online reviews, quantity is key. More ratings make a product appear to be more well-reviewed and, ultimately, boosts sales.
"Customers normally don't read reviews," said an Amazon electronics seller, who wished to remain anonymous. "They usually base their decision on how many reviews the product has and what the star rating is. ... The ones that do read them usually read the latest reviews or the ones voted most helpful." Some sellers, he said, even hire people to hit the "Helpful" button on a review so that it appears first (a practice that is banned by Amazon's seller guidelines).
"Customers normally don't read reviews. ... They usually base their decision on how many reviews the product has and what the star rating is."
When it comes to product reviews, sellers "need quantity, or they start dropping in sales rank," said Chris McCabe, a former Amazon employee who now runs his own seller consulting business.
Many Amazon customers shop on the site by searching for a keyword, and sellers desperately want to appear on the first page of those search results, McCabe said. A product with a lot of reviews is more likely to be on the first page than a new listing with just a handful of ratings, according to McCabe.
"It takes a lot to be visible. Most people need 30, 40, 50, and then they try to get hundreds [of reviews] to remain relevant on a good selling listing," he said.
Amazon's rules for sellers do not allow updating an existing listing this way. While the platform allows sellers to list different variations of a product together (and the reviews for those variations) — for example, a T-shirt available in three different colors and sizes can be combined into one page — the rules explicitly state: "Do not list different products together," and "Do not use variation themes incorrectly." It also gives a few examples. A charging cable and a portable charger, while related, should not be listed on the same page. Similarly, a bag with handles and a bag without handles are two different styles, and should have two different pages.

"Sellers who do not follow these guidelines will be subject to the removal of their selling privileges and/or listings," an Amazon spokesperson said in a statement to BuzzFeed News. Amazon did not respond to questions about why this kind of activity still occurs on the platform, or about specific examples in this story.

Frank Dorman, a representative of the Federal Trade Commission, which regulates advertising, said, "Without commenting on any specific example, what we can say is that it's deceptive to misrepresent that reviews for one product apply to a different product." Dorman noted that fraud and deception are treated equally under the FTC Act.
And yet, sellers do list different products together, abusing their ability to add variations — just one of the review manipulation techniques, in addition to purchasing fake reviews, that sellers use to stand out in Amazon's intensely competitive marketplace, which data firm ScrapeHero estimates now includes 564 million products just in the US.
BuzzFeed News found items across many different Amazon categories — electronics, cookware, health and personal care — that include reviews that refer to wildly different products.
This earbuds listing includes a May 15 review that reads, "If you are looking for a long lightning charger, this is the one to get." Based on a detail in the review, it appears the charging cable was added as a product "color" variation ("Earphones 46") to the earbud listing by the manufacturer, CaseyPop.



A single page can be manipulated multiple times over the years. Based on the reviews for a hair-straightening brush sold by AsaVea, the listing was for an SPF 30 lotion in 2006, and then a deodorant in 2010, and then a St. Ives face scrub in 2012, and then a mascara in January 2018, before ultimately becoming a hair-styling tool.
And of the 405 reviews on the same seller's — AsaVea's — listing for a blackhead remover peel-off mask (featured as an Amazon's Choice produce), 145 are for an oil-free moisturizer. Shoppers can sort reviews for different products by clicking on the review's "style name."
It's not just a phenomenon for third-party seller listings, either: At least one listing managed by Amazon itself combines reviews for multiple products too, in a slightly different way.
Over a dozen marble kitchen items — ranging from a pastry board to a utensil holder — made by Fox Run Brands are grouped under the one listing as different "styles." Together, this "single listing" has amassed 3,421 reviews.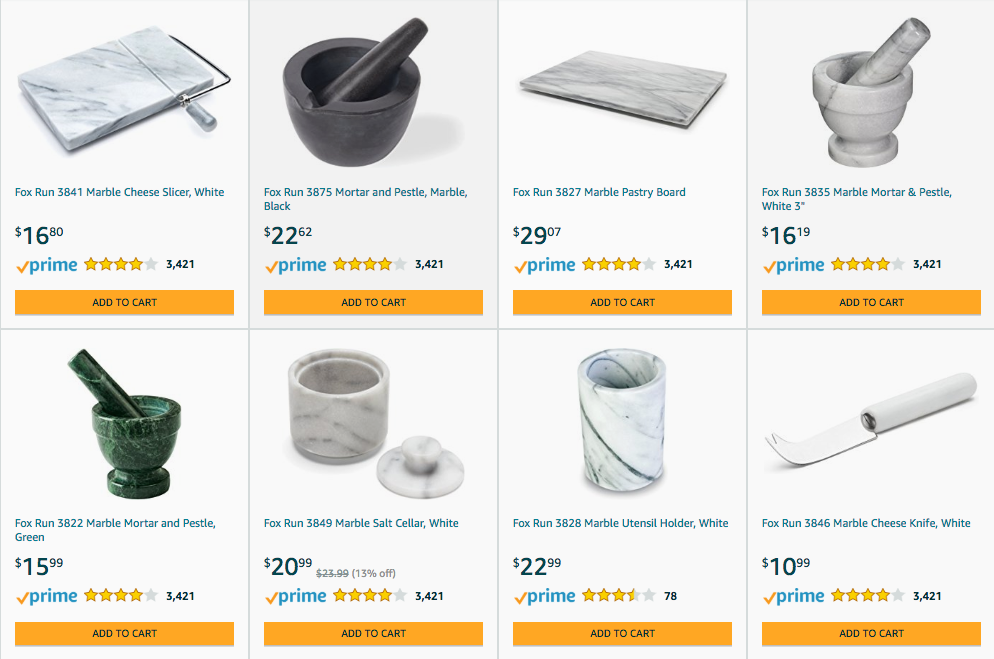 Fox Run Brands acts as the wholesaler to Amazon (which sells and ships the product) and submits proposals to Amazon for how the products should be listed. Tyler Leslie, a Fox Run Brands e-commerce marketplace manager, said that none of the company's proposals, including merging all of its marble offerings into one listing, have ever been rejected by Amazon. This, however, appears to contradict Amazon's own policy to "not list different products together."
"Vendors are encouraged to variate products together when products are similar," Leslie said, as customers who buy a marble salt cellar likely want a marble rolling pin to match.
Still, it's easy to see how shoppers, quickly glancing at a highly reviewed marble cheese knife, will mistakenly assume all 3,000-plus reviews are for a cheese knife, when, in fact, 640 of them are for a rolling pin.

Shoppers who take the time to leave genuine reviews feel tricked too.
Longtime Amazon customer Marat Nepomnyashy was scrolling through his Amazon purchase history earlier this year, when he noticed pictures of products he didn't buy. He clicked on the product page, and was surprised to discover that an extended battery he bought in 2014 was now a ZeroLemon clip-on Bluetooth speaker. "I realized that the product sold has been switched, and my positive review was now promoting this new product that I had nothing to do with."
Nepomnyashy, who calls the practice "review reuse fraud," contacted the seller, Bastexwireless, to complain. A representative for Bastexwireless replied to him in an email (addressing him as "Matt"), stating, "Zerolemon decided to change the listing to keep the product reviews." She also added that, as a seller, "We do not have control over the listings. The listings are managed and created by Zerolemon only."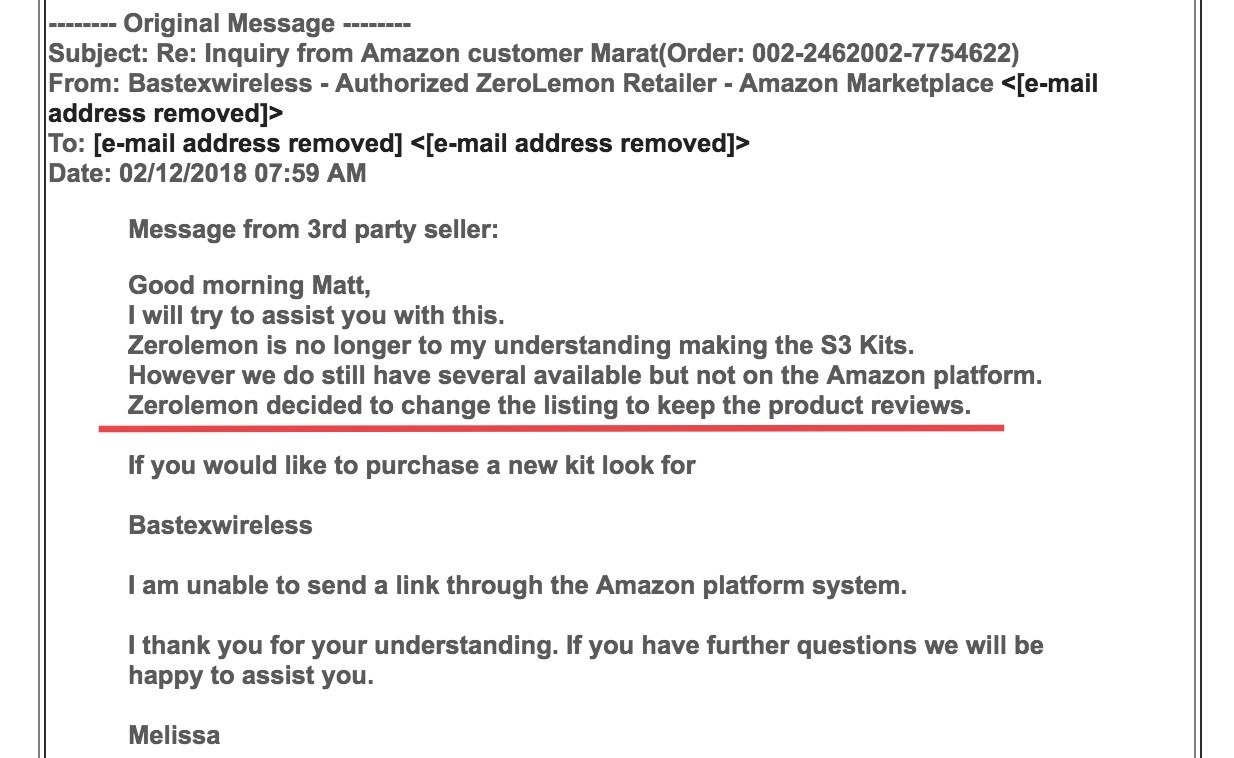 Today, multiple reviews — including the top-rated review — for the "ZeroLemon ToughSound IPX8 Waterproof & Portable Wireless Bluetooth Speaker" are still for a battery. The listing page has amassed over 2,100 reviews with an average rating of 4.3 stars.
Some of ZeroLemon's other listings also include irrelevant reviews. The seller did not immediately respond to a request for comment.
"I feel annoyed that my positive review, as well as those of numerous others, have been exploited to mislead shoppers, and to give the swapped-in product an unfair advantage over its hardworking competition," Nepomnyashy said.
Adding to the problem is the fact that there are simply too many listings for Amazon to moderate, according to consultant Chris McCabe, who was formerly on Amazon's seller performance evaluation and policy enforcement team.

"There's not a good way to scale this work," he said. "With policy violations, listing violations, and competitors sniping at each other, they've got their hands full," McCabe said. ●