The First iMac Update In Two Years Ships Today
The new 2017 iMac has all-modern innards, but still looks very much like it did in 2012.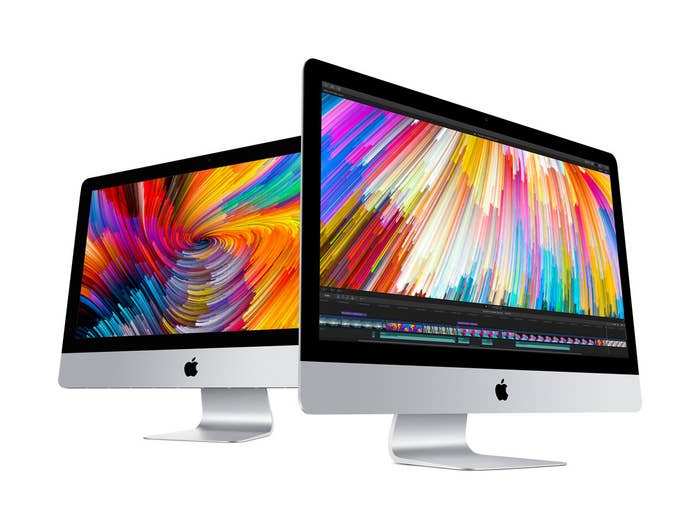 The last update to the iMac was all the way back in October 2015. Then, earlier this week, Apple announced it was finally refreshing its desktop computer line with the newest processors (Intel's seventh generation Kaby Lake chips) and faster storage and graphics, too.
I've only spent a day with the new 2017 iMac with a 4k Retina display — and that's not enough time to take in one of the most powerful computers Apple has to offer. But here's what I know for sure:
The iMac is bright enough to take outside.
I know, because I tried. (Do you not also dream of working on a high performance desktop computer in the open air?) And, though I wouldn't recommend it (because heat, the elements, etc.), the new iMac's screen is finally bright enough to work in direct sunlight. Window seats, rejoice!
It's 500 nits bright, the same as last year's MacBook Pro and MacBook with Retina displays. Apple says that's 43% brighter than the October 2015 model.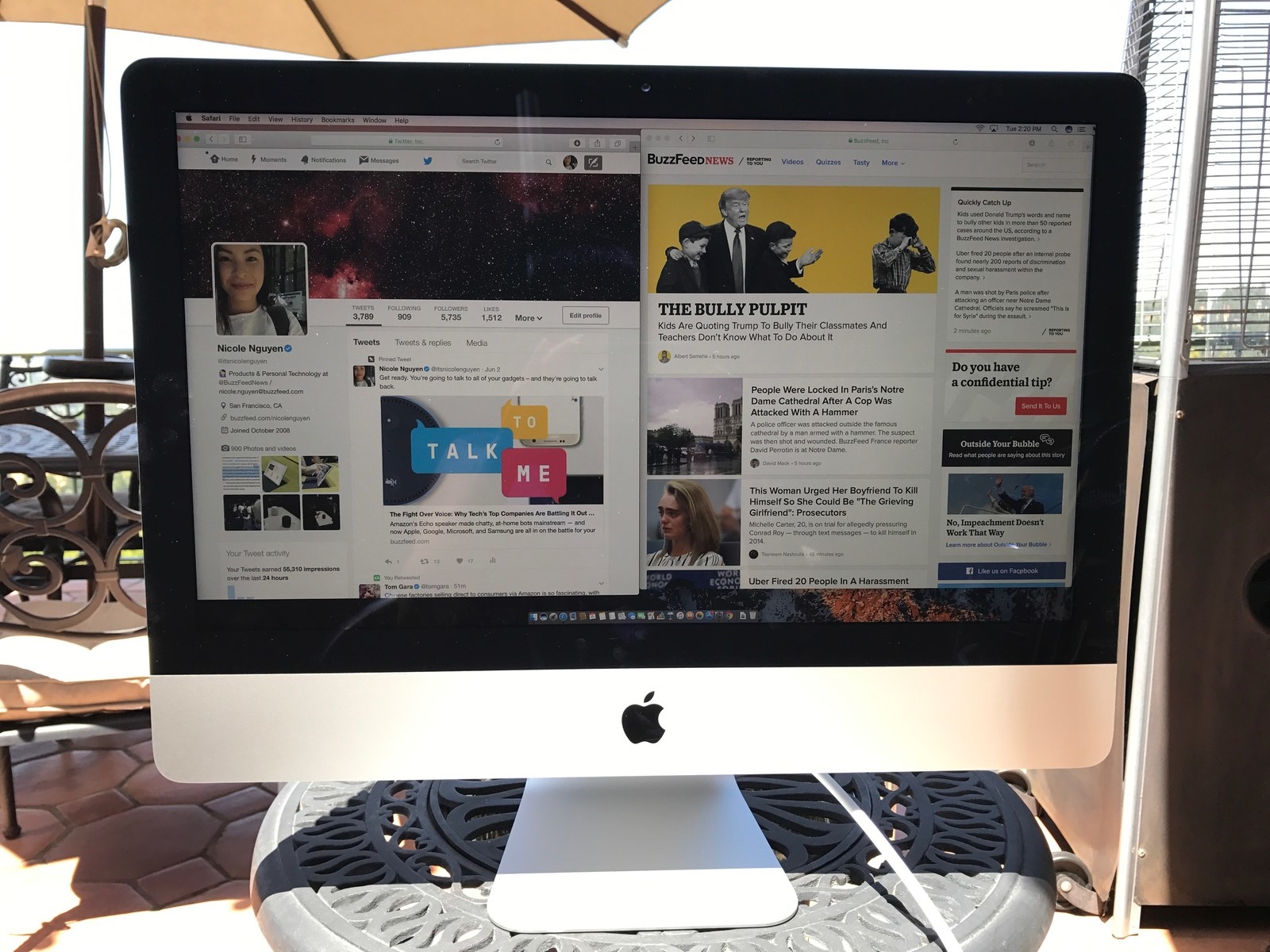 The iMac's design hasn't changed.
There's a vent in the back, and two new Thunderbolt 3/USB-C ports, which, compared to Thunderbolt 2, offer twice as fast data transfer and display bandwidth. That means you can connect the iMac to two 4k displays or one 5k display. But the essential design, meaning the silver hardware and the thick bezel around the display, remains the same.
You can now stuff even more memory into the computer.
The 21.5-inch model can go up to 32 GB, and the 27-inch can go up to 64 GB.


The verdict on everything else is still out.
The truth is: the iMac's new innards are where its real updates live. Because I only got a day with it, over the next few weeks, I'll use the new iMac as it's meant to be used – cutting videos, editing photos, watching 4k movies, playing games. Then I'll publish an update to this first impressions review.
Until then, here's a look at what's new inside of the 2017 iMac. There are a lot of configurations, so hang on tight. To be clear, there are three iMac base models: a non-Retina 25-inch iMac ($1,099+), a 4k Retina iMac ($1,299+), and a 5k Retina 27-inch iMac ($1,799). After picking the base model, you can choose a unique cocktail of specifications based on what kind of performance you need, including processor (i5 or i7), memory (8, 16, 32, or 64GB), and storage capacity (1, 2, or 3 terabyte Fusion Drive, or 256GB, 512GB, or 1TB solid state drive).

The iMacs now have the latest Intel processors, and all Retina iMacs ship with quad-core chips. The 27-inch models now offer Turbo Boost (which kicks your computer into overdrive when you're running especially processor-intensive applications) up to 4.5GHz, while the 21.5-inch Retina 4k model goes up to 4.2 GHz.

Graphics are improving all around, too. The non-Retina, entry-level iMac gets an Intel Iris Plus 640 GPU, and the 21.5-inch with 4K offers the Radeon Pro 555 and 560 graphics cards. The 27-inch 5k can be configured with Radeon Pro 570, 575, and 580 graphics.
Stay tuned for what the heck this spec salad actually means!