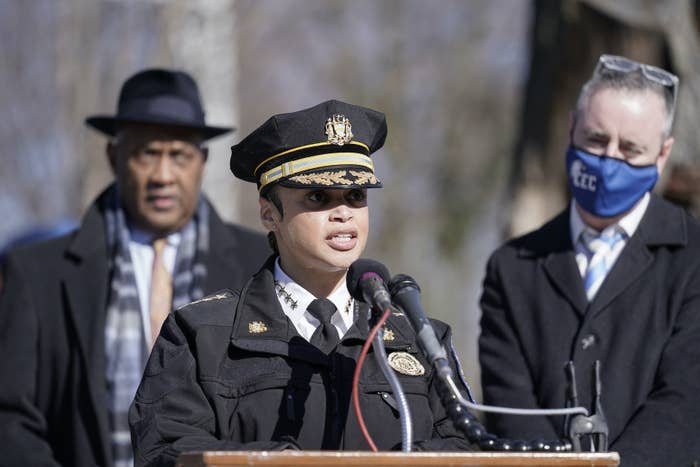 Police in Philadelphia fatally shot a 12-year-old boy in the back moments after a bullet struck an unmarked police car on Tuesday evening.

The victim, identified as Thomas Siderio, was pronounced dead at Penn Presbyterian Medical Center minutes after he was shot while allegedly holding a gun and running away from two officers, police said. Authorities described him as a white male.
"The life of a young man was cut tragically short, and we should all be questioning how we as a society have failed him and so many other young people like him," Philadelphia Police Commissioner Danielle Outlaw said in a statement Wednesday.
In her statement, Outlaw said that "a young child with a gun in their hand purposely fired a weapon at our officers and by miracle, none of the officers suffered life threatening injuries."
However, Deputy Commissioner Benjamin Naish said Wednesday that police were still investigating who fired at the vehicle, the Associated Press reported. He also could not say if Siderio was pointing a gun at the police vehicle while fleeing.
Just because the victim was running away from the police and was shot in the back, Naish said, "doesn't mean that he wasn't continuing to be a threat to the officer."
None of the four officers were wearing body cameras, authorities said.
The officers have been placed on administrative duty following what Outlaw promised will be a "fair and thorough investigation" into the case.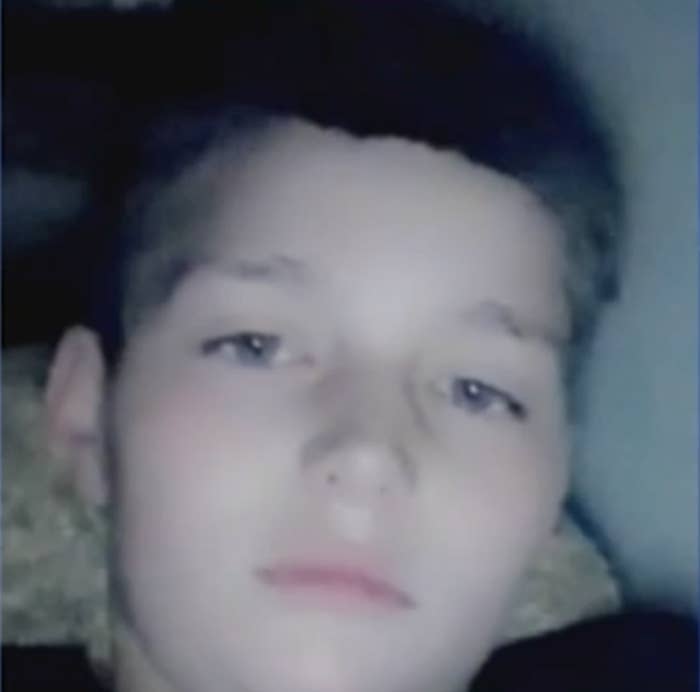 The incident began when four plainclothes officers were in an unmarked vehicle around 7:24 p.m. on Tuesday in South Philadelphia as part of a task force investigating unlawful firearms possession. They observed Siderio standing in a corner with a teenager who was wanted for questioning in the ongoing investigation, police said in a press release. The officers drove toward the two individuals and activated the vehicle's emergency lights.

"At that point, they heard gunfire and glass shattering from the rear passenger window," police said. The bullet struck the inner doorframe, went through the passenger's headrest, and stopped in the vehicle's headliner.
The officer sitting in the rear passenger seat was struck by shards of glass in his face and eyes, according to the police.
Two other officers got out of the vehicle and began firing at Siderio; authorities said he was holding a gun as he ran away. One of the officers fired his gun twice at Siderio, striking the boy in the upper right back with the bullet exiting his left chest. Siderio was taken to the hospital and pronounced dead at 7:29 p.m. on Tuesday.
The officer hit by the glass was treated at a hospital and released. No other officers or civilians were injured.
In footage from a doorbell camera in the area, obtained by CBS Philly, one of the officers appears to say, "I'm bleeding!"
Police questioned the 17-year-old who was with Siderio but later released him.

"What I heard was when the cops pulled up in an unmarked car, they thought someone was jumping them because they slammed on the brakes. So the kid shot because he thought somebody was going to shoot him," the teenager's stepfather, Salman Khan, told Action News.
Police alleged that the gun Siderio was holding was a Taurus 9 mm semiautomatic handgun that had been stolen.
The victim was a seventh-grader at George W. Sharswood Elementary School. The school did not reply to BuzzFeed News' request for comment. Siderio was reported missing in 2020 when he was 11 years old, but he was found days later.
In a statement to BuzzFeed News, Keisha Hudson of the Defender Association of Philadelphia, said, "While we realize that not all the facts are in, we're deeply troubled by reports of a twelve-year-old child being shot in the back by police. Because police narratives in these situations are often incomplete and ever-changing, (e.g., the initial reports of George Floyd's death being a medical condition), we call on the police department and the district attorney's office to conduct a thorough investigation into this shooting and to be responsive and transparent with the public."