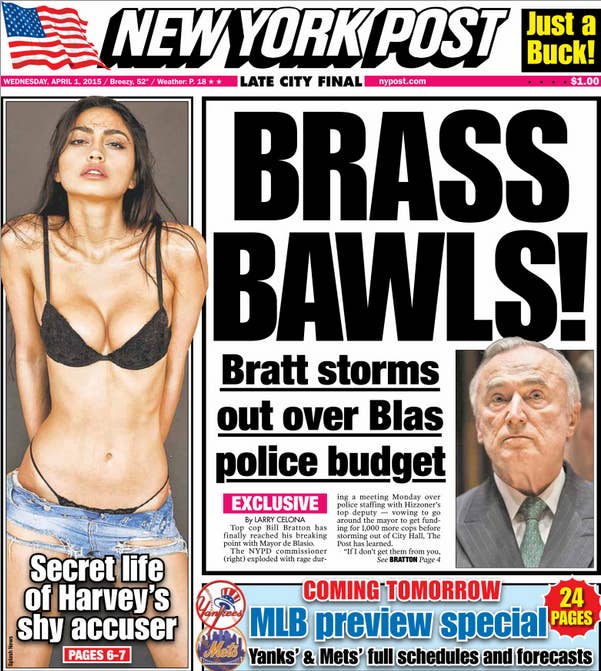 Harvey Weinstein's spokesman on Wednesday did not deny that he is involved in the New York Post's coverage smearing the woman accusing the Miramax founder of groping her.
Ken Sunshine, who has a history of representing big-name Hollywood clients, told BuzzFeed News "we are saying nothing beyond the statement" when asked about the Post's coverage, which attempts to portray the alleged victim's sex life in an unflattering light.
On Wednesday, the Post plastered a lingerie photo of Weinstein's accuser, a professional model from Italy, on its cover. A headline – positioned between the alleged victim's legs – promoted two articles about the "secret life of Harvey's shy accuser."
The actual articles included a re-hashing of a 2010 sexual assault lawsuit the accuser filed against a man in Italy — the article's lead sentence claimed she was "no stranger to sexually charged lawsuits." Elsewhere, the article said that she attended the Broadway show "Finding Neverland," which Weinstein produced, after she made the assault allegations. The Post claimed she got the tickets for free, but didn't say from who.
The Post has also ran details of the model's testimony about a sex party allegedly thrown by former Italian Prime Minister Silvio Berlusconi. She testified she left the event and didn't take part in it.
Sunshine refused to say on Wednesday what he thought of the coverage and whether he had played any role in it, instead referring BuzzFeed News to a previously prepared statement. He also did not answer questions about whether potential sexual assault victims should be publicly identified and scrutinized before a criminal investigation is concluded, also referring to the statement.
The statement reads: "We are cooperating fully with the authorities, and are confident that we will be fully vindicated. We will have no further comment."
Rubenstein Communications, the public relation firm that represents the Post did not immediately return a request for comment.
Weinstein's accuser, identified in local media as being 22 years old, told the New York Police Department that the producer groped her breasts Friday in his office at the Tribeca Film Center on Greenwich Street.
Both she and Weinstein have been interviewed by the NYPD. The Manhattan District Attorney is now running the investigation, and would not comment Wednesday on the practice of identifying alleged sex assault victims.
The New York Post is represented by Rubenstein Communications. A previous version of this article stated that BuzzFeed News had reached out to the newspaper's spokesman for comment. In fact, BuzzFeed News had mistakenly reached out to Rubenstein Public Relations, a firm that does not represent the New York Post.