Virgin Galactic's SpaceShipTwo Explodes In Mid-Air, Killing Pilot, Injuring Another
"Today was a tough day," Virgin Galactic's chief executive said Friday. "But the future rests in many ways on hard days like this." Updated — Nov 1., 3 p.m. ET: The pilot killed has been identified as 39-year-old Michael Tyner Alsbury of Tehachapi, California.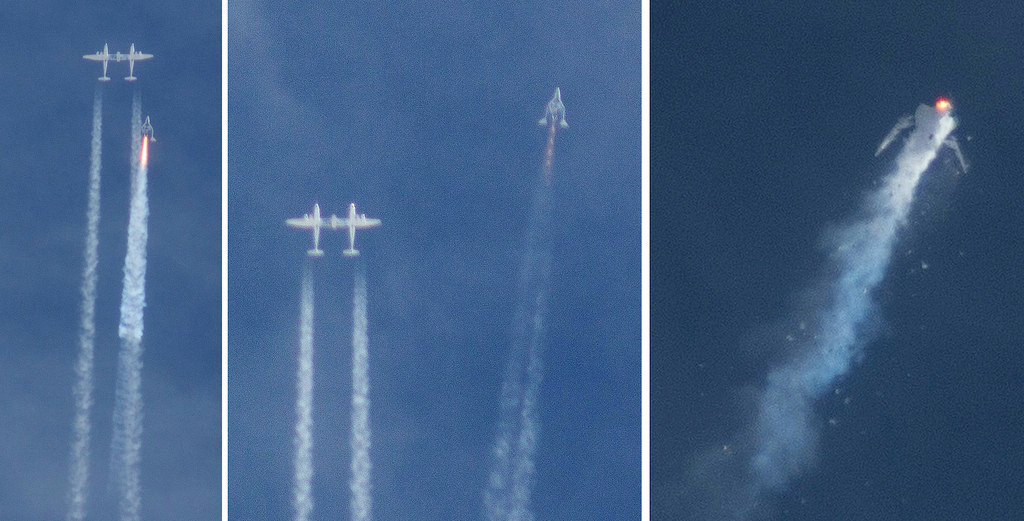 A spaceship designed to carry tourists into space crashed in California on Friday, killing one pilot and severely injuring another.
The craft, called SpaceShipTwo, was operated by Virgin Galactic. The company confirmed on Twitter that the spaceship was lost during a test flight over the Mojave Desert.
Local police officers told Reuters that one of the two pilots had died in the crash while the other managed to eject, but suffered severe injuries.
The pilot who died was identified on Saturday as 39-year-old Michael Tyner Alsbury of Tehachapi, California, the Associated Press reported. He worked for Scaled Composites, billionaire Richard Branson's company that is working to develop spaceships for a space tourism company.
Alsbury was a father of two and a husband to Michelle Saling, who told the Daily Mail, "I have lost the love of my life. I am living in hell right now."
The pilot who survived the crash has not been identified.
In a statement, the Federal Aviation Administration said that there were only two people on board the spaceship at the time of the accident, and that it would continue to investigate the incident.
Speaking at a press conference on Friday at Mojave Air and Spaceport, officials with Virgin Galactic and other companies involved with the SpaceShipTwo project offered their condolences to the families of the deceased pilot.
"Space is hard," said George Whitesides, Virgin Galactic's chief executive. "Today was a tough day. But the future rests in many ways on hard days like this."
Kevin Mickey, the president of Scale Composites, the company that conducted the test flight for Virgin Galactic, said that the spaceship was using a new type of fuel which had been tested but never used in flight.
"This motor configuration had flown a few times," he said. "This was a new fuel formulation that had been tested on the ground."
The officials confirmed this was the SpaceShipTwo's 55th flight.
More than 800 potential passengers have paid up to $250,000 for a seat in SpaceShipTwo, Bloomberg reported. Richard Branson, Virgin Galactic's billionaire owner, has repeatedly said that he hoped commercial flights would begin as early as spring of next year.
The SpaceShipTwo crash marks the second accident involving a spacecraft in less than a week. On Tuesday, a cargo rocket operated by a NASA contractor exploded during take-off in Virginia.
Aerial pictures taken by news helicopter showed debris scattered across the Mojave Desert.