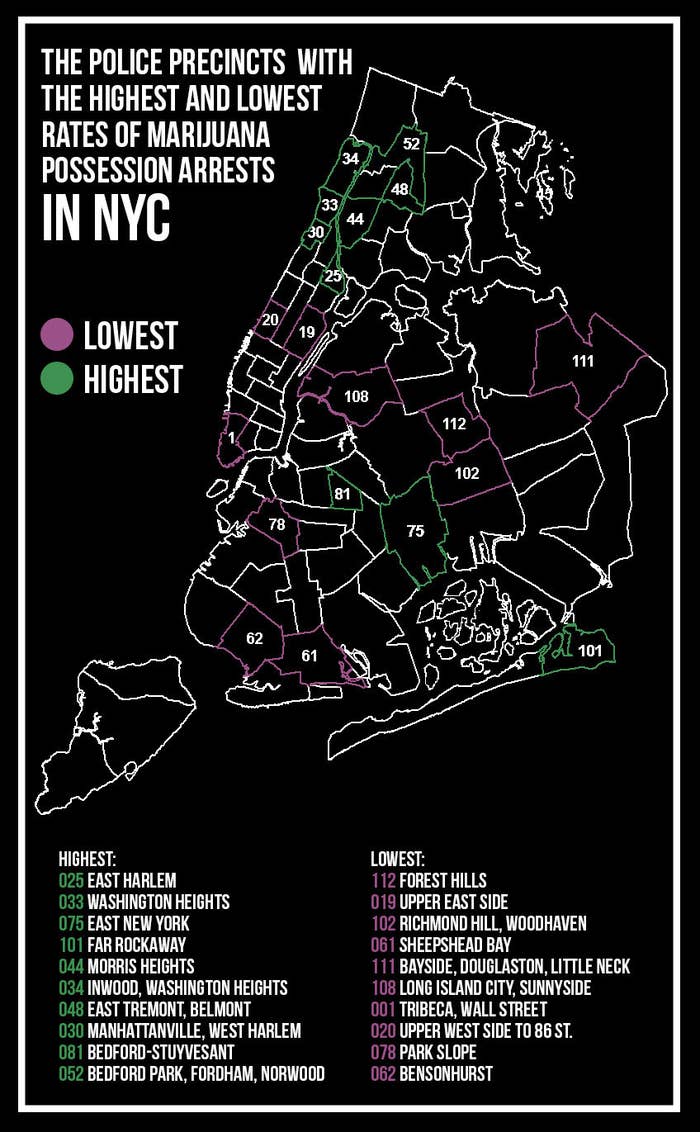 NEW YORK CITY — The Upper East Side and East Harlem are only three subway stops apart in Manhattan. But if you live in the latter, you are 112 times more likely to be arrested for marijuana possession. You are also more likely to be poor, and black or Latino.
These race and class disparities in drug law enforcement extend across the city, according to a report published this week by the nonprofit Drug Policy Alliance, which advocates for reforms to current drug laws.
The group analyzed the cases of 15,324 people arrested by the New York Police Department for low-level marijuana possession charges between March to August of 2014. The DPA said its conclusions highlight how little has changed since the city elected a progressive administration that took office on Jan. 1 with promises to end discriminatory policing.
The DPA's analysis, based on data from the U.S. Census and the New York state Division of Criminal Justice Services, draws a map in which ethnically diverse neighborhoods in upper Manhattan and central Brooklyn see scores more arrests for marijuana possession than parts of the city where the majority of the residents are white. The 2011 National Survey on Drug Use and Health found that Latino and black people are less likely to use marijuana than white people.
The report drew a race and class distinction between the 20 police precincts with the highest rates of low-level marijuana possession arrests and the 20 precincts with the lowest rate.
The 20 precincts with the lowest rates — which include Park Slope in Brooklyn, Forest Hills in Queens, and the Upper West Side in Manhattan — average 39 marijuana possession arrests for every 100,000 residents, the report found. The 2.3 million residents in those neighborhoods are 24% black and Latino, 76% white and all other ethnicities. The average family income is $75,000.
The 20 neighborhoods with the highest rates average 498 possession arrests per 100,000 inhabitants. The 1.9 million people who live in those neighborhoods — which include Washington Heights in Manhattan, East New York in Brooklyn, and the Far Rockaways in Queens — are on average 89% black and Latino, 11% white and all other ethnicities. The average family income is $34,000.
The rate of low-level marijuana arrests in poorer neighborhoods — where most residents are black or Latino — was on average 12 times higher than in neighborhoods where residents tend to be affluent and white, the DPA report found. In some cases, as in East Harlem and the Upper East side, the rate was 100 times higher.
Poor neighborhoods of color also tend to have higher rates of arrest for other, more serious crimes. Still, the DPA found that 74% of people arrested for marijuana possession weren't previously convicted of any misdemeanors or felonies, suggesting the people accused of serious crimes are not the same as those being arrested for low-level drug offenses.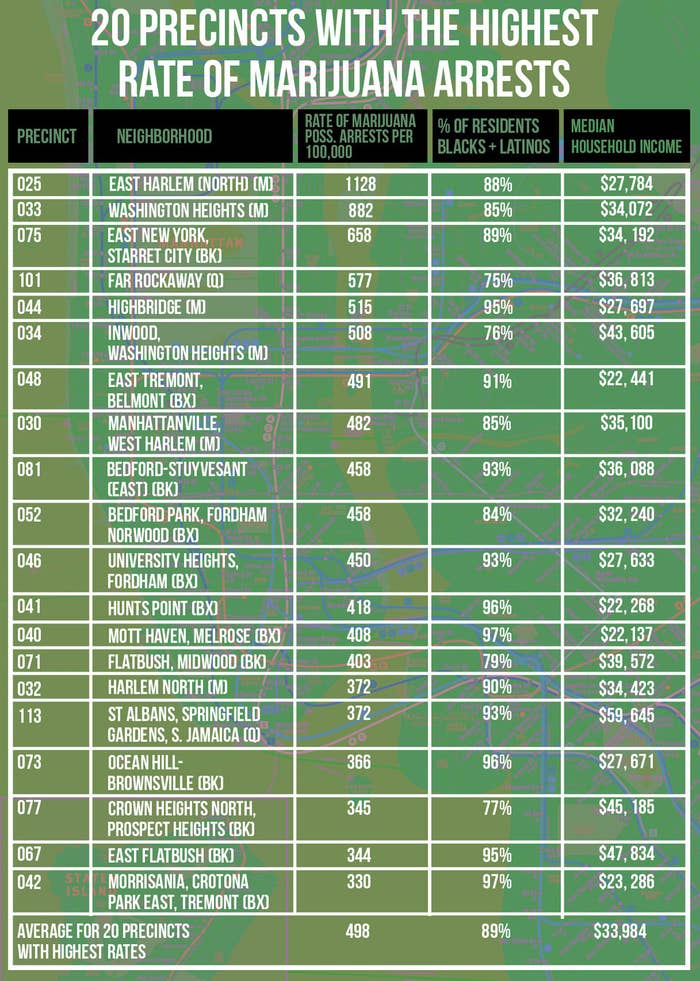 The DPA analysis also found that the rate of marijuana arrests in a certain neighborhood was determined more by race than by class. Poor neighborhoods with a majority of white residents consistently saw fewer possession arrests than wealthier neighborhoods of color.
Crown Heights, a neighborhood in central Brooklyn, is home to a large Caribbean and West Indian community and has a median household income of $45,000 a year. Nearly 80% of its residents are black or Latino. The neighborhood had 345 marijuana arrests per 100,000 inhabitants, the DPA report found.
By contrast, Bensonhurst, in southern Brooklyn, is 86% white. Although its median household income is slightly lower than that of Crown Heights — $44,000 a year — its rate of marijuana arrests was 41 per 100,000 inhabitants.
Possessing up to 25 grams of marijuana in private is not a crime in New York state, but is merely a violation punishable by a maximum fine of $100. Most people arrested for marijuana in New York do not have more than 25 grams on them, according to numbers provided by the Office of the Mayor, but are charged with possession in the fifth degree, a low-level misdemeanor defined as "possessing marijuana in a public place."
A police officer who stops a person, searches their pockets, and finds any amount of marijuana can legally charge that person with possession — because the drug is then being displayed in public view.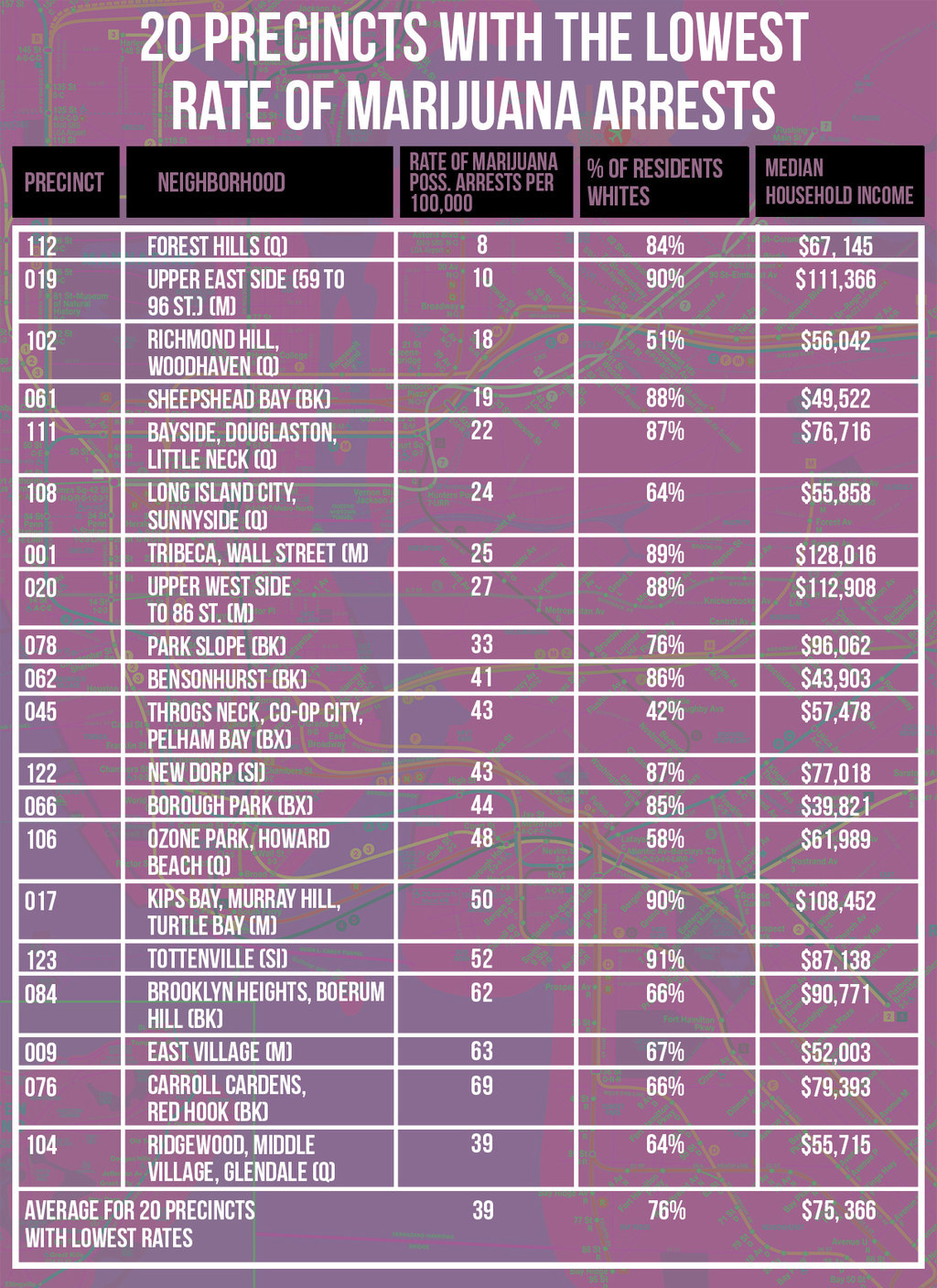 The DPA sharply criticized Mayor Bill de Blasio for failing to curb what it called racial discrimination in policing drug offenses.
As a candidate, de Blasio campaigned heavily on promises to end policing tactics that target young men of color. But the DPA's report found that the number of arrests for low-level marijuana possession in de Blasio's first several months as mayor is on track to match or even exceed 2013, the final year of former Mayor Michael Bloomberg's administration.
From March to August of 2014, the NYPD arrested 15,324 people for low-level marijuana possession. In the same period of 2013, it made 14,847 such arrests. In both years, about 86% of those arrested were black or Latino and 56% were under the age of 25.
The NYPD did not respond to requests for comment.
The mayor's office questioned the results of the report, which omitted data for the months of January and February. When those months are taken into consideration, a mayoral spokesperson said the rate of low-level marijuana possession arrests decreased 2.5% in 2014. The spokesperson added that the percentage of possession arrestees who were black fell 4.1%.
The DPA said it excluded January and February because of record-breaking snow, which made a lower number of arrests attributable to factors other than changes in law-enforcement strategies.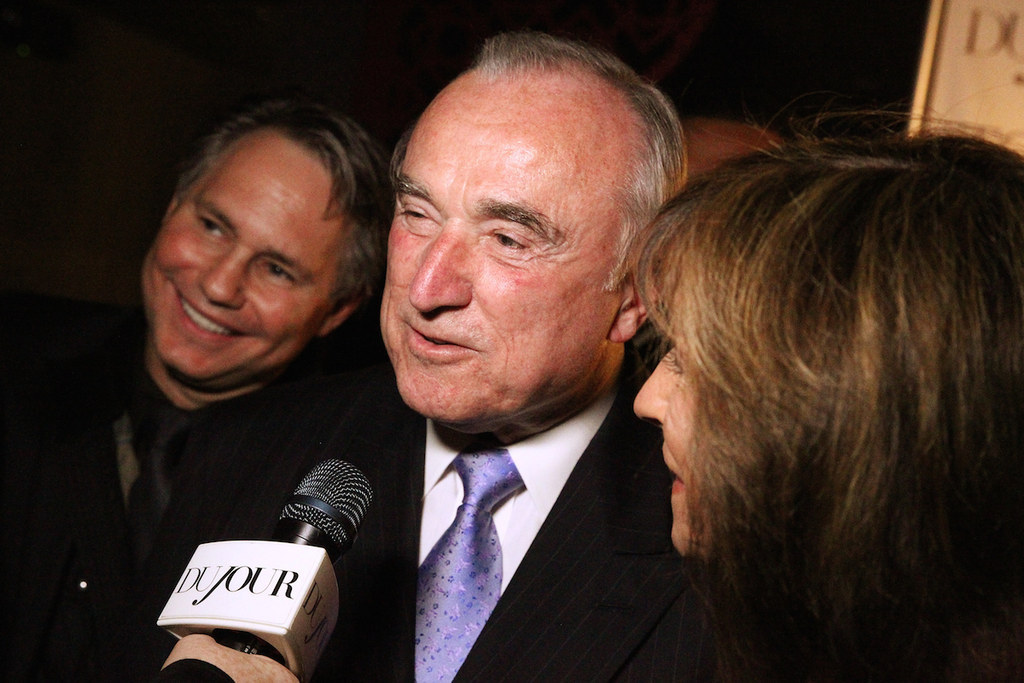 Marijuana possession arrest numbers increased dramatically during Bloomberg's administration.
In 1991, according to the New York Times, the NYPD made about 800 arrests for marijuana possession. In 2010, by contrast, the number of such arrests reached 59,000. Almost 90% of those arrested in those years were people of color, the paper reported.
Arrests for marijuana possession fell dramatically after 2011, when a U.S. District Court declared stop-and-frisk — a key tactic of Bloomberg's former police commissioner, Raymond Kelly — to be an unconstitutional form of racial profiling. In 2013, the city arrested some 28,000 people for marijuana possession, according to the New York Review of Books.
Such arrests can have devastating consequences for the people who suffer them — even if they are never convicted. In 2013, BuzzFeed News produced a video following the story of Alberto Willmore, a public school teacher from the Bronx who was forced out of his position after he was arrested for possessing marijuana — even though a court found him innocent.