Pregnant Woman Loses Unborn Baby After New York's Second Mass Shooting In Days
The shooting in Brooklyn, which also left five people injured, was just the latest in a series of incidents that have raised concerns about a potential crime wave.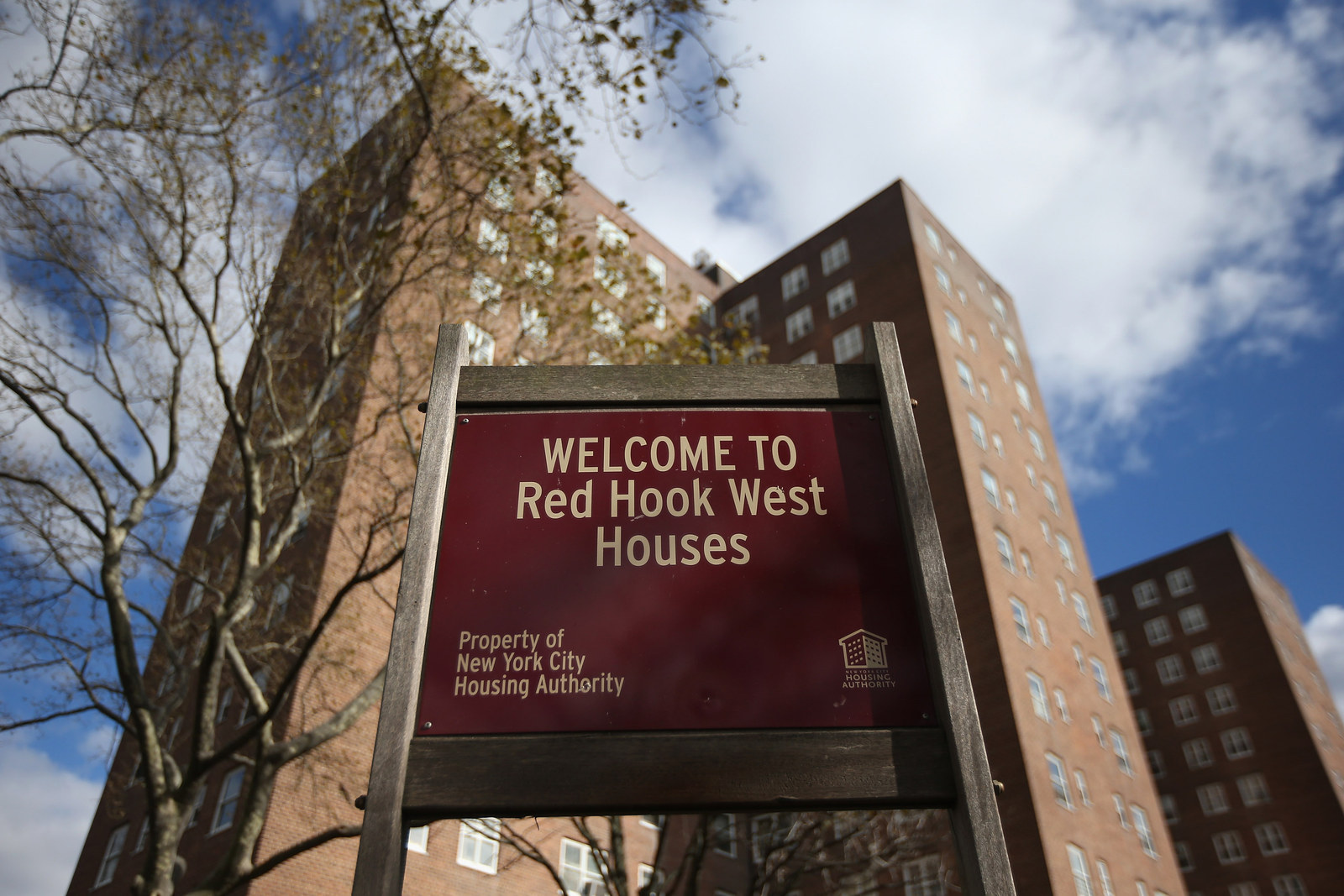 The NYPD said on Wednesday it had three people on custody in relation to the shooting.
The police would not release the names of the detainees, but sources told the New York Daily News that Frederick Marquise, the 19 year-old suspect named by police on Tuesday, had turned himself in.
NEW YORK — A pregnant woman who was injured in a drive-by shooting at a Brooklyn neighborhood party lost her unborn child Tuesday morning, in what the New York Police Department said was part of an ongoing dispute between the residents of two public housing developments.

The shooting took place around 11 p.m. on Monday in front of 9 Dwight St., near the northern border of the Red Hook neighborhood. Police said two men drove by in an SUV, pulled over in front of the party, and shot randomly into the crowd. In addition to the pregnant woman, four other people were hurt in the incident. All five victims are expected to survive, but police did not release their names.
On Tuesday morning, the streets around the scene of the shooting were nearly deserted. A man standing in front of 9 Dwight St. declined to comment to BuzzFeed News. "I know you're trying to do your job," the man said. "But my family got shot, and I ain't slept at all last night."
Outside a nearby bodega, a group of neighbors had gathered to discuss the events of the previous night.
"I was about to go to bed when I heard the shots, like 30 of them," said Iris, a Dominican resident of the Red Hook Houses, as the public housing development is known. "They were like 30 or them. I looked out of the window but I didn't see anyone running or anything, so I didn't think it was here. So I went to sleep, rezandole a Dios."
Iris and other neighbors who asked not to be identified for fear of being targeted told BuzzFeed News that it was rumored the two shooters had come from the Gowanus Houses, another public housing development located less than two miles away in the otherwise affluent neighborhood of Boerum Hill.
The neighbors said the gunmen probably targeted the address at Dwight Street because it is a popular gathering place for several families from the Red Hook Houses, who often congregate there on summer evenings to share food, drinks, and music.
"One of the girls who got shot, the one that lost her baby, she was like a sister to me," said a young woman who was sitting in one of the many courtyards of the Red Hook Houses, struggling to hold back tears. "That shit fucked me up so much."

"All I can say is, it's territory versus territory," said another young woman in the same courtyard. "It's project beef, and it been going on for years. This ain't new."
Speaking at a press conference at police headquarters on Tuesday afternoon, NYPD Chief of Detectives Robert Boyce said the department believes a crew from the Gowanus Houses was indeed responsible for the shooting.
Boyce said the Gowanus crew was trying to retaliate for an earlier shooting, in which a Red Hook gang known as the Gangster Money Makers shot a man near the Gowanus Houses on July 30. He added that his detectives had identified a man named Frederick Marquise as a suspect in the shooting, but that no arrests had been made.
"All I can say is, it's territory versus territory. It's project beef, and it been going on for years."
Despite the ongoing rivalry, several neighbors said they were surprised by the shooting, saying that they hadn't seen such a random outburst of violence in some time. "I've been here for four years, and I never seen anything like this," said a clerk at Columbia Grocery, a bodega two blocks away from the site of the shooting.

Like many lower-income neighborhoods with large minority populations, Red Hook once had one of the highest murder rates in the country. Since then, the area has benefited from the 20-year-long drop in violent crime that has made New York one of the safest large cities in the United States.
The most recent NYPD statistics show that prior to Monday's incident, there had only been one murder in the area in the period between July 26 and the same day a year earlier. By contrast, 13 people were murdered in the neighborhood in 1990.
But Tuesday's shooting was just the latest of a series of incidents that have raised concerns about a potential crime wave. On Saturday night, nine people were injured after several gunmen opened fire into another neighborhood party, this time in East New York.
In Red Hook, the number of shooting incidents for the year-to-date period ending on July 26 grew a whopping 133%, according to NYPD statistics. And, as of Tuesday, year-to-date homicides across the city were up nearly 10%, according to NYPD officials.
Speaking at Tuesday's press conference, Police Commissioner Bill Bratton emphasized that, despite the recent incidents, overall crime in the city continues to fall — by a total of 5.3% in the year-to-date period. He said that other cities in the United States, including Baltimore and Chicago, had seen much worse increases of violence.
Bratton also said that although most of the shooting incidents take place in "communities of color, communities that have high poverty levels, that have housing problems," the crimes did not seem to be "racially motivated."
"It's blacks killing blacks, it's Latinos killing Latinos," he said. "The provocation is not always fathomable. They live in different buildings, and they just don't like each other. You can't comprehend why an individual will shoot another individual, why they would shoot into a crowd."
The commissioner said a large portion of the recent shooting incidents in New York involve repeat offenders, or people who had been involved in previous violent crimes. He said that many of those individuals had recently been released from prison or prevented from going to prison as part of initiatives to reduce the number of incarcerated people in America.
"While we are all supportive, as police chiefs, of the idea that there are too many people in jail, there are certainly a number of individuals that we have to work very hard to keep in jail," Bratton said.
The NYPD often has trouble finding members of the community who are willing to assist with investigations.
"I'm sorry," he said. "If the community is not willing to work with us, it's going to make our job keeping them safe much more difficult."
"It's blacks killing blacks, it's Latinos killing Latinos," Police Commissioner Bill Bratton said. "They live in different buildings, and they just don't like each other."
On Tuesday, a few blocks north from the scene of the shooting, the signs of Red Hook's rapid demographic changes were in display.

The neighborhood stands stone's throw away from Cobble Hill and Carroll Gardens, two communities characterized by quiet blocks shaded by large trees and long rows of brownstones, some of which can fetch millions of dollars.
Rob Clarke, a painter who rents a garage under the shadow of the Gowanus Expressway at the edge of Red Hook, told BuzzFeed News he's lived in the neighborhood since February.
"I didn't hear a thing!" he said of the shooting, which happened three blocks away. "Then when I woke up in the morning I heard about it on the radio. I even texted my mate, and he said, 'You've got to move.' But I like it here. It's not like the rest of New York — it feels more raw. It's like, a forgotten area."
Asked if he was worried about the shooting, Clarke said he wasn't.
"I don't have a problem with the projects," he said. "I'm not racist."