New York Governor Wants "Independent Monitor" For Police Killings Of Civilians
The monitor would oversee cases in which a police officer kills a civilian but is not indicted by a grand jury. In those cases, the monitor could recommend a special prosecutor be put in charge of the investigation.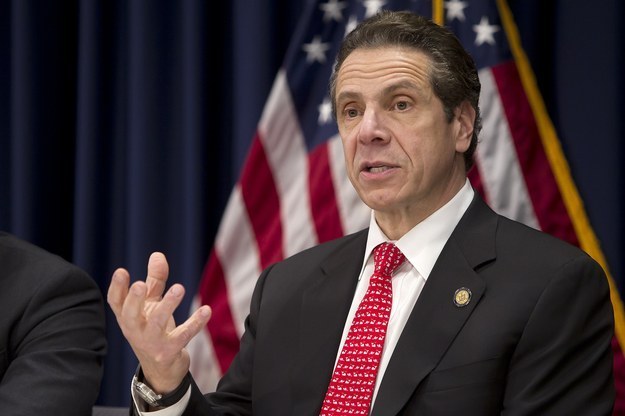 New York Gov. Andrew Cuomo on Wednesday proposed creating an "independent monitor" who would review cases in which a police officer is not indicted after a fatal shooting.
Cuomo, who announced the proposal during his State of the State address, said the office of the monitor would have the authority to ask district attorneys to submit "letters of fact" explaining why their grand juries, which are usually protected by secrecy, decided not to indict a cop who killed a civilian while on the job.
Based on those facts, the monitor could decide whether to recommend appointing a special prosecutor for the case, although it was unclear who would make the final determination.
"People are questioning whether the justice system really is fairness for all," the governor said. "And whether the justice system really is colorblind."
The governor's proposal comes after grand juries in New York and Missouri declined to indict police officers who had killed unarmed black men, sparking widespread protests.
Critics also questioned the ability of district attorneys to effectively prosecute police officers, who often cooperate with prosecutors in criminal cases.
Many district attorneys are likely to be opposed to Cuomo's proposal. In a letter issued on Dec. 16, the District Attorneys Association of the State of New York detailed its membership's "unanimous opposition" to "any rule mandating appointment of a special prosecutor" in police shootings.
The district attorneys for both Manhattan and Brooklyn, however, offered support for the governor's proposal.
"The proposed subsequent review by an independent monitor would add a level of scrutiny, thereby enhancing public confidence in the process itself," Manhattan District Attorney Cy Vance said in a statement. "To the extent that errors are found in the grand jury presentation, or new evidence is found to exist, the appointment of a special prosecutor will ensure that justice is served."
Brooklyn District Attorney Ken Thompson echoed his sentiment.
"I applaud the governor for his leadership in proposing reforms to our criminal justice system," he said in a statement. "People must have confidence in the justice system, and the Governor's proposals should help restore that confidence."
Thompson has convened a grand jury to decide whether to bring charges against the police officer who killed Akai Gurley, who was black, in a Brooklyn public housing development last year.
Some advocates for grand jury reform also praised the governor's proposal.
"The criminal justice agenda that was proposed represents a significant improvement over the current state of affairs," Donna Lieberman, the executive director of the New York Civil Liberties Union, told BuzzFeed News. "It dramatically increases the transparency of what happens in the grand jury."
The NYCLU is suing Staten Island District Attorney Daniel Donovan in an effort to have the grand jury documents for the case of Eric Garner — one of several black men killed by police last year — released to the public.
Donovan, who is running for Congress as a Republican, did not respond to requests for comment.
In his address, Cuomo also unveiled other criminal justice initiatives, including requiring all law enforcement agencies to record the racial data of suspects in every police interaction. Currently, officers are not required to record the race of people to whom they issue tickets for minor infractions, such as drinking in public.
Cuomo also asked law enforcement agencies across the state to make efforts to recruit minority officers, and called for the creation of a "reconciliation commission" to attempt to mend relationships between police and the public.