Maryland Court Puts Five Trials In Freddie Gray Death On Hold
The trials of the Baltimore police officers connected to Freddie Gray's death will have to wait until the Court of Appeals decides whether one of the defendants can be compelled to testify against the others.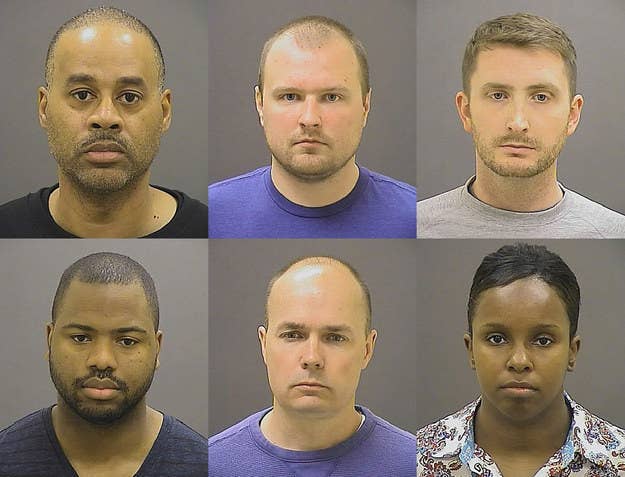 The Maryland Court of Appeals ruled on Thursday that the trials of the remaining five Baltimore police officers charged in the death of Freddie Gray cannot move forward until a panel of judges determines whether one of the officers can be compelled to testify against the others — a process that could take as long as five months.
The decision will delay the trial of officer Edward Nero, which was scheduled to begin next Monday, as well as those of Garret Miller, Brian Rice, and the retrial of William Porter. The trials of the other two officers, Caesar Goodson and Alicia White, had been delayed by a previous decision.
The delay in the trials, first reported by the Baltimore Sun, comes after Baltimore Circuit Judge Barry Williams issued an order requiring Officer Porter — whose trial ended in a hung jury — to testify for the prosecution in the trial of Officer Goodson.
Officer Porter appealed Wiliams' decision to the higher court and was granted a hearing. The Court of Appeals also ordered the trials of Goodson and White to be delayed until the issue could be resolved.
The other three trials were supposed to proceed as scheduled — until the prosecution decided it wanted to call Porter as a witness in those cases as well, asking Williams to halt the trials. Williams denied the request, but the Court of Appeals granted it.
The delay in the trials will further slow down a set of criminal cases that has captured Baltimore's attention.
Gray, a 25-year-old black resident of the city's impoverished west side, died last April of injuries sustained while in police custody. His death unleashed widespread demonstrations that provided cover for some rioters.
The unrest ended on May 1, when State's Attorney Marilyn Mosby, Baltimore's top prosecutor, announced her intentions to charge all six officers. They have pleaded not guilty.
The Court of Appeals is scheduled to hear arguments on the case on March 3. Maryland law gives the court up to 120 days to make decisions of this kind.