Manhattan Building That Exploded Was Undergoing Renovations Without A Permit
The explosion appears to have been caused by gas and plumbing work done by private contractors at 121 2nd Avenue. The New York City Department of Buildings has not issued a permit for work at that address since September 2014.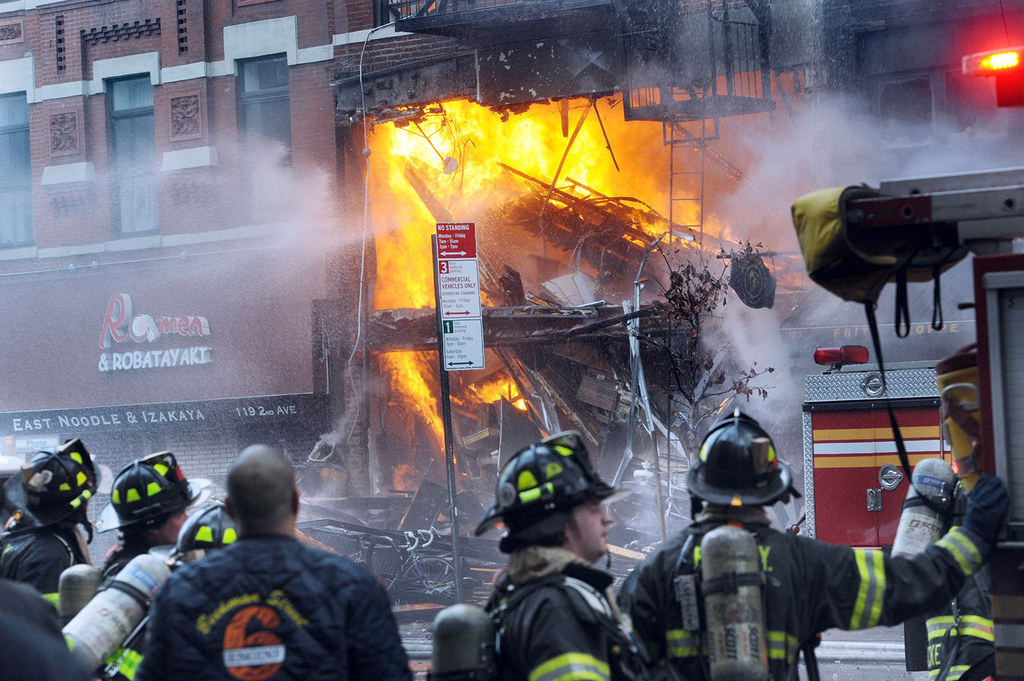 The East Village building that exploded on Thursday was undergoing gas and plumbing renovations without a permit, according to public records.
Thursday's explosion, which injured at least 19 and left two people missing, appears to have originated from a gas leak at the corner of Second Avenue and 7th Street, Mayor Bill de Blasio said at a press conference Thursday.
"The initial impact appears to have been caused by plumbing and gas work that was occurring inside 121 2nd Avenue," the mayor said. "Con Ed inspectors arrived at the site earlier for a separate reason entirely, found the work to be unacceptable, gave instructions as to what changes were needed – and that was an hour or more before the explosion."
The New York City Department of Buildings requires all major renovations to request a permit to ensure the safety of workers and residents. As of Friday, the last permit authorizing work at 121 Second Avenue dates from August 2014. The permit, issued to Doric Consultants Inc, allowed for mechanical and plumbing work to be done on all five floors of the century-old tenement.
Sowkon Im, a project manager for Doric Consultants, told BuzzFeed News that his company had only done the engineering work in the building and had not actually been involved in the construction.
"We only worked in the residential portion of the building," Im said. "Yesterday's incident was in the commercial part. I don't know who did the work, but it wasn't my company. Yesterday's work must have been done without a permit, because mine is the latest permit, and I signed off the project on September 2014."
A Department of Building's spokesperson confirmed to BuzzFeed News that the project for which Doric Consultants had been granted a permit was finished in September 2014, and that no further permits had been issued for 121 Second Avenue.
"If there had been a permit, it would be on our website," the spokesperson said, adding that he could not give any further details because the investigation is still ongoing.
Sushi Park, Inc, the restaurant in the commercial section of the building registered owner of at least part of the lot, could not immediately be reached for comment.