Philly Cop Charged With Helping Girlfriend Escape Homicide Detectives
The girlfriend of a Philadelphia Police Department detective was being investigated for murder. He is now facing charges for allegedly helping her flee to upstate New York.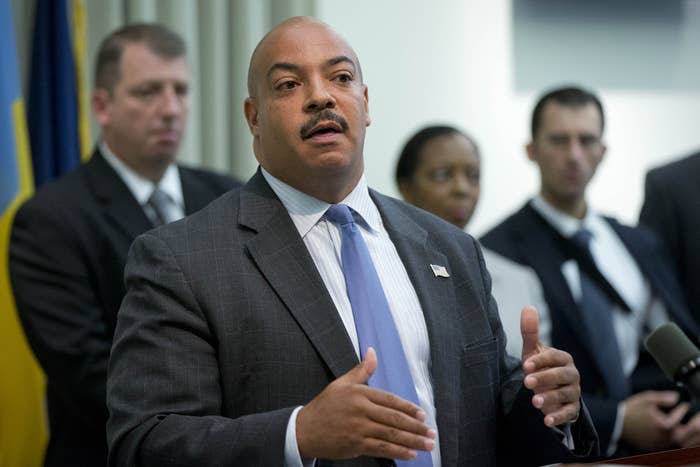 A former Philadelphia police officer was charged Thursday with helping his girlfriend flee Pennsylvania after she was named as a suspect in a murder investigation, the Philadelphia District Attorney announced.
A grand jury indicted Ronald Dove — a 16-year veteran of the Philadelphia Police Department's homicide team — on charges of hindering apprehension, tampering with physical evidence, and other serious offenses.
District Attorney Seth Williams called the case "a cheap novel" and asked members of the public to contact the authorities if they have any information regarding Dove's work in other cases, the Philadelphia Daily News reported.
Dove, who was arrested Thursday morning, is accused of driving his girlfriend, Erica Sanchez, to Rochester, New York, in September 2013.
Sanchez, who is currently in custody awaiting trial for murder, had been named as a suspect in the stabbing of Cesar Vera during a block party. Dove allegedly picked her up at the scene of the crime and took her to a motel in Rochester, where he gave her a new phone and helped her cover her trail.
Dove then allegedly hid her car in a garage, scrubbing both the vehicle and Sanchez's apartment of potential evidence. The former detective is also accused of seeking information on Sanchez's case from his colleagues.
DA Williams added that Dove apparently went on vacation with Sanchez to Niagara Falls. The couple had been dating for three years at the time of the incident.
Dove was fired in November 2013, less than a month after the alleged events. The grand jury investigation that concluded with his Thursday arrest took more than a year.