Los Angeles Kings Defenseman Arrested For Domestic Violence
The National Hockey League suspended Slava Voynov indefinitely pending a criminal investigation.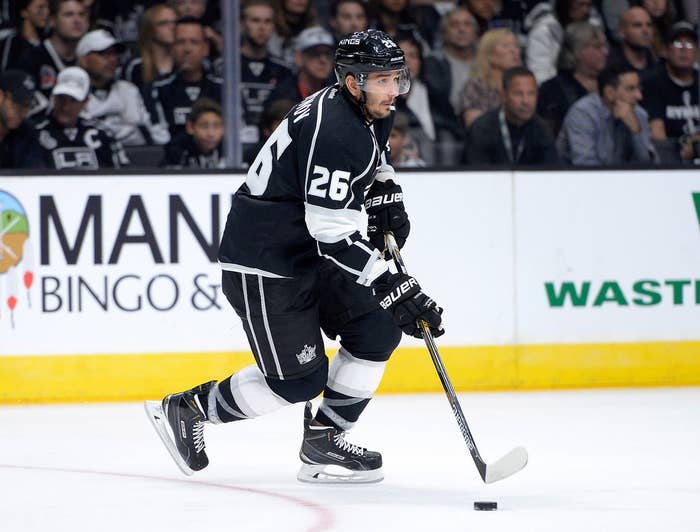 Slava Voynov, a star defenseman for the Los Angeles Kings, was arrested Monday morning for domestic violence in Redondo Beach, California, ESPN reported.
Following the arrest, the National Hockey League announced the Russian-born Voynov was suspended indefinitely. The league's collective contract allows him to continue to be paid his normal salary — about $4 million a year.
Neither the NHL nor the Redondo Beach Police Department immediately responded to requests for comment.
Voynov's arrest is the latest in a recent string of high-profile domestic violence cases involving star athletes. In July, the National Football League suspended the Baltimore Ravens' Ray Rice after a video emerged showing him punching his significant other unconscious. NFL athletes are arrested for domestic violence at much higher rates than the average population.
Scientists have recently found a correlation between concussions and domestic violence, which may explain the prevalence of such incidents among full-contact sport athletes. (Voynov himself has never been recorded as suffering a concussion). Dr. Ann McKee, a Boston University researcher, has discovered that retired football players often have lesions in the part of the brain that regulates emotions and self-control.
"These guys used to be fine," McKee said in an episode of HBO's Real Sports that will air on Tuesday, the New York Daily News reported. "They were entirely reasonable at all times of day. But now these guys are assaultive, they're overreacting. They're paranoid, they're jealous."
Voynov was born in Russia in 1990. He has played with the Los Angeles Kings since 2011.